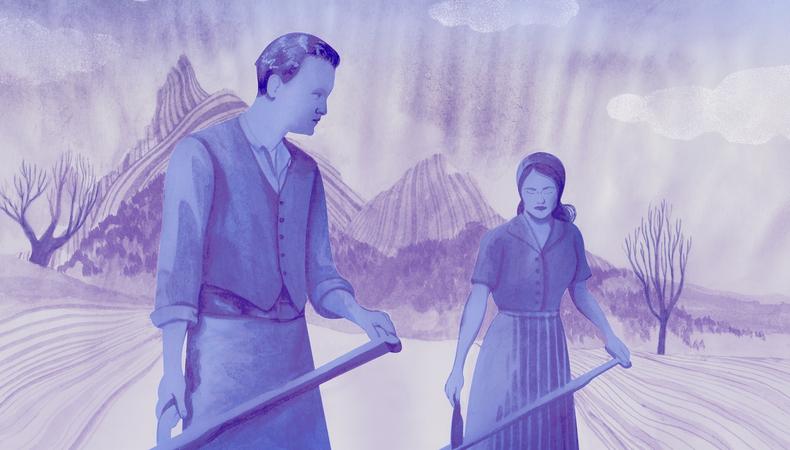 Film fans are well acquainted with the name Terrence Malick, but that probably won't be the case for the lead actors in his latest drama, "A Hidden Life." The film tells the true story of an Austrian farmer named Franz Jägerstätter who refused to pledge allegiance to Adolf Hitler and the Nazi government. He paid for his unwillingness to stray from his beliefs while his wife, Franziska, continued to support him. Casting this central couple was essential to capturing the spirit of the film's timeless themes. To find them and everyone else you see onscreen, Malick hired German casting director Anja Dihrberg, who cast her net wide. Dihrberg reveals how a European audition room isn't so different from what you might come across stateside.
READ: What to Know About Getting Cast in a European Production
How did you get attached to "A Hidden Life"?
It was the best experience I've ever had since I became a casting director. Grant Hill, the producer, had worked with Terrence Malick, and I had worked for Grant Hill. He came into my office one day and said, "You are the right person for this job." He arranged an appointment with Terrence Malick and we all went together to the original place in Austria. Franz Jägerstätter's family is still there; all three [of his] daughters are still living there. We got an idea of how life might have been in this area, and then I started the casting process.
Why were you interested in the film?
I knew of Terrence Malick and I really love his work. There was no script. There was this original story, and they provided me with the original book with love letters from Franz and Franziska—and that was it.
What about casting this film made it different?
The experience on the one hand was interesting, because the actors trusted me that it was a good project I was asking them in for, but the biggest thing was that Terrence Malick knew so much about mankind that he really trusted me. That's very unique, because most of the time you have to argue or explain your ideas and convince people, but I didn't have to convince anybody else. We could make the decisions just among us.
READ: "A Hidden Life" Is Up Against Some Stiff Competition at This Year's Film Independent Spirit Awards
What can someone expect when they audition for you?
They can expect to put a fresh idea of them into my mind, and even if they don't fit into the part I'm looking for, they might fit another part that comes up one day. It's always a chance to leave a fresh impression. Sometimes in the casting process, when I'm casting a special character and I realize this actor isn't "right" for this part, I might have another idea where they can fit. It's always worth it to show what you come up with.
What shouldn't an actor do in an audition for you?
It's more what they shouldn't do before. If it helps, have a drink before, but [don't come drunk]. It's not OK to come late without a really, really good excuse, because other people are waiting. It's not OK if you are not sure that you want the part and you come to an audition as a test. It's not OK if you don't know the lines and we are all sitting and watching you learn the lines in the casting process. That's the basic stuff. Learn the lines, be on time, be prepared, and be open to advice.
How did the casting process work?
Terrence was thinking about a real farmer for Franz, so we saw a lot of farmers. I only had two real letters from Franz and two letters from Fani [Franziska], and with these letters, I was doing all the casting sessions. I couldn't tell them what the story was about, and I wasn't allowed to tell them who the director was, so I asked actors to trust me and read these letters and send their self-tapes. The process for Franz went on and on, and we decided not to cast a farmer. I had three great actors who could play the part. We decided August Diehl was Franz, but Terry liked the other two actors a lot, so he asked if they were willing to play smaller parts in the film. They said, "It's worth it to work with Terrence Malick." You are lucky if you find the right person for the part and you fell in love with other actors during the process and they are willing to be part of the movie because they like the project or the director.
READ: Learn to Direct Like Terrence Malick With a Film School Education
For Fani, I searched for a young actor who could fit into this farm life and these circumstances. While researching, I saw a tiny piece of a short movie with Valerie Pachner where she caught my interest. I wanted her to read the letter and come over for a casting session, and when she did, it was clear that she was the right Fani. She came from a little village in Austria, she was familiar with farming, and Terry was very clear in choosing her for Fani. His decision was made before Franz was cast.
So you were looking, at least initially, for actors who had some authenticity to the story?
It's helpful, but in the case of Valerie Pachner, it was just a great coincidence. I work characters from their inner point of view; I try to catch their soul. Then I think about which actor could maybe fit into this part. It's a little bit magic to build characters in a movie out of their inner feelings, even if they are described in a different way in the script.
Where do you find new talent?
I'm very curious about what's going on; sometimes someone tells me about somebody I should watch, I'm watching a lot of movies and series, and I go to theater. At the end of each year we have at least 200 young actors who do their showcases and I watch them to get an idea of the new talent, and every day I watch some new tapes of people. This is a profession you take with you wherever you go. I'm working on a project and I saw a woman walking down the street and I couldn't help but ask her if she did modeling. There are characters floating around all the time, and I'm open to anything that comes up.
What can someone do to be memorable to you besides give a good audition?
That leads to the question: What's a good audition? That's not so easy to answer. My dream of a casting session is that they have fun showing their skills and playing the part, even if they don't know if they could get it or not. Take it as a kind of rehearsal. Do not come in with the impression that we are sitting there and judging you. It's not about judging. Show your skills, your liveliness, your capacities, and what you can bring to the part. Show me your personality and what the part might become if you are playing it. It's not about convincing me; it's not trying to fit into the part. Parts can change. Even if they are in the script, they can change because I get a fresh idea of somebody or even of the part if someone comes and brings something new. I expect every actor to learn the lines and be prepared, but don't try to fulfill what they think we are looking for. Bring your personality in and have fun.
What don't you think actors know or realize about casting?
Most people, even in the film business, don't realize that it's a lot of hard work. It's not sitting around and thinking about actors; it's a lot of research and experience. I enjoy every year being more and more experienced and knowing more what I'm looking for or how I can look for parts every day. The process to finding the right ensemble for a movie is long. It's a high mountain, and when you are on top, the view is fantastic, but it took all of your concentration, strength, and imagination to climb. That's what people don't see. They think, Oh it's nice, you meet great actors and you have fun with them. Most people think it's simple; they see the movie, and when it's a great cast, it looks like the easiest thing in the world because you can't imagine somebody else in the part. That takes a lot of time and experience.
This story originally appeared in the Jan. 9 issue of Backstage Magazine. Subscribe here.