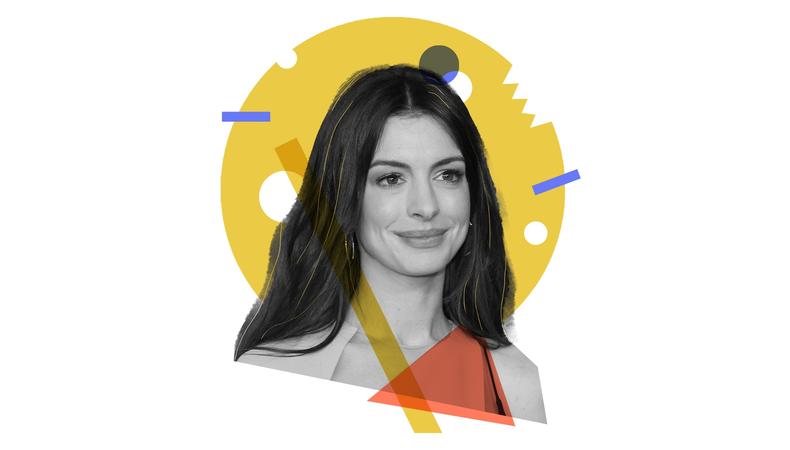 Early on, Anne Hathaway learned the merits of spreading the wealth and sharing happiness in others' successes—even if it meant she missed out on a role. Sitting with us for our craft and career Q&A, the Oscar winner and "WeCrashed" star looks back on her very first commercial, the rejections that shaped her, and why she can't wait to reconnect with Jessica Chastain onscreen in the upcoming "Mothers' Instinct."
Which project did you get your SAG-AFTRA card for, and what do you remember most about it?
I got my SAG-AFTRA card for my very first commercial, which was for Better Homes and Gardens. Because I had never been on set before, I didn't understand until partway through the day that we were no longer rehearsing and that we had been shooting for several hours—which is just embarrassing, but also touching. I just remember that feeling of: Uh-oh, can I save this?
What performance should every actor see and why?
There's so much more than just one, but I believe Cate Blanchett in "Elizabeth" is a performance that every actor should see, because it's completely lived-in. She's not just breathing as the character—her skin is reacting as the character. It's a cellular performance. It's absolutely extraordinary, absolutely beyond. I wanna go watch it immediately.
And Jessica Chastain in "The Eyes of Tammy Faye." It's, I think, one of the greatest screen performances ever given. I mean, she's floating. The craft is so deep that it, like, inverted into itself and ceased to be craft. It just became light and air and love in a person. I love that performance so much; I think it's extraordinary.
And you're going to be working with Jessica Chastain in "Mothers' Instinct" coming up; is that right?
I am. We're about to just torture each other on camera; but who better to? I mean, thank God we're friends. I [also] think Bradley Cooper in "American Sniper" is a really excellent, just great modern performance. Carey Mulligan in "An Education." Taylour Paige in "Zola."
Here's the thing: Clearly, I love actors. I love movies. I love performances. So that's a very difficult question. But if aliens were to land, and I had to show them a performance of, like, what acting is, it would be Cate Blanchett in "Elizabeth."
Do you have an audition horror story that you could share with us?
I pushed the casting director over.
How did that happen?
I was auditioning for a workshop of a musical based on an Edith Horton novel, and my character got very angry. And I didn't think I pushed him that hard, but suddenly I was in the scene and we were acting together, and I went to push him. It felt like I had barely tapped him, but he flew across the room. I did not get the part. I did get a callback.
Another one: I won't say who, and I won't say how, but I was 15 years old, and it was between me and the girl who got the part. It was the closest I'd ever gotten to being on Broadway. It was for a Broadway show, and the director—who is very, very famous—said in the room a very nice thing about me, and then he said, "This is not the right part for you. Thank you for coming in." So I got rejected in the room at 15, literally as close to Broadway as you [can get]. Like, on the 1-inch line. I cried a lot after that one. A lot. That was the beginning, but I did come back. That wasn't a: "It was so bad that I can't do this anymore; this life is not for me!" No, no, no. I mean, mind you, I still have not made it to Broadway, but even that was not enough to make me ever consider quitting.
Another one I remember was when I attempted to go to a professional dancers' call—that I had read about in Backstage!—for a show I thought I might have a shot at. I love to dance, but I am not a dancer, and this was the day I learned the difference. My audition was appalling, sort of like the beginning of "All That Jazz," where the young man who is clearly not a dancer shows up for a dancers' audition "just in case" and sticks out in all the wrong ways. It was awful! I couldn't get the combination fast enough; when trying to dance, I couldn't stop bumping into other people who rightfully wanted to murder me, I am sure. And I was in a leotard—a hell of my own making.
I did, however, run into a friend there—an actual dancer—who did great and had received an instant callback, which we were both very excited about. I cannot stress enough the importance of always being happy for someone when they progress, even if you don't. I remember we grabbed a bite midday on the steps of a Broadway theater, just catching up, talking shows and dreams. She ended up getting cast and was terrific in the show. I guess the lesson is: If you are right for the job, these calls can work! And my apologies to anyone I bruised that day.
What is the No. 1 piece of advice that you would give your younger self?
It's not my advice—it's the advice my younger self got from Gary Marshall, which is: You have absolutely no control over how a project is going to be received. You don't know if it's going to make money or flop. You don't know if you'll love it or the critics will hate it. You don't know if the critics will love it but you'll hate it…. The only thing that you have control over is the time you have making the project. I heard that when I was 17 years old, but I didn't hear it until a bit later on in my career. So I would just sit down with myself and explain that, when you're an actor, the line between your life and your career—it's a blurred one, because you're living so many hours at your job. So this is your life, too. And these are the people of your life, even if it's temporary or transient or any of those things. So be fully present in that aspect of it, as well.