WeWork's Rebekah Neumann wears her enlightenment on her sleeve. As dramatized on Apple TV+'s limited series "WeCrashed," she communicates in self-help speak ("Negative feelings come up, but when they come through the door, you can lovingly ask them to leave"). She's the type who flushes with pride when a friend calls her a personal guru for recommending books with titles like "Awaken Your Inner Goddess" and "Oceans of Grace."
Neumann's value system, no matter how shallow it appears onscreen, served as an access point for Anne Hathaway's portrayal of the businesswoman. What better way to get into an enigmatic billionaire's psyche than to read the books and teachings she swears by? In the weeks leading up to filming "WeCrashed," the Oscar winner spent time with some very specific texts.
"Rebekah Neumann was very open with the books that were meaningful to her," Hathaway says. "So I read those." The raw material she needed to play notorious WeWork founder Adam Neumann's better half piled up from there.
"I worked with a wonderful researcher called Amy Hammond. Maybe six weeks before filming started, I received a huge cardboard box that was just full of references—all the collated work that Amy had done," Hathaway remembers. "She had broken Rebekah's life into three parts: her early years, her spiritual life before meeting Adam, and then her years at WeWork and being married to Adam."
Days spent with dialect coach Jerome Butler followed. He taught Hathaway a healthy method for dropping her voice low to mimic Neumann's vocal-fry monotone. "That was a nice, gentle process," she says. "Figuring out the placement of [the voice]—it was nice to have a little bit of time for that so I didn't feel the pressure of: 'I have a week to become a completely different person!' "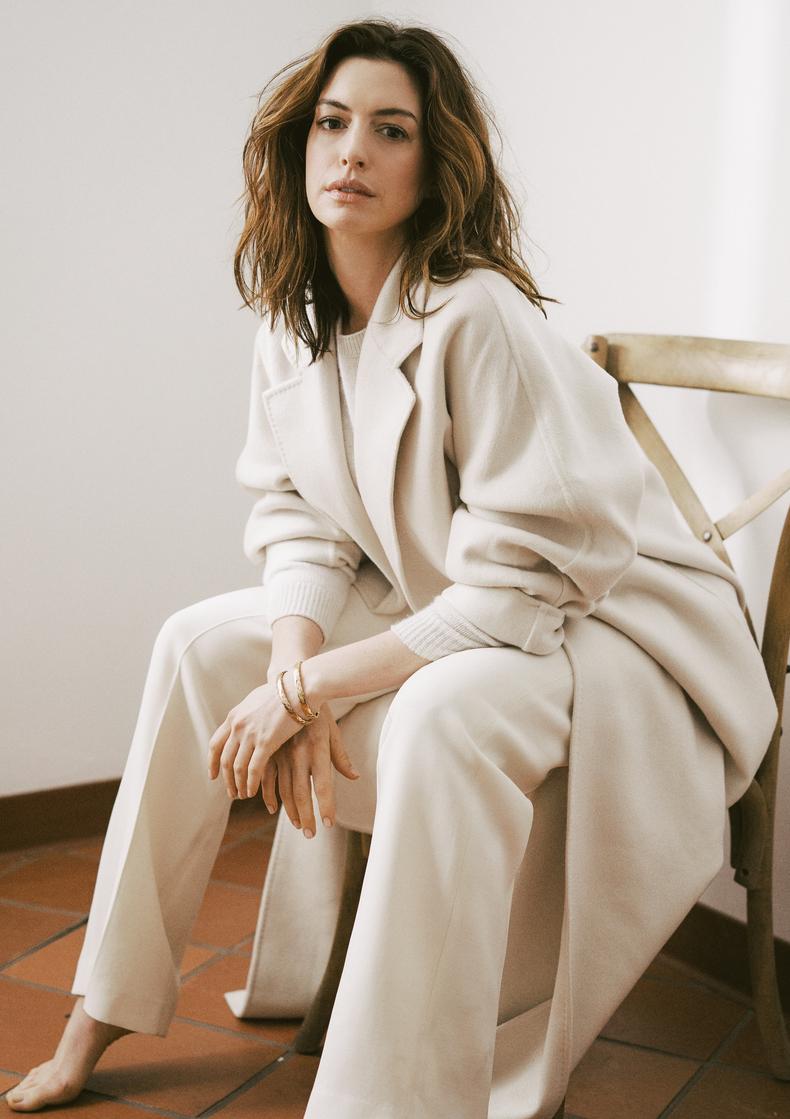 She also spent months working on Neumann's physical presence, including her walk and posture. Yoga became a key part of her workout regimen.
Even with those months of preparation, Hathaway remembers that the first few days of shooting felt off; she doubted her performance, fearing that she was approaching Neumann all wrong. (At the time of our interview, she is in the midst of filming Rebecca Miller's "She Came to Me," and she admits to having not yet watched "WeCrashed": "I was worried that if I saw it, I might not like it as much as everybody else and get thrown in my current performance.") But Hathaway's initial insecurity only existed while she was filming on her own; she remembers the character clicking into place around Day Three, when Jared Leto, who plays her character's husband, Adam, arrived on set.
"I have to say, Rebekah didn't really drop for me until I 'met' Adam," she says, nodding to Leto's well-documented "completely immersive" commitment to his roles. "I remember his first day of filming, and as soon as he arrived, everything made sense. All of the doubt that I had, all of the fear—it became so much more fun to participate than to be afraid."
"Whatever [my process] is, it is highly flexible, adaptive, and takes in both the needs of the character and the realities of the set."
Hathaway's meticulous prep work for "WeCrashed" is representative of her larger creative process, which has been years in the making. Hammond and Butler, both of whom she's worked with again since filming wrapped on the series last year, are just two of the practitioners in her Rolodex.
"I'm a big believer in preparation. For me, it helps keep me steady," she says. "I think that performers always have doubts; performers always have fear and anxiety. And there's nothing I can do about that; there's nothing I can do about what my adrenal glands do other than breathe and try to motivate. But one of the ways I do keep myself steady is by knowing that I've done my homework. Even if you're feeling insecure, just knowing that you've worked hard can pump some worth into a moment."
It's only then that all her preparation can take a back seat, freeing Hathaway to focus on what's happening in real time. It's a sensibility she remembers Seth Barrish—of New York–based theater company the Barrow Group—instilling in her. (Barrish, as it so happens, also makes a pivotal appearance on "WeCrashed" as her character's Uncle Ron, an opportunity Hathaway put him up for.)
Barrish previously taught the performer's mother, fellow actor Kate McCauley Hathaway; he first began training the younger Hathaway when she was just 15 in one of the Barrow Group's acting intensives.
"​​He's been in my life for a very, very long time," she says. Citing his book "An Actor's Companion," she emphasizes that "one of the most important lessons that I learned from him was to avoid vocal patterns. You don't want to over-rehearse; you don't want to get things by rote. It's not about getting the words perfect, although it should always be your aim to say the words that are written—[it's about] the feeling behind them.
"It's like standing in a river," she adds, paraphrasing ancient Greek philosopher ​​Heraclitus: "You can never stand in the same water twice."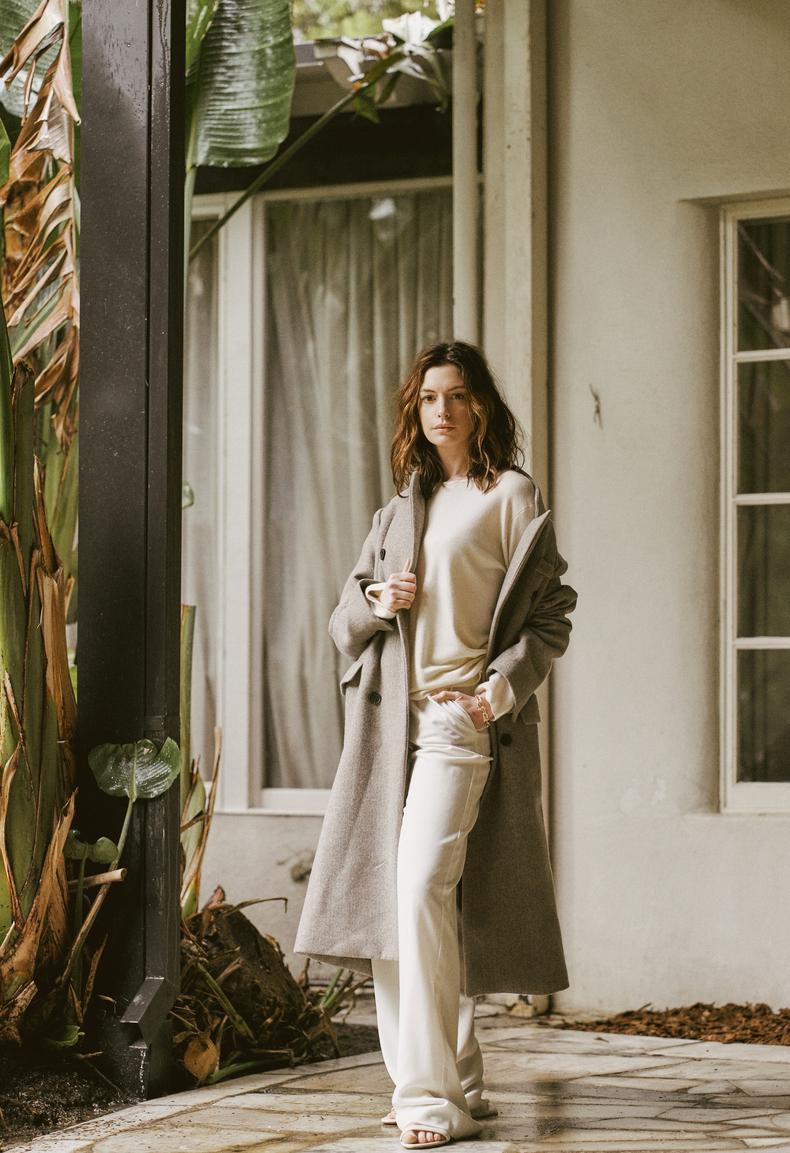 Backstage was also formative in her early years. When the actor was 13, she remembers her mother receiving the print issue each week. Hathaway would scan the casting breakdowns for "any glimmer of opportunity."
"What it gave me was an invaluable education in how casting directors think of characters: bold, broad descriptions of the parts I was not yet ready to play, let alone be considered for. But just reading it gave me a tool to understand the world in which I hoped to be a part."
Hathaway sums up the acting process she's developed since those early days in two words: educated and intuitive.
"I've been figuring it out on my own with great instruction, amazing directors, and wonderful teachers," she reflects. "Some things I've been doing for decades; some things I only discovered last year.
"I think that the day I arrive on a set and I feel like I know what I'm doing and I have nothing left to learn is the day that I should do something else."
"Whatever [my process] is, it is highly flexible, adaptive, and takes in both the needs of the character and the realities of the set," she continues. "Sometimes you are on a beautifully funded project where you have vast reservoirs of time and hot food; sometimes it's two takes and a sandwich. I travel between both worlds and so cannot be precious about how I get from A to B."
Even the most casual fans will know about Hathaway's breakout role at the age of 18 in 2001's "The Princess Diaries" and its 2004 sequel. She became a Hollywood staple, growing up onscreen and starring in franchise films as big as "The Dark Knight" and "Ocean's Eight," as well as modern classics like "The Devil Wears Prada" and "Brokeback Mountain." She was nominated for an Oscar for
"Rachel Getting Married" and won one for "Les Misérables." But she's the unlikely prestige actor–movie star hybrid who doesn't boast a conservatory degree from the likes of Yale or Juilliard; instead, she has mostly learned on the job, and she's never slowed down in her pursuit of knowledge and artistic greatness.
"I think that the day I arrive on a set and I feel like I know what I'm doing and I have nothing left to learn is the day that I should do something else," she says, acknowledging that she first heard this sentiment from a respected colleague. "There's opportunity everywhere. There's always an opportunity to learn and grow."
The sheer variety of projects in Hathaway's filmography is a testament to that instinct. It helped, of course, to have a long-standing team at her back to advocate for roles that would make her a well-rounded star. "They're very good at getting me into rooms where there's resistance," she says of her manager and agency. "Some of my most well-known performances, the directors did not initially want to see me for."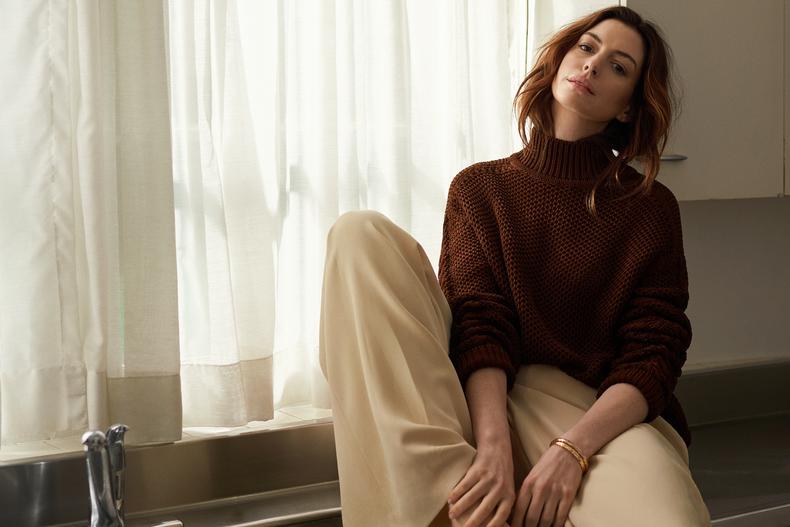 But if there has been any personal strategy behind her choices, it's that she never wanted to creatively plateau or be put in a box. "It was more [out of] recognition that I hadn't gone to school the way that a lot of other people my age had, and I needed exposure to as many different types of films and characters and directors as I could in order to become a better actor," she reflects. "Especially that first decade of my career, it was: Find the most challenging material you can, find the best directors you can, and just be a sponge.
"I'm really, really lucky that, especially when I look back, I worked with legends right off the bat," she adds. That list includes Garry Marshall, Ang Lee, Jonathan Demme, Tom Hooper, and Christopher Nolan, to name a few. "It's an embarrassment of riches, and I worked with them at such a crucial and tender time when I was learning as an artist."
The decade of work since Hathaway's Oscar win—"WeCrashed" included—has shown that the best is still to come. Following "The Dark Knight," she re-teamed with Nolan on "Interstellar"; had a blast leading a coven of spell-casters in "The Witches"; delivered standout performances on a pair of Amazon Prime Video series, "Modern Love" and "Solos"; and led one of the first pandemic-produced features last year, "Locked Down," opposite Chiwetel Ejiofor. Coming up, she's as busy as ever, with seven announced projects in various stages of pre- and postproduction.
Hathaway shares a story that encapsulates her years in the spotlight and what she's taken away from her experiences so far. She was recently seated at a dinner party, where, once she removed her mask, an unknown tablemate recognized her. "He said, 'Oh, I like your films,' and I said, 'Thank you.' And he goes, 'Yeah, I like 'em—the good ones, not the stupid ones.' And I thought, OK, I bet there's a graceful response here. Let me see if I can find it."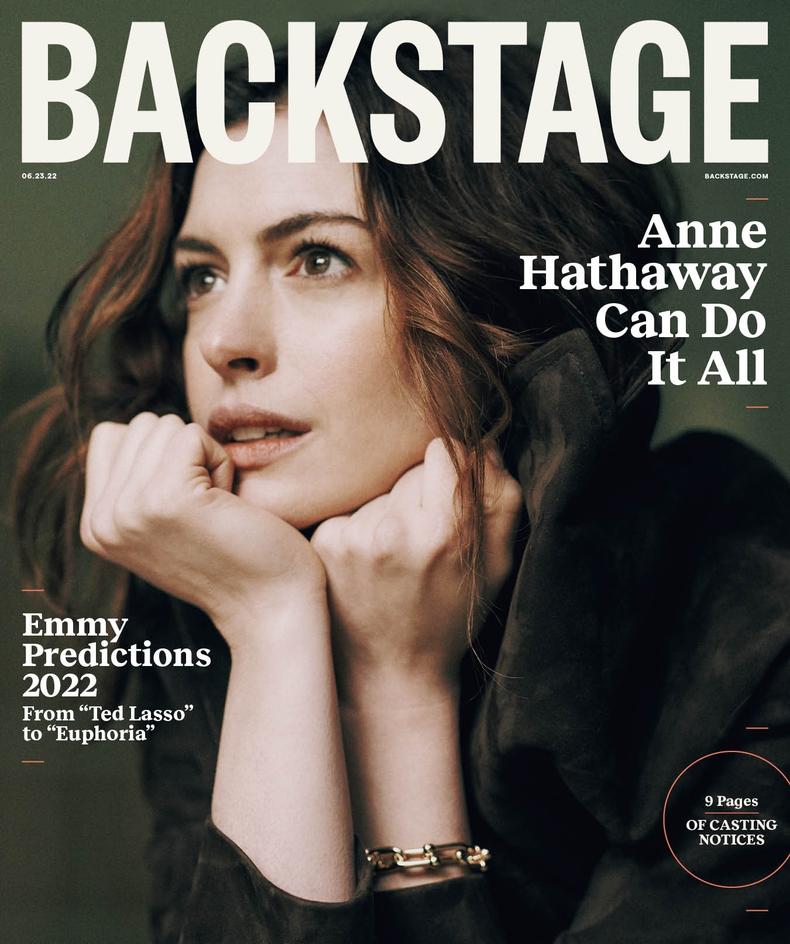 She landed on a thought that has served as a guiding light through the ups and downs of her career. "Thank you; they all served their purpose," she recalls saying. "Not everybody wants to question reality every time they sit down to watch a film. Sometimes, you just want a bit of comfort. So I would say, if I balanced it out with anything, it's that I make films that offer comfort and joy and hope—sometimes. And then, sometimes, I make films where I don't care about any of that, and it's just about: This is something I responded to—a character or a story I couldn't get out of my head, a director whose work is dark and challenging. I want to honor that part of myself as well.
"You'd think that, at this point, I would have some kind of strategy to be able to tell you about, but I really, really don't," she says of charting her own path. "I get sent the scripts that I get sent, and I read them, and I then respond to the directors—or I don't—and that's how it shakes out. But it does seem like a blend of comfort and risk."
Isn't that the kind of balance we should all be seeking? And she didn't even need to read "Awaken Your Inner Goddess" to get there.
This story originally appeared in the June 23 issue of Backstage Magazine.
Photographed by Sebastian Kim picked up from The Sunday Times. Cover designed by Ian Robinson.