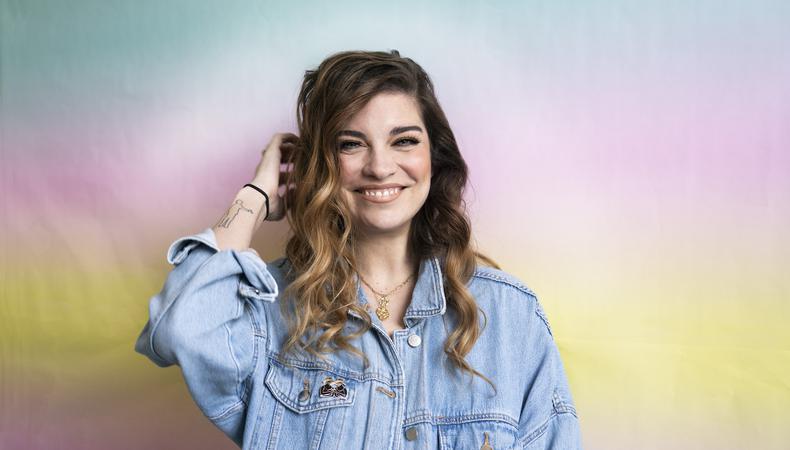 The following Backstage Live was compiled by Backstage readers just like you! Follow us on Twitter (@Backstage) and Instagram (@backstagecast) to stay in the loop on upcoming interviews and to submit questions live on camera.
Jan. 7 marked the beginning of the end for Pop TV's "Schitt's Creek"—and few characters will be more missed than brat-with-a-heart Alexis Rose, played by Annie Murphy. As the spoiled daughter of a millionaire family who suddenly finds themselves bankrupt, there was nowhere to go but up for the globetrotting socialite once she lost it all. While she's still in some ways none the wiser, Alexis' growth over the last six seasons has been fertile ground for comedy and heart in equal measure. The 33-year-old Murphy recently joined Backstage to discuss the final season, how she stays positive in the face of rejection, and what it's like acting with comedic heavyweights like Emmy nominees Eugene Levy and Catherine O'Hara as her parents, and Dan Levy as her brother.
Even the best actors can learn something from watching "Schitt's Creek."
"Someone who is willing to try things and someone who is fully with you and engaged [make great scene partners], and Catherine [O'Hara] is kind of the prime example of that. From her improv background, she's a real professional, but she always has a glimmer in her eyes and is always ready to play around and give things a shot. Even though she's so incredibly experienced and an exceptional actor, she never tries to control the scene."
What You Can Learn From Dan Levy's Journey to 'Schitt's Creek'
Be creative, even in an audition.
"On the breakdown for the audition, they didn't describe [Alexis] as a Paris Hilton type. They described her as a young Goldie Hawn, which I thought was a really interesting reference point because Goldie Hawn is bubbly, but she has a real likability and grounded side to her. That said, I went on the internet and [looked up] 'Kardashians,' 'Lindsay Lohan,' and 'Olsens.' [I developed] a way of speaking from them."
She and Dan began copying each other's physical tics.
"[My mannerisms] came from stoned actor research and just kind of ran away with themselves. And I think I took a lot of Dan's kind of contorted facial expressions for myself and he started taking some of mine, because you know, as siblings, you share similar speaking inflections and physicality, so we started borrowing from each other. But, yeah, there's some scenes where I'm like: Goddammit, do I look like the spawn of Jim Carrey? What is happening with my face at this exact moment in time?"
Even after rejection, keep moving forward.
"It's very hard advice—'cause it's not something you can just do—but growing that thick skin and knowing that if and when you do get that inevitable 'not for us,' don't take it personally and don't let it drag you down, because it's going to happen. It happens all the time, and you just have to keep going and keep going and keep going because one day it's going to be you. You're going to get the callback and you're going to get the call."
Finding a good reader can help you memorize your lines.
"Lucky [Bromhead] is the makeup artist on the show, and she helps me memorize my lines. She does my makeup and I'm like, 'And now you will sit with me and we will run lines into the ground.' So thanks, Lucks, so much for my career, basically! But she was great because she's a performer herself in her own way, and would do everyone's voice. She was a good reader."
This story originally appeared in the Jan. 30 issue of Backstage Magazine. Subscribe here.