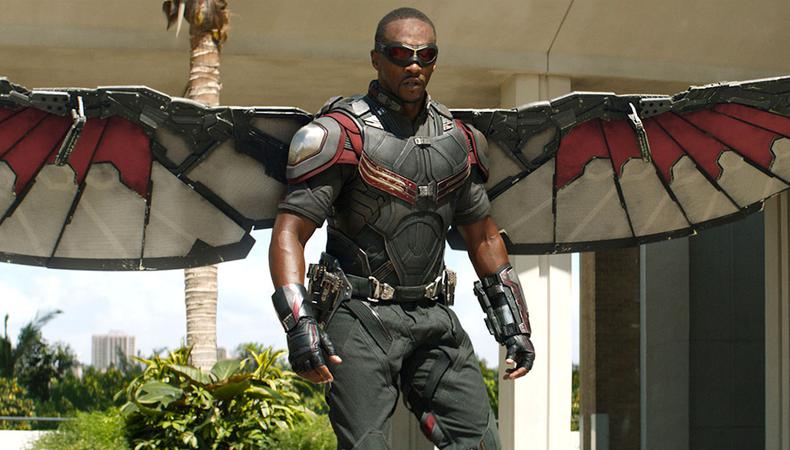 "The only tool an actor has is his body. You have to be able to utilize that to express yourself."
Anthony Mackie has been showing for years that he can deliver a precise and affecting dramatic performance in tandem with the Marvel gigs that have turned him into an action star. That's in no small part thanks to his training at the Juilliard School. Sitting with the legendary movement instructor and co-founder of the school's dramatic division Moni Yakim, Mackie joined Backstage for a Zoom webinar discussion about their new documentary, "Creating a Character: The Moni Yakim Legacy," on which Mackie is an executive producer with Jessica Chastain and others. In the half-hour sit-down, Mackie explains how his training with Yakim, specifically, trained him for the work he does today as Falcon in the Marvel Cinematic Universe.
READ: 25 Amazing Acting Colleges You Should Know
"The only tool an actor has is his body," Mackie remembers learning. "You have to be able to utilize that to express yourself—and I try and bring that to the forefront of my work every time, especially with 'The Avengers.' " Further elaborating on Yakim's lessons and how he utilizes them on Marvel Studios' sets, Mackie said, "The thing that I always try to bring to the work is that movement in stillness. Just because you're not moving doesn't mean you aren't moving. There's a certain strength, there's a certain explosion that can come out of stillness."
Later in the interview, Mackie and Yakim go on to detail further lessons and methods used in order to maintain physically demanding work, how Mackie employs said methods throughout his body of work, and what Yakim looks for when molding the future A-list actors of tomorrow. Mackie, of course, is not the only to train with Yakim, and the feature film documentary includes interviews with past pupils including Chastain, Oscar Isaac, Laura Linney, Kevin Kline, Michael Urie, Alex Sharp, and many more. Others from the instructor's past include Patti LuPone, Viola Davis, Adam Driver, and Meryl Streep. While he told Backstage it is incredibly gratifying to see students go on to great success on the screen and stage, Yakim also noted that it's gratifying to see students go in different directions; they continue to report back that their training at Juilliard informed their lives in other ways.
"It's an education for life," he explained. "It's about teaching them a little bit of what life's obstacles we have to overcome and how to overcome them."
Watch the full interview with managing editor Benjamin Lindsay below, and for more on what's to come with Backstage's on-camera Slate programming, click here.
Looking for remote work? Backstage has got you covered! Click here for auditions you can do from home!