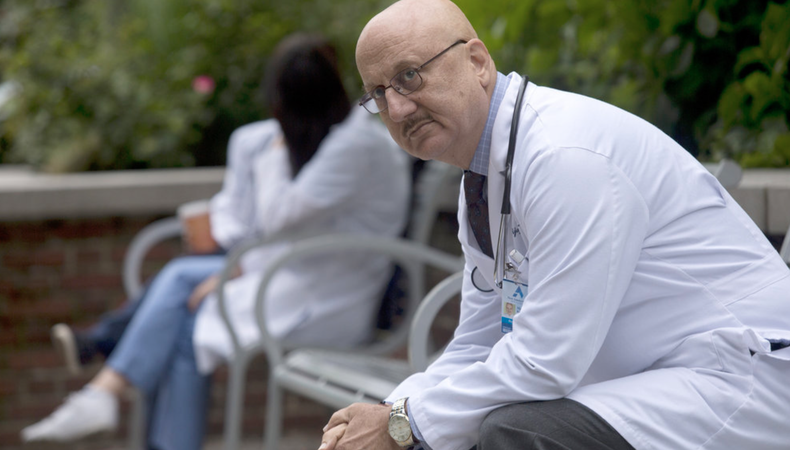 Welcome to Social Studies, wherein we take a deep dive into actors' social media practices. What works, what doesn't, and what should be avoided at all costs? We're glad you asked, and you've come to the right place to find out.
Anupam Kher knows good social media—and he also knows not to overthink it. Though he's amassed 14.1 million followers on Twitter and additional 2.7 million on Instagram, the actor's only strategy for online engagement has been authenticity; it's the same mindset with which he approaches his entire career, in fact. Ahead of the Sept. 24 "New Amsterdam" premiere, Kher chatted with Backstage about how any performer can build up their online footprint, and how that may (or may not!) build up your career.
When and how did you first start using social media?
A friend of mine told me to join Twitter when he learned I did not have an account yet. I think this was back around 2007. Initially, it was something to distract me in between shooting and I only started following a few accounts, and then slowly I got more involved in it. I joined Instagram much later, about two and half years ago.
How did you go about amassing such a large and devoted following?
I feel that if you show your true personality, people will then want to follow you and your following will grow organically. It's not only fans who know you and your work, but also those who respect you as well as your thoughts and opinions on different topics. I'm also very interactive with people! I like to talk to them and do Twitter Q&As, but I've also arranged Twitter meet-ups in various places I recently visited like Canada, Singapore, Kuala Lumpur, and Sydney.
Do you feel that social media can be used to help further an actor's career? In what ways?
Only acting can further an actor's career. Nothing else. You can have millions of followers but if you aren't a good actor, you won't survive. You can be a good actor with not many followers or no social media at all, but you'll always shine. I don't think acting has anything to do with social media even though I'm told a lot of people get roles because they have a lot of followers. I personally don't believe in that.
As great as social media is, we also see those with large followings getting into hot water for things they say online. Are you careful in avoiding the many landmines that exist today?
I'm not careful and I don't get bothered by people who are officially called "trolls." I don't think I worry about that. There's always a brigade out there who are questioning your beliefs and it's fine. As long as you can deal with it, detach yourself and not get involved with any controversy, I don't think there's anything to worry about. This landscape has also made me become a more responsible person when I use my social media platform. I think twice before I write something because I don't want it to be misunderstood and I don't want to make irresponsible statements. I feel it's wonderful to be able to convey your thoughts, to make people laugh, but trolls are trolls, they will continue to comment because they are basically looking for a reaction. If you react to them their purpose is served. I avoid reacting to them altogether.
What advice do you have for actors who are new to social media, to best use it to their advantage?
I think it is certainly an important medium because you have the ability to reach out to people and engage with the community. My advice is that it is very important to form a personality on your social media pages. People relate to you if you are real, if you're original. I personally feel if I follow somebody for 10 days and I discover what kind of a person he or she is, [that's effective social media]. It can be used to your advantage as long as you are yourself.
What do you love about being an actor who's active on social media?
I'm incredibly appreciative that I have 14 million followers on Twitter, 2.7 million followers on Instagram, and an equal number of followers on Facebook. I'm a people person and through social media I'm able to connect directly with my followers. I like to host Instagram Lives and chat with my fans or anyone who is tuning in. It's an unbelievable experience not only for me, but I imagine also for my fans because there is an ability to directly interact with each other. Prior to social media, that connection would not be attainable.