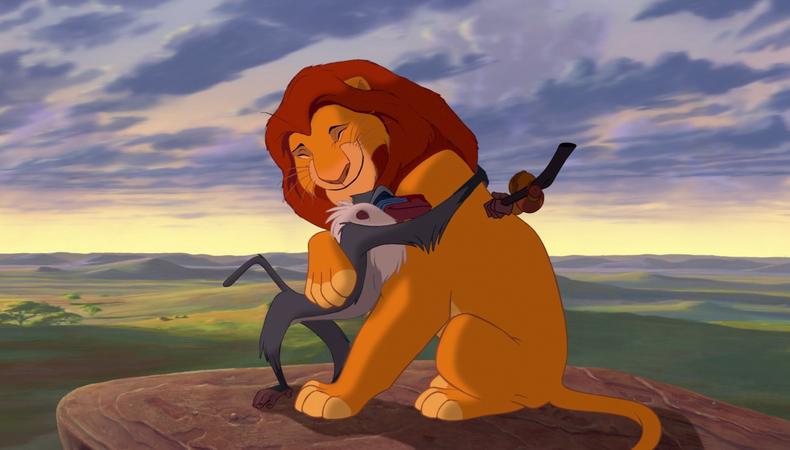 "Hundreds of animals gather at the bottom of Pride Rock: a tall, flat ledge that towers over the rest of the savanna," an actor narrates. "Zazoo, a small blue bird with a large beak, flaps to the ledge. He bows to Mufasa, a powerful, dignified lion with a thick red mane... Rafiki, who is much smaller than the adult lions, takes Simba up in his arms, carrying him like a baby, he walks slowly to the end of the ledge, then holds Simba high in the air for all the animals to see."
You likely recognize the scene: the iconic opening of Disney's 1994 animation "The Lion King." For sighted people, the visuals are well-known. However, for people who are blind or have low vision, the experience is different: That's where audio description comes in.
Description narrators make the visual entertainment experience accessible to those not be able to see it. "I give voice during the existing pauses to just about anything visual that is not described by the dialogue, sound effects, soundtrack, or embedded narrator," says narrator Tansy Alexander. "This could include the time of day, facial expressions, sight gags, action, settings, outfits, montages, scene changes, and who is doing what and to whom."
Alexander got her start in audio description during an open call at WGBH in Los Angeles. "There are many hoops to jump through," she says of audio description work, including nailing certain inflections, reading copy cold, fitting sentences into strict time codes, and balancing clarity with descriptive storytelling—all while "not stepping on any dialogue or essential sound effects," Alexander explains.
"It's like a sports announcer on the radio, giving the play by play, but for the visuals of scenes," says narrator Roy Samuelson. "It's a very nuanced—and a fine line of balance, emotionally." Before getting involved in audio description work, Samuelson did cold readings for television writers groups in Los Angeles. When Samuelson booked his first audio description audition for a movie, "I didn't get any sleep," he recalled. "Not out of anticipation for booking it or not, but by the joy of the dance with the audio description script: following along with the audio, visuals, and time cues." Samuelson has since narrated over 400 films and television shows.
Audio description isn't only for film and television. Theater performances, exhibits, commercials, and live events are all potential gigs for audio narrators. So, how does an actor prepare to narrate an audio description? "I just make sure that my voice is in good condition since everything is done with cold reading," says Alexander.
Audio description work isn't only tricky for actors. The writers of audio description copy, known as describers, also have to be specific and strategic. "They have a limited window of time, usually in between lines of dialogue, to jump in with as many relevant details, while still staying within the tone of the scene," says Samuelson.
"The writers are tasked with deciding which of the visuals are the most essential to understanding the storyline," Alexander explains. "With many areas of wall-to-wall dialogue, there may only be time to describe one element…. Without good writing, it is difficult to make a great product, even with the best voice and delivery."
Sometimes, however, there is no written copy—like when an event is live and unscripted. "The only preparation that can be done is to know the particulars of the event type and the names of the people who will be appearing," says Alexander.
With audio recording technology becoming more accessible to actors, might October, Blind Awareness Month, be the time to consider audio description gigging? "If you want to help audiences, go to YouDescribe and find some videos that blind people are looking to have described, and have a hand at it," Samuelson recommends. "The app Be My Eyes connects you with people who are blind or low vision and need visual assistance."
Alexander advises actors to practice storytelling with different musical scores, cold reading aloud, and building up the breath for long passages. She also recommends testing out vocal variations and coloring, without becoming the focus of the event. "The narrator should never overpower or 'stand out' from the actual production but should fit into the director's vision and the mood of the story or live event."
"I've been telling people for years that this is a blind spot in the industry—no pun intended," says audio description narrator Stephanie Thomas, who has been mentored by Audio Description Los Angeles (ADLA). Run by Teri Grossman, Deborah Lewis, and JC Henning, ADLA has provided audio descriptions for theaters, aquariums, and even the Rose Parade. "Now, people are discovering [audio description], and I'm really glad because I believe the arts should be accessible to everyone," says Thomas. "This is a great way to do it."
For a list of projects that have audio description, the American Council of the Blind operates The Audio Description Project, which tracks films and television shows—including Amazon Prime, Hulu, iTunes, and Netflix. In addition to ADLA, other resources for audio describers include the Audio Description Coalition and the California Audio Descriptors Alliance.