Austin Butler is talking to us via video call from Los Angeles, but his location might as well be "on top of the world." At 31 years old, the performer is neck-and-neck with several screen legends in the Oscar race for best lead actor. And with a recent Golden Globe win and a SAG Award nomination, his Academy Award prospects are looking even better. That's thanks to his deeply committed performance as the title character in Baz Luhrmann's gonzo biopic "Elvis." Looming on the horizon is Denis Villeneuve's "Dune: Part Two," in which Butler will play the villainous Feyd-Rautha Harkonnen, a role first brought to life by Sting (and his glorious codpiece) in David Lynch's 1984 film. And just a few short hours after our interview, the actor is heading to Rockefeller Center's Studio 8H to make his "Saturday Night Live" hosting debut.
But as Presley himself once said, "If you let your head get too big, it'll break your neck." Even at this lofty moment, Butler isn't above looking back on the 19-year journey that brought him here; nor does he mind reflecting on the very first time he said a line on camera—even if it takes a minute to remember what that project even was.
"I did a short film about this dog who gets turned into a boy," he says. Then, he clarifies, "I played the dog who turns into a boy."
Much like those who watched his character's canine transformation in that movie (which, as it turns out, was 2007's "The Faithful"), audiences have witnessed Butler become a bona fide leading man seemingly overnight. In reality, the actor's story is a long and winding one, filled with low lows and high highs. It's also a tale with a bit of its own mythology: There's a not-quite-true rumor circulating online (and in his IMDb bio) that the actor was discovered by a talent rep at age 13 while wandering around a county fair.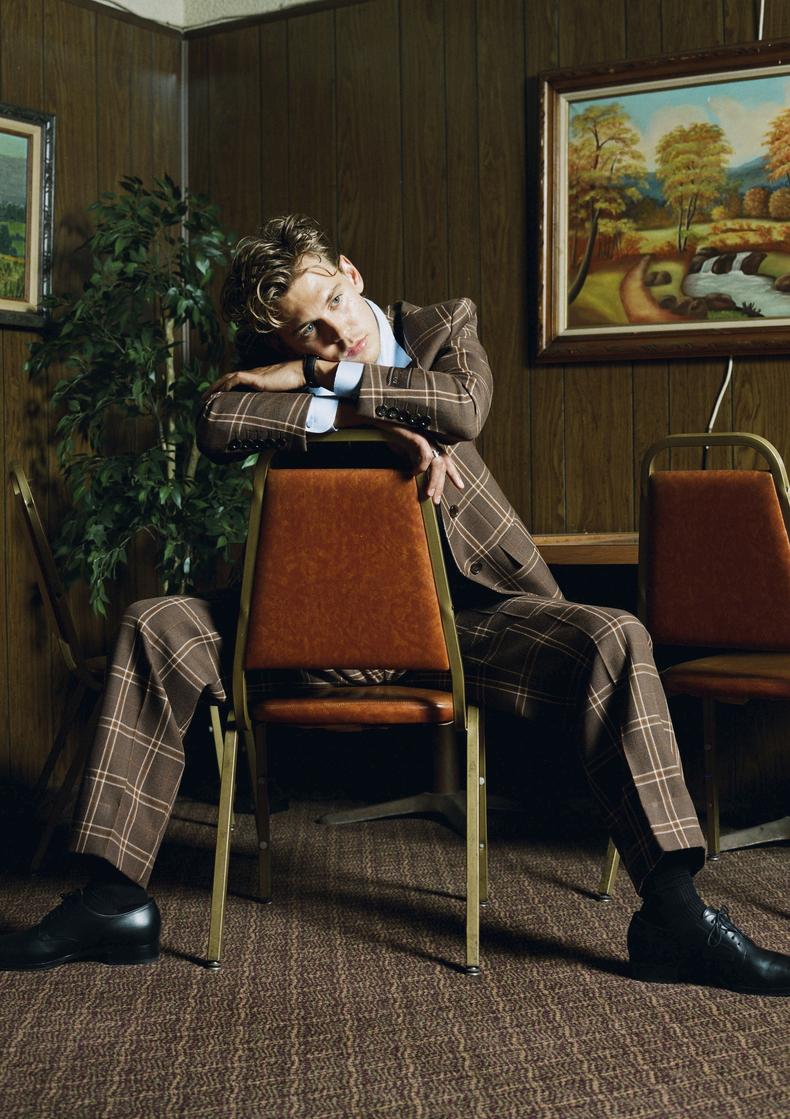 "The real version is: My mother remarried for a brief stint, so I had a stepbrother at the time," Butler says. "He had always wanted to have an Afro, so his dad permed his hair." The result, the actor recalls, was closer to a "wild mop of curly hair," which caught the attention of a representative from a background talent agency. Though Butler was a shy kid with no desire to act, he tagged along with his stepbrother to an open casting call; when someone put a commercial script in his hands, it might as well have been kindling.
"My mom, she saw a passion that came out of me," he remembers. "I was very introverted as a kid. But it just seemed like a cool thing. You get paid some money, you get to be on a movie set, you get a free lunch."
A passing interest soon became an obsession, and Butler's mother went to great lengths to give him the chance to soak up as much knowledge as he could. That meant regularly making the long drive up and back from Orange County to L.A. so her son could attend acting classes. "I owe my mom every day," he says.
"How can I diminish the line between me trying to be someone else and instead just really feel like I'm seeing the world through [Presley's] eyes?"
A Meisner-based class helped him "get out of my own head and get my attention on the other person [in the scene]." At the Howard Fine Acting Studio, exercises rooted in the teachings of Uta Hagen challenged him to re-create phone calls from memory and to "go out and find as many different shades of green" as he could. Butler was assembling a powerful actor's toolkit, one he hoped would bring him similar success to his role models, his north stars—actors like Leonardo DiCaprio, Robert De Niro, or Jack Nicholson. The challenge was to bring the intensity of that trio to guest roles on shows like "Hannah Montana" and "Zoey 101."
"I look back on the Nickelodeon and Disney shows that I did; even though my skill wasn't there, I still wanted to give the energy [as if] I was going to make 'Raging Bull,' " Butler says. "I kept that fierce dedication toward trying to find more truth, even in things where it could be easier to just phone it in."
If "ambition is a dream with a V8 engine" (Presley again), the actor was stomping the gas but going nowhere. "I was doing these TV shows that were really fun, and some people really dug them. But I didn't feel fulfilled as an artist," he says. "I just wasn't being challenged in the way that I wanted to. When you watch 'One Flew Over the Cuckoo's Nest' and then suddenly you're doing a CW show, you kind of just…" he trails off, searching for the right words. "As great as those experiences were—and I'm so grateful for them and everybody involved—there was this hunger inside of me."
But hunger can quickly become starvation. "I'd been off for a couple of years, and I came back to L.A. and thought, I would rather not work as an actor than ever do something I'm not passionate about again," he continues. "I didn't work for eight months. When you don't work as an actor for a while, your mind can go. It made me think, Is this really what I want to do?"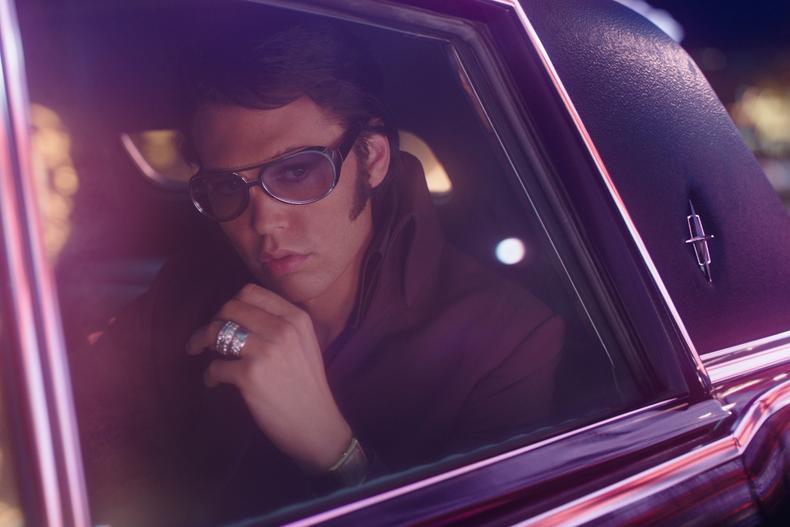 Credit: Hugh Stewart
At this low moment, the chance to audition for a role in the 2018 Broadway revival of Eugene O'Neill's "The Iceman Cometh" arrived. "I thought, I'm an L.A. actor; they're not going to cast me," he says. "I'd been told before that there's this divide: That's New York—they're not going to look at you or respect you."
But he landed the part, and with it came the opportunity to hone his skills seven shows a week, performing opposite Denzel Washington. "It changed my perception of myself and my abilities," Butler says. He frequently returns to what he learned from his conversations with the Tony and Oscar–winning legend—or "the godfather of acting," as Butler calls him.
"Something Denzel told me is: There is no stage acting or film acting; there is the truth," he says. "Human beings do really broad things in everyday life. Sometimes, they do very subtle things. You can do either onstage or onscreen. That freed me up to realize [that] all of the things I was learning onstage—I could take them back into film."
"I wanted my instincts to become as close to Elvis' instincts as I could get them. That way, there wasn't a moment on set where, suddenly, Austin's instincts come out."
Butler left New York with "a fire inside," and before long, was "falling in love with acting again." He carried that energy to the set of "Once Upon a Time in Hollywood," in which he played Charles Manson devotee Tex Watson. It was a small role, but it gave him the chance to work with writer-director Quentin Tarantino, share scenes with DiCaprio, and say the line, "I'm as real as a doughnut, motherfucker" while pointing a gun at Brad Pitt. It was the kind of filmmaking environment he'd always dreamed of—one that presented as many challenges as lessons.
"[Tarantino] is incredibly specific about his rhythms…. But there were moments where he would be so spontaneous," Butler says. "The 'I'm as real as a doughnut' line wasn't scripted. I was going to say, 'I'm as real as a bullet,' and somebody misheard me. I went outside; [Tarantino] opens the door and goes, 'Actually, say it. Say, "I'm as real as a doughnut." ' It's great to see someone who can be so specific and then also be open to change."
The actor began to check boxes off his to-do list, but a lead role worthy of his aspirations still evaded him. So when he heard that Luhrmann was looking to cast the lead for "Elvis," Butler dove into research and preparation before he ever met with the filmmaker. He devoured concert footage, pored over photographs, and listened to recordings of Presley's interviews on a loop. Eventually, he taped himself performing "Love Me Tender."
It was a catastrophe. "I watched it back and immediately knew I couldn't send it," Butler says. "I could just see myself trying to manipulate my face into looking like Elvis."
Butler found his emotional hook through a shared tragedy: Both the actor and the musician lost their mothers at the age of 23. "That bypassed any of the caricature," he says. "[Presley] was so human to me in that grief." The final piece came to Butler in a nightmare. "My mom was dying again. When I woke up, it was like all the grief was happening for the first time," he recalls. "Because my whole world was just researching Elvis, my first thought was, What would Elvis do? He would sing."
So Butler sang. "I set up a camera, and the first song that came to mind was 'Unchained Melody,' " he says. "I let myself cry and just banged out the song. Then I got up, turned the camera off, and sent that tape."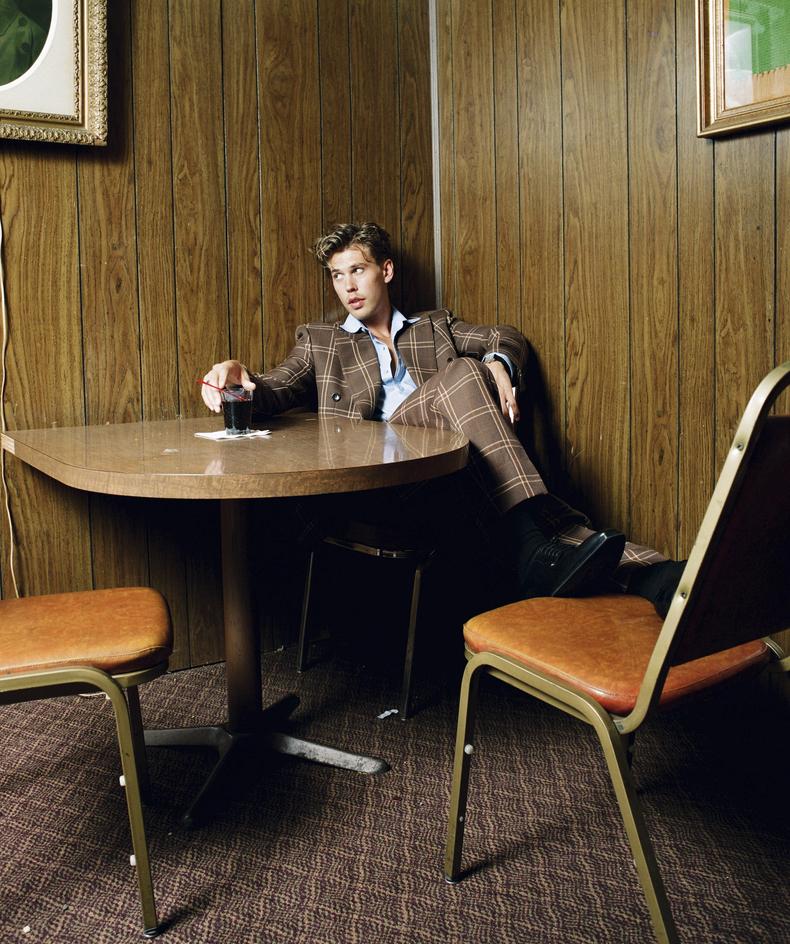 In an interview with GQ, Luhrmann shared his reaction: "Was it an audition? Or was he having a breakdown?"
It didn't matter. Butler landed the role, and in it, he finally found a character large enough to hold his intensity. "Every waking second was Elvis for a year," he says. He worked with coaches on singing, movement, and dialect, and even took up karate. "I had all these teachers—many incredible people around me that helped so much. I was trying to be a good student."
When his "Elvis" costar Tom Hanks contracted COVID-19, production shut down for six months. Butler opted not to return to L.A., instead staying in Australia to live, wholly isolated, with Presley.
"It stopped being about trying to be a good student. It became: What is my own relationship to this man?" the actor says. "How can I diminish the line between me trying to be someone else and instead just really feel like I'm seeing the world through his eyes? I would wake up and just follow my curiosity. It became much more personal."
When filming resumed, Butler emerged leather-clad and ready to roll. The result is a performance that channels Presley body and soul—not just in the musician's signature onstage gyrations, but also in small glances, line readings, and his easy gait. You could play the singer's 1968 TV performance of "If I Can Dream" side-by-side with Butler's and not notice much of a difference between the re-creation and the real.
But the actor's performance goes beyond imitation. A scene depicting Presley's controversial, crowd-stirring 1956 rendition of "Trouble" at Memphis' Russwood Park had to be built from scratch. "We didn't have footage from Russwood," Butler says. "On one hand, it's incredibly freeing; and on the other, you're thinking, I'm crafting an unknown Elvis performance right now. I said to Baz, 'What if I jump into the audience?' I could feel the camera up above, and I turned over and put my arms out…. That was amazing, because it was just a moment that came; it felt right to surrender to the love of the audience."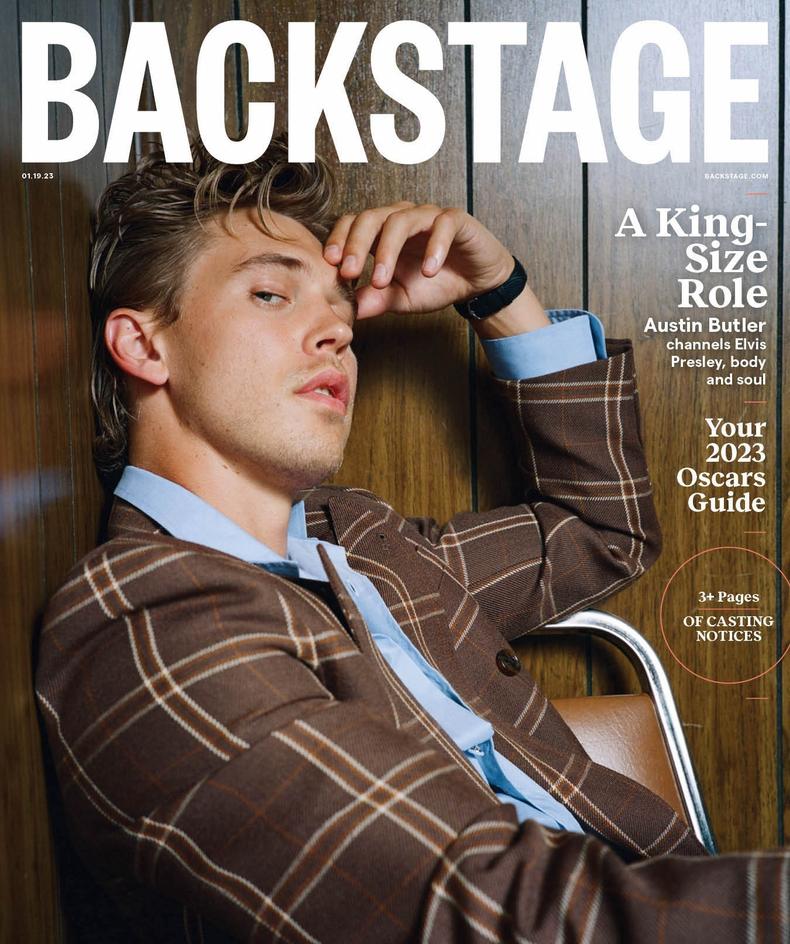 Hold on that image of Butler lost in his character and held aloft by a sea of supporting hands: That's the dream, the culmination of every lesson he ever learned. In it is the kid whose mother drove him up and down the freeway to the classes that gave him confidence. It's what he was picturing while standing in the background of those Disney Channel and Nickelodeon series, dreaming of more. It's a perfect piece of choreography, because Butler learned structure from performing onstage with Washington; it's a natural moment, because Tarantino taught him when to toss structure aside.
It feels real because Butler's "fierce dedication toward trying to find more truth," as he calls it, led him there. "I wanted my instincts to become as close to Elvis' instincts as I could get them," he says. "That way, there wasn't a moment on set where, suddenly, Austin's instincts come out."
Butler resurfaced on the other side of "Elvis" a changed man. Some of that is literal; during our conversation, Presley's deep drawl sometimes emerges from beneath the actor's California accent. (At one point, he offers to tell a noisy truck outside to "be quaw-et.") He's also still figuring out how to replicate the all-encompassing focus he brought to "Elvis" while not in lockdown. (To achieve his physical transformation for "Dune: Part Two," he conducted "Elvis" press during the day and trained with a Navy SEAL at night.)
But mainly, "['Elvis'] changed my relationship to fear," Butler says. He means the fear of taking risks and being vulnerable, but most of all of feeling "the incredible privilege that comes with the fear of letting people down." But he welcomes that responsibility; he's wanted it for years. "Elvis" is in the rearview mirror, but part of Butler is still in that crowd, arms out, surrendering to where the tide takes him.
This story originally appeared in the Jan. 19 issue of Backstage Magazine. To hear our full conversation with Butler, listen and subscribe to In the Envelope: The Actor's Podcast.