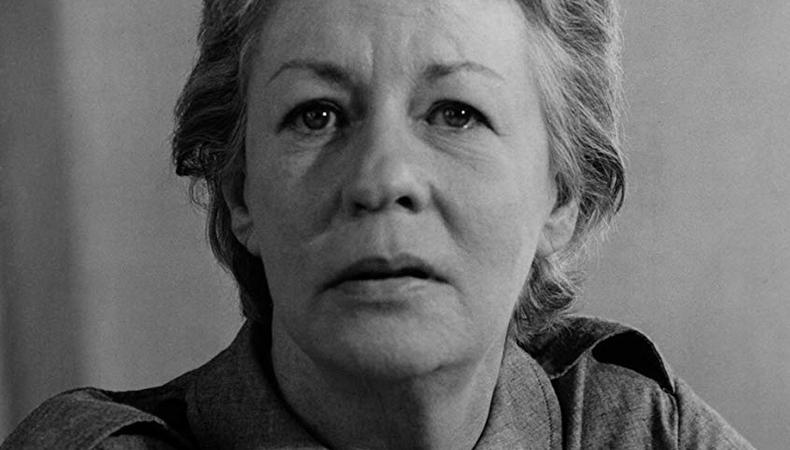 The lore of effervescent acting gurus is almost as iconic to the industry as famous playwrights, directors, and actors. Names like Stanislavsky, Meisner, Adler, and Strasberg loom large over the American acting technique—and Uta Hagen is right there with them.
Hagen is a favorite among actors for two reasons: The first is that her approach is very practical, not perfumed with flowery abstractions. The second is that Hagen herself was one of the nation's most brilliant stage actors.
Hagen had a unique way of taking principles from Stanislavsky's System, which encouraged actors to behave realistically in imaginary circumstances, and turned them into practical tools to utilize onstage. Hagen devised a system that wasn't necessarily dependent on a guru's eye but instead stressed habits of self-assessment and reflection, making her technique self-sufficient in a way that's practical for working actors at any phase in their career. Below, we'll answer some questions about the iconic teacher and why her observations have aided actors for decades.
Uta Hagen was an acting teacher and a Broadway actor who developed an acting technique that built on Stanislavsky's System.
Before Uta Hagen was a big-deal teacher, she was a big-deal actor. At the young age of 18, Hagen—who was born in Germany but raised stateside—made her Broadway debut in Anton Chekhov's "The Seagull." Her portrayal of Nina had critics raving, and it became clear that the teen was going to leave a mark on American theater.
Thrust into the Broadway big leagues, Hagen was forced to develop a degree of discipline to effectively relive the naturalistic stylings of Chekhov's famously subtext-heavy writing. This experience gave Hagen the impetus and confidence to codify her technique for conveying behavior naturalistically onstage.
Hagen played some of the most iconic roles during a golden age for the theatrical canon—including the title role in "Saint Joan," Blanche DuBois in "A Streetcar Named Desire," Desdemona in "Othello," and Martha in the premiere of "Who's Afraid of Virginia Woolf?" If it weren't for Hagen's unjust ensnarement in the Red Scare of the midcentury when McCarthyism hit the scene, she likely would've taken Hollywood by storm. But because of Los Angeles blacklisting, she dug her roots into the New York stage and began a practice of observing, writing, and teaching.
The key elements of Hagen's technique are substitution, transference, specificity, authenticity, and preparation.
Hagen communicated her philosophies on acting through exercises that she refined as a teacher in New York City; thus, her insights are best experienced kinesthetically and in layers. While Hagen's technique was indeed in concert with the beliefs of the System or the Method, she encouraged actors to not overintellectualize their processes and instead root themselves in real activities and create confidence through rigorous preparation. While some teachers (like Strasberg) encouraged actors to mentally re-create the conditions of lived experiences to behave authentically onstage, Hagen taught the technique of substitution.
Substitution is a variation of emotional recall with clear parameters. Hagen believed that there was danger in an actor internalizing a technique and getting lost in a role. Through substitution, she wanted actors to find themselves in a part. Hagen said that if an actor attempted to re-create the conditions of a definitive nonfictional psychological moment they had experienced for the use of their acting onstage, it would be distorted, because the way we perceive circumstances in moments of high emotion is not necessarily logical.
Instead, actors should use an "imaginative extension of realities" within the fictitious circumstances of a play. As a principle, substitution is more about the actor convincingly putting themselves in the organic circumstances of the play rather than replicating the conditions of their own life onto the play.
Hagen aimed to encourage the actor to articulate moments where their life and the life of the play as created by the writer meshed. The work of substituting is something the actor must do herself—it is not something a director can construct. This adds to Hagen's sense of an actor's craft: Only an actor can articulate an adequate substitution, adding a sense of discipline and rigor to an actor's function. It is the actor's duty, Hagen said, to find their relationship to the character based on their own experience and perspective, a process she terms "transference." And the work of substitution is merely a foundation for the actor to move into the realm of making definitive choices in the rehearsal hall or on the stage aimed at giving the actor a sense of confidence because they trust the circumstances of the character's stakes.
However, Hagen is also very clear that an actor should never substitute circumstances onstage that they're uncomfortable talking about or exploring publicly.
Another critical element of Hagen's technique—which is to be applied in the rehearsal room or onstage—is the establishment of destinations. In her studio, Hagen always pestered students to fully utilize props, costumes, or even architectural features of the venue to motivate authentic action. During scene work, Hagen's students always had a pile of props and furniture on the stage because it was their relationship to objects that manifested in naturalistic behavior. Some acting teachers use the term "sourcing" to describe this technique—the idea that an actor knows what to do or how to behave onstage by how they interact with objects and tools that would realistically be in the environment of the scene.
By focusing on destinations, actors are always forced to think regarding actions and objectives ("What do I, the character, want in every single beat of the play?"). This is rooted in the language of Stanislavsky and participates in the belief that an actor's energy onstage is dependent on the actor having tasks that relate to the character's objective or obstacles.
Hagen's technique is right for you as an actor if you like internal and external character work, and want autonomy in the training process.
Hagen's technique is a favorite among actors because it's a middle ground between internal (representational) and external (presentational) work. By having the actor consider a character's circumstances concerning substitutions, the actor is making an authentic contribution to the artistic process by integrating their life experience into their relationship with the character. By having the actor ground himself in the environment of the scene, he's given logistical tasks to accomplish and objects to distract himself from behaving too internally or pandering to the audience.
The techniques of Hagen are helpful for actors who wish to be self-sufficient or maintain autonomy in their training process. Hagen believed that actors always have a sixth sense continually recording the logistics of stage business and audience reactions. Before Hagen ever gave critiques to actors, she asked how they felt after their performances and if anything felt unusual or off. This gave the actors an autonomy and voice in how their performances were interpreted and also reinforced skills of self-observation and reflection, which Hagen insisted were paramount to develop for a professional working actor.
Hagen's technique is taught at the Herbert Berghof (HB) Studio in New York City, through her book, "Respect for Acting," and via video footage of her classes, called "Uta Hagen's Acting Class."
The articulation of internal acting processes is still somewhat new—the wave of American acting theories only arrived in the early to mid-1900s. Thus, a lot of these philosophies and exercises still aren't used in most training programs today. Hagen herself taught at the Herbert Berghof (HB) Studio in New York City, and her book, "Respect for Acting," is considered a must-have for every theater teacher and student. There's also video footage of Hagen teaching her classes at HB entitled "Uta Hagen's Acting Class."
Hagen's technique may not be useful in high-concept directions or physical methods.
Hagen's technique is mainly designed to help actors create a craft around making naturalistic and authentic choices on the stage. Consider the fact that Hagen's big break was as Nina in "The Seagull" (Chekhov is so known for his naturalistic writing that nuanced acting choices are often categorized as "Chekhovian"). While Hagen's techniques will make you a better actor no matter what genre or style you're playing in, her exercises might not be the most helpful in high-concept directions or physical methods, like commedia dell'arte. But it's worth emphasizing that her techniques won't necessarily detract from the actor's craft in heightened productions, either.
Like all other acting techniques, Hagen's technique takes time to learn and will constantly evolve with the actor.
The way an actor integrates the lessons of her technique is dependent on many variables. Learning any acting technique is not a one-and-done; acting is a regenerative craft that must always grow with the artist. That said, what makes Hagen's technique singular is that it encourages regimented self-observation and reflection. If an actor can adopt habits of observation and reflection habitually, their craft will evolve alongside them.
Hagen's technique will evolve your acting by helping you learn to replicate authentic life moments in your work and with script analysis.
You will find yourself working to replicate authentic, natural moments in your life—and you will discover how hard that is, because human behavior is deceivingly complex (even in the most mundane of circumstances). You will begin paying attention to how your behavior changes based on relationships with people, objects, or clothing. Hagen was sermonizing about the performative phenomenon of code-switching in her classroom decades ago. She encouraged her students to notice how their voice and vocabulary changed on the phone depending on whom they were speaking to and what environment they were in. Finally, when you read a script, you will aim to find moments that relate to your circumstances and experiences. You'll use the text as an opportunity to find organic relations to your own life experience.
Acting techniques that teach collaboration through physical movement and training—like Viewpoints and Tadashi Suzuki's method—best complement Hagen's technique.
Because Hagen's technique is so emphatic on creating naturalistic instincts, perhaps the most complementary techniques are those which exercise opposite muscles. Anne Bogart and Tina Landau's Viewpoints method identifies "Six Viewpoints" of time and space to train actors to collaborate physically through movement instincts. Tadashi Suzuki's self-named physical training encourages martial-arts discipline onstage, and Jerzy Grotowski's techniques reinforce highly physical improvisation and gestural representation.
Famous actors who studied Hagen's technique include Matthew Broderick, Faye Dunaway, Whoopi Goldberg, and Gene Wilder.
Matthew Broderick

Faye Dunaway

Victor Garber

Rita Gardner

Whoopi Goldberg

Amanda Peet

David Hyde Pierce

Gene Wilder