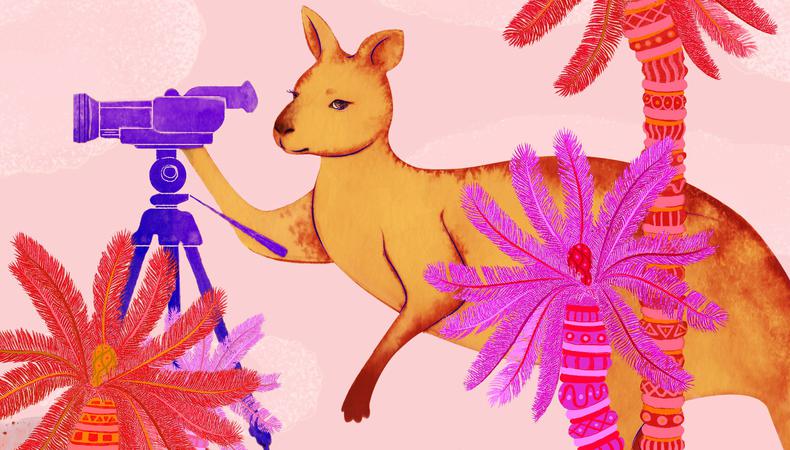 Stephanie Pringle and Alison Fowler aren't big fans of the way things are done in the Australian entertainment industry—so they're trying to change it. In a smaller market where the pros tend to be set in their ways, the duo teamed up in 2015 and created Chicken & Chips Casting (a fun play on their last names) to find fresh faces and provide opportunities to actors who don't get to see the inside of an audition room very often. Now, the team is constantly on the hunt for actors they've never seen before, and they work with directors and commercial clients to push for more representation on their projects, which they carefully choose to align with this undertaking. The team chatted with Backstage to share how they're doing things differently and what they want you to know about how they work.
How do you find new actors, and why is that different within the Australian casting world?
Stephanie Pringle: I'll start with how we do it. We do monthly general auditions; clients can come from agents who suggest people we haven't met before, or new signings, or we do open callouts via social media. That's how we find new and interesting people who maybe can't get an agent because they're underrepresented, or some agents won't take on people who aren't formally trained. We're about supporting people who don't necessarily have the same opportunities that other people may get, and that's often where you find really unique characters, faces, and people you just can't find necessarily through agents. Our industry is not as progressive in Australia as the States or the U.K., so we're trying to bring us up into 2020 and start actually casting people based on their talents rather than who they're signed with. Alison Fowler: The other thing you need to know is that some casting directors see actors from only certain agents, and we have always said that we'd never discriminate based on agent or representation. We see everyone from anywhere.
READ: How to Become an Actor in Australia
How does your process help to change the "look" of Australian film and TV?
SP: Our process is to just read the script and then put our thoughts down on paper before we get any ideas put in our head by the directors and producers. We have our own thoughts, and sometimes they are completely outside the breakdown; [they're] what we call wild cards, they're completely off-brief, but I reckon a high percentage of them actually book the role. AF: We've had a few circumstances where we've been able to push our client or directors into something completely different from what they originally envisaged, and they've ended up really happy. It's changed their whole vision of the character or script and just pushed a little bit different because of that person being right for the role versus just the right look.
Despite changes in the industry, how unusual is it that you have this goal of seeking out underrepresented talent?
SP: It's a really small industry here, so the casting directors who are active have been around for 20 or more years. AF: You get into a comfort zone. SP: It's possible to get a little bit complacent, and you have your people that you bring in all the time and it's very safe and you're not really looking outside the box. We're new and hungry and passionate and we have a lot of actor friends and a lot of people we talk to who say that they struggle to get in the room anywhere and we can't understand why. Actors out here will tell you even our audition process is different. AF: And our attitude is different.
What about your audition process is different?
SP: I guess [actors] feel very comfortable here. We make it really nurturing and we want them to bring a sense of play into the audition room, because we think that it's really important that they feel comfortable and not too nervous, so they tend to do better. AF: We encourage a lot of collaboration and conversation, so we always tell actors or teach actors in workshops that we want them to have questions and have a chat up front and really get into our brains a little bit and utilize us. Then we make it a very collaborative environment. Usually, they walk out feeling a lot more relaxed and like we are just normal people and we are on their side.
Get cast in an Australian project right now!
How do you choose your projects, and what draws you to them?
AF: One of the biggest things we connect with the creatives on is their desire to seek fresh faces, not just get in the big names and the celebrities and the sellable faces. We work well with people who want to discover and provide a platform to people who haven't had that yet.
What are the differences and similarities between commercials and narrative work when it comes to casting and acting?
SP: I know in the States there are CDs who work on film and CDs who work on TV, and then commercial CDs. In Australia, it's not split up like that because our industry is so small, comparatively. CDs generally work on all formats, so I guess the main difference is that with commercials, we get given a very specific brief, breakdown, age range, demographic, and we get the client brief that has all the key demographics in it so there's not as much creativity to see anyone. We always put in our wild card, but it's not as much of a success rate as it is with film and TV. The main thing is the creativity is more limited with advertising, but the other thing is that the turnaround time with commercials is so fast—we could cast it and it will be on air within 30 days.
What advice do you like to give actors?
AF: Mastering the art of auditioning is really huge, because I think a lot of actors undervalue auditioning, especially if they think it's just for a small job, [like] a commercial; no big deal, they can float in and it's just low stakes, who cares? In reality, the audition itself is practice. There could be some really brilliant actors who can't audition to save themselves, and that's a huge hindrance, so we try to tell actors to use every audition as an opportunity to practice that craft and to practice auditioning, getting to know casting directors, getting to know studios and casting associates and using every audition as an opportunity.
This Australian drama school isn't like *other* drama schools—learn why.
What don't actors know or realize about what you do?
SP: There's this preconceived idea that we make the final decision, which is not true. AF: We can push and push and push until we're blue in the face, but it's the director's call. And we see people who are not represented. In some cases when you don't get that representation, you won't be considered, so we really try to see outside that and make sure we're including everyone. SP: It's hard because some of our drama schools here are not inclusive, so they're not accessible for wheelchair users or you can't do the full-time acting course part-time, so it's just not inclusive to those people who are brilliant and may have trained casually elsewhere or do private acting classes. Just because you don't go to an elite drama school doesn't mean you can't act.