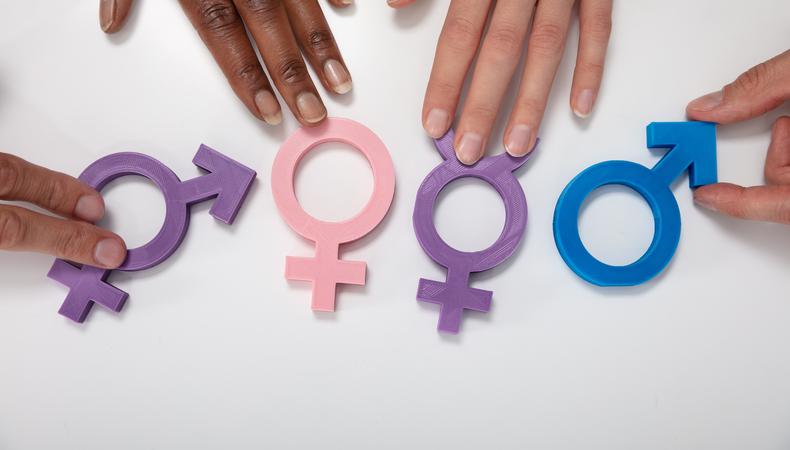 At Backstage, our goal is to provide our community with the most inclusive casting environment possible by providing our talent and creators with the tools and resources to express their identity fully, without limitation; our most recent effort to that end is tailoring our platform to accommodate complete gender inclusivity and equity.
Until now, talent on Backstage has been able to choose a combination of male, female, or transgender when editing their profiles. We realized that this needed to be changed, as members of our community were not able to accurately express themselves in their profiles, and creators weren't given the tools to fully connect with the community when searching for talent.
That's why Backstage is happy to announce we've expanded our list of gender options to 27 gender identities that will provide talent with expanded options for gender on the platform including the ability to manually add a gender not listed. The option to include personal pronouns on profiles is forthcoming, as well. Talent will also have the option of selecting multiple genders in order to reflect themselves as authentically as possible—and their profiles will now be more discoverable in talent searches, taking into account their gender identities, as well as the character genders they are open to casting for. We've added similar options to voiceover profiles in order to promote more authentic casting of performers and voiceover artists.
In order to gain further perspectives and a deeper understanding of gender and the trans community, Backstage enlisted the help of Just Roots Consulting, an enterprise that assists organizations with workplace equity, inclusion, and diversity. The team conducted surveys and interviews to greater understand the needs of our community, and with those findings developed the new features and options.
It was an extremely important consideration for us that for those talents who do express their identities beyond cis female or male, are only better included in search, and not adversely affected, says Jaryd Hermann, the project manager who spearheaded the initiative at Backstage. He notes that the project's main goals were to provide talent with greater flexibility to express their identity and to encourage more diverse, authentic, and inclusive casting.
"We believe that by bringing those gender options to both sides, we would achieve those goals," Hermann says. "More and more people are identifying as gender non-conforming, non-binary, there's a whole community of people who identify beyond cis female, male, or transgender who we were not addressing well enough. And then for the trans community––transgender is a huge umbrella term, there are so many genders that actually fall within that––these important changes ensure nobody is limited in how they express their gender identity."
Hermann says that equitable casting will bring more work for talent, because it fosters a deeper sense of inclusion in the casting process. For example, talent who identify as non-binary will be able to choose to appear in searches for both male and female character roles, he notes. This flexibility helps unite talent and creators in a way that was not possible before.
"I think the process of just workshopping what those would look like, and speaking to customers and people from the community was the best part of this," Hermann says. "All of the different nuances, and how that ties into casting, and how we can use that to help both sides of the platform only in an advantageous way, for each of them."
And the team at Backstage acknowledges that this is an ongoing process, as we work towards complete gender inclusivity and equity within our community. If you have any questions about the changes we've made around gender and the changes we will make around pronouns, or why we've made them, please feel free to reach out to our customer success team at [email protected] who will be happy to help.
Learn more about Backstage's diversity and inclusion conversations and reporting here.