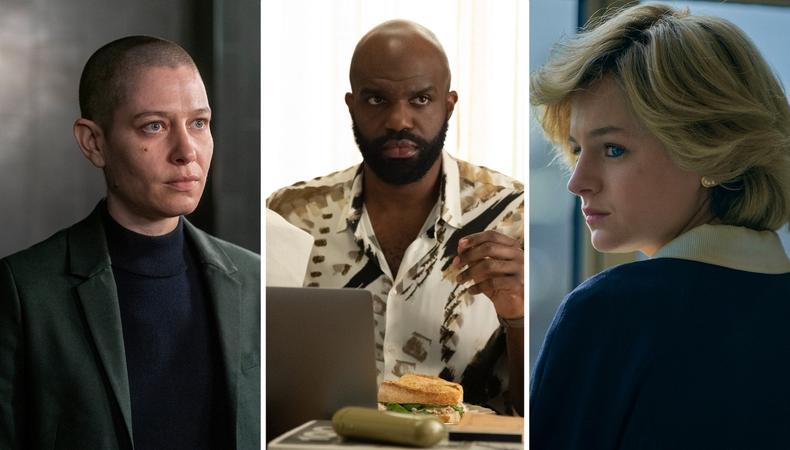 Nonbinary people are being represented onscreen more than ever before, both as actors and characters. The past few years have seen more stars who identify as nonbinary come to the fore, from "House of the Dragon" star Emma D'Arcy to "Our Flag Means Death" breakout Vico Ortiz to "Hacks" Emmy nominee Carl Clemons-Hopkins. Here's a rundown of the issues nonbinary actors face in the industry, including insights from theater professionals and nonbinary performers themselves.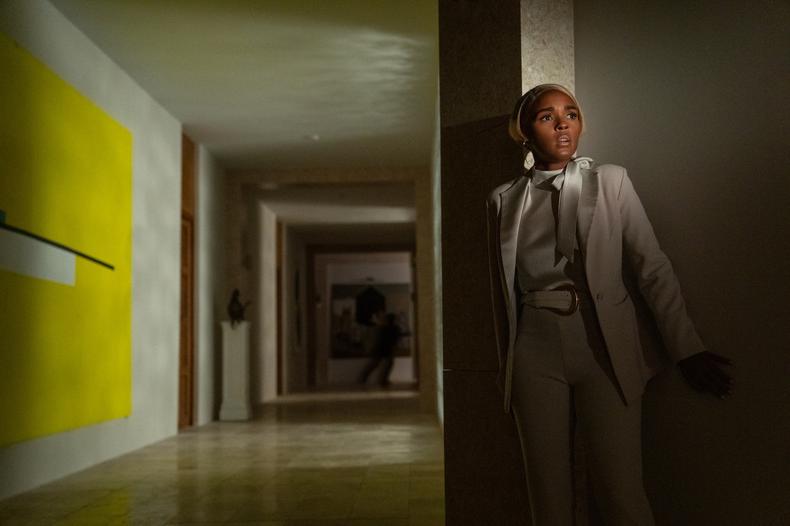 "Glass Onion" Credit: John Wilson/Netflix
Being outside the gender binary: According to the National Center for Transgender Equality, "nonbinary" is an umbrella term for people whose gender identity isn't exclusively male or female. This can mean a variety of things depending on the person, from having a gender that combines male and female elements to not identifying with any gender. A person under this umbrella may also identify as genderqueer, genderfluid, bigender, or agender. According to the New York Times, 1.2 million Americans identify as nonbinary.
Reimagining gender identities: "To identify as nonbinary for me is a way of dancing with masculinity in a way that serves me. Being a man isn't always sufficient for me," says Devin Ty Franklin (he/them), a professional theater artist who's studying to become a director. Franklin enjoys deconstructing and reimagining what it's like to live in a traditionally masculine body.
Eschewing gendered labels: "Being nonbinary is a rejection of the labels and expectations that society is so quick to thrust upon people," says Simon Sarnowski (they/them), an acting student at the University of Alabama at Birmingham. "Gender identity, in my opinion, is a sacred thing—a vital piece of who you are that not everyone will understand; but that's OK. After spending so much time agonizing over not fitting into a certain mold and living in a body that didn't quite feel like my own, there's such a unique sense of joy that comes from figuring out who you are and reveling in that self-acceptance."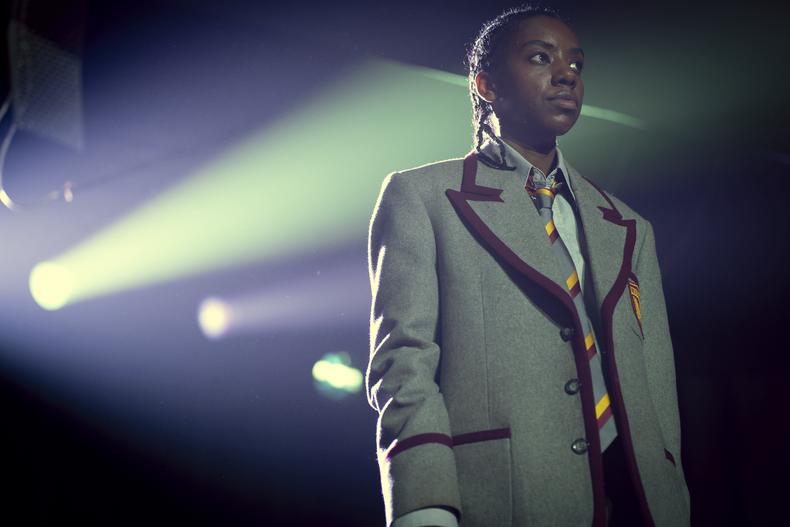 "Sex Education" Credit: Sam Taylor/Netflix
Extra effort: "To me, my gender is fluid. Some days I feel and present in a more masculine or feminine way, but I never fully feel like a man or woman," says aspiring actor Mel Cort (they/them). As an actor, this sometimes requires putting in extra work. "If a character is written as a certain gender, there's a degree of more effort I have to put in to represent them," they explain. "Where a cisgender male actor might step into my shoes and see his role as a mass murderer, I would have to think of the role as a man first and a mass murderer second."
Being seen as other: "For better or for worse, a huge part of being a performing artist has to do with how you are perceived," Sarnowski explains. "When it comes to casting, sometimes the way you look holds just as much weight as what you can do." While they are seeing gradual changes, they recognize the limitations of being othered: "When your physical appearance differs from what someone would typically expect, you're limited in a way by something you cannot control."
Role scarcity: Nonbinary roles are often hard to come by—especially ones that are created by nonbinary writers. "As much as I want to see a role tailored to someone like me, I would prefer no role over one that plays off of stereotyping or outdated perceptions of nonbinary people," Cort says.
But there can also be a level of flexibility that comes with being a nonbinary actor. "In the audition process, I can opt for any role from the get-go," Cort adds. "Once we get into the rehearsal process, there are some days when my gender expression doesn't align with the written character identity—but that's where acting comes in! Suddenly, I can be a 50-year-old woman or a preteen boy."
Sarnowski agrees that identifying as nonbinary can remove casting limitations. "Because I don't identify strictly as a man or woman, I also feel much less restricted when it comes to the roles I can play," they say. "Right now I'm playing John Willoughby in the University of Alabama at Birmingham's upcoming production of 'Sense and Sensibility,' [who is] a male character typically played by men. I'm also auditioning for roles that are gender-neutral as well as ones that are more feminine or female. In a perfect world, I don't think any actor should be limited by gender. After all, we already suspend our disbelief while watching performers onstage. I find that flexibility to be incredibly affirming to who I am as a performer and as a person."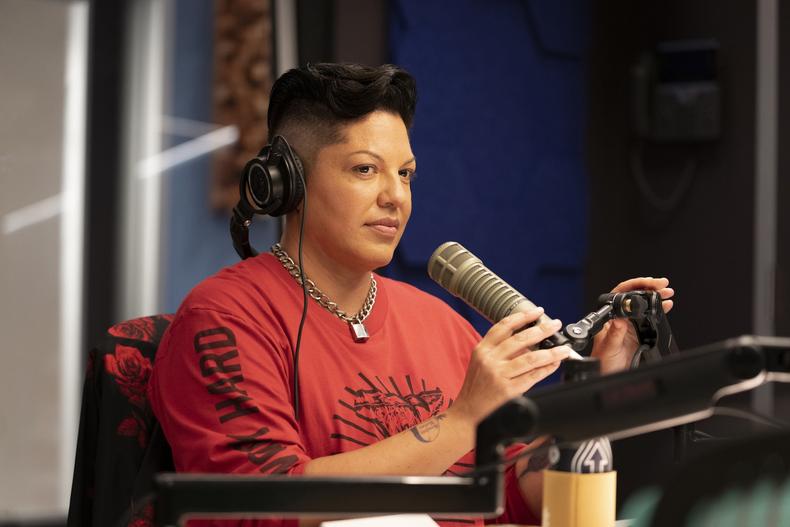 "And Just Like That" Credit: Craig Blankenhorn/HBO Max
Responding to the unique challenges nonbinary actors may face in the industry requires passion, patience, and perseverance. To help propel your acting journey:
Share your pronouns: If you're comfortable with it, putting your pronouns on your acting résumé can give casting directors and future colleagues insight into your gender identity. Some nonbinary actors may choose to wear pins to remind others about their preferred pronouns.
Know your rights: Although specific laws vary by state, the federal Civil Rights Act is usually interpreted to include protection against discrimination based on gender identity.
Find alternative financing: There are grants and programs aimed specifically at helping nonbinary actors overcome financial insecurity. "Seek out individual artist grants," advises Adam Odsess-Rubin (he/him), a cisgender queer man and the founding artistic director of National Queer Theater. "There are many funders out there looking to support trans and gender nonconforming artists, especially in places like NYC, SF, and LA. Spend some time on Google looking for grants and you could win up to $5,000 to fund a project or pay your bills," he says.
Seek out resources: Remember that you're not alone. Building community with other nonbinary people in the industry can be a great way to find support. Seek out resources such as Project Am I Right, Ring of Keys, The Non-Binary Monologues Project, local advocacy groups, and each project's DEI representative.
Embrace flexibility: "Flexibility is a virtue—when playing or auditioning for roles outside of your gender expression, for example," says Cort. "That being said, boundaries should not be bendable, and the actor's comfort is ultimately the most important factor in production." Aim for adaptability but always stick to your boundaries.
Don't be afraid to be the first: "When it comes to acting, don't be afraid to be the first!" Cort advises. "Pioneering a classic role with a different interpretation may seem daunting, but progress toward equity on stage is always valuable."
Be the change: Franklin doesn't believe you should wait for someone to give you permission to be an artist. "If the work isn't coming in the way you want it to, grab some trusted artists and start creating your own work!" they say. This strategy can help battle the inevitable rejections of the trade. "Actors are in a unique position where we usually have to audition and wait for a yes, and since this career is filled to the brim with noes," Franklin adds, "reminding yourself that you have artistic autonomy is vital."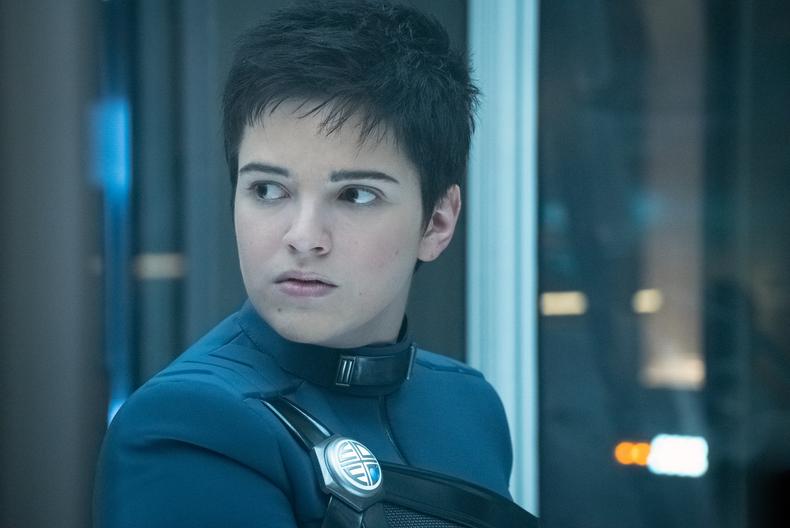 "Star Trek Discovery" Credit: Michael Gibson/CBS
GLAAD's "Where We Are on TV" study found that of the 775 series-regular characters on scripted broadcast primetime programming in the 2021–2022 season, 92 were LGBTQ+. Of those, 17 were nonbinary.
Here some prominent nonbinary actors who have found success in the industry playing either nonbinary or cisgender roles:
Emma D'Arcy ("House of the Dragon," "Mothering Sunday")
Amandla Stenberg ("Bodies, Bodies, Bodies," "The Hate U Give")
Skyler Davenport ("See for Me," "Komi Can't Communicate")
Demi Lovato ("Camp Rock," "Sonny With a Chance")
Carl Clemons-Hopkins ("Hacks")
Vico Ortiz ("Our Flag Means Death," "The Sex Lives of College Girls")
Sara Ramirez ("Grey's Anatomy," "And Just Like That…")
Janelle Monáe ("Glass Onion: A Knives Out Story," "Hidden Figures")
E.R. Fightmaster ("Grey's Anatomy," "Shrill")
Emma Corrin ("My Policeman," "The Crown")
Brigette Lundy-Paine ("Atypical," "Bill & Ted Face the Music")
Theo Germaine ("The Politician," "Work in Progress")
Jacob Tobia ("She-Ra and the Princesses of Power," "Blank Slates")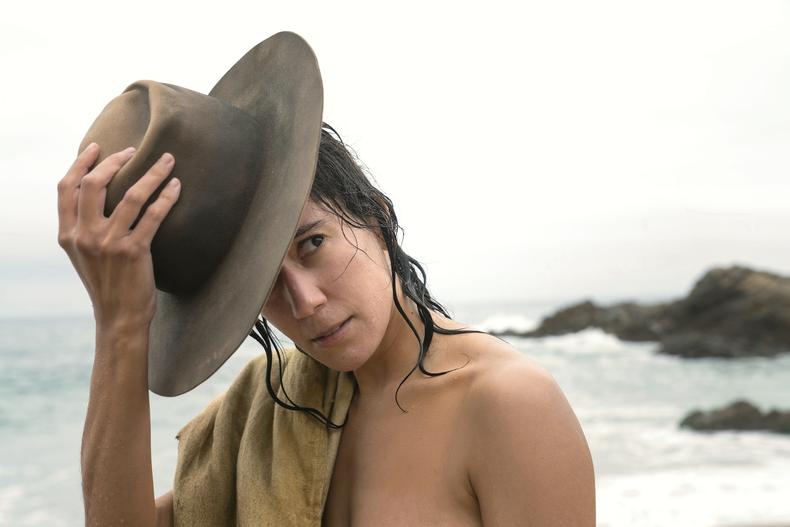 "Our Flag Means Death" Credit: Aaron Epstein/HBO Max
Advocate for diversity
"It's important in this field to present gender on a spectrum," says Maya Roth (she/her), the founding artistic director of the Davis Performing Arts Center and an associate theater professor at Georgetown University. "We also have to look at diversity in all phases of the process."
Sarnowski agrees: "Seeing diversity onstage and onscreen helps to normalize and humanize people who audiences might not normally interact with regularly and helps us all to extend our sense of empathy to people who we may not share life experiences with often."
Be aware of gendered limitations
Narrow-minded ideas of gender might arise during writing, casting, or production, so it's important to consider diversity and representation throughout the creative process. "Script publications and licensing, as well as audition calls, often come coded with 'M' and 'F,' which can unintentionally frame, or even patrol, binary visions of gender, lives, and the world," Roth says.
Think expansively
According to Franklin, including non-cisgender people in casting helps usher in more interesting work. "Men and women aren't the only people who experience heartbreak, loss, and joy," they say.
Recognize the legacy of nonbinary actors
Playwrights such as Caryl Churchill, Caridad Svich, Sylvan Oswald, MJ Kaufman, and Miranda Rose Hall have been including nonbinary characters in their work for years. "This trend of increasingly expansive representations of gender onstage is also compatible with classical roles, as famously suggested by [characters like] Dionysus in 'The Bacchae' and Cesario/Viola, Feste, and the witches in Shakespeare," says Roth. "Resisting binary conceptions of gender and our own bodies has a longstanding life onstage." They also cite a 2022 production of Isobel Thom's "I, Joan" at Shakespeare's Globe in London, in which Joan of Arc is portrayed as nonbinary and played by Isobel Thom, an actor who also identifies as nonbinary.
Understand why inclusivity matters
Odsess-Rubin believes that casting decisions matter at the professional level, especially for the most marginalized members of the LGBTQ+ community. "I have worked with many nonbinary and queer actors, writers, and directors, and these are brilliant artists looking for a safe and supportive space to do their jobs," he says. "Because of ignorance and bigotry, gender-nonconforming actors are often misgendered in auditions, rehearsals, and reviews, which has a profoundly negative effect on actors' self-esteem."
Consider intersectionality
Sarnowski says that there's still a lot of catching up to do when it comes to representation and inclusion—not just for nonbinary and trans people, but also for BIPOC people and those with disabilities. "It's important to include all people when it comes to casting, because life imitates art," they say.
Odsess-Rubin adds that it's important for everyone across the gender spectrum to keep up with the times, since "more and more young people [are] coming out as trans, nonbinary, and genderqueer every day. It's on us as leaders to hire trans and gender-nonconforming people both in front of and behind the casting table, ensure safe workplaces for these artists, and amplify a diversity of these stories onstage."