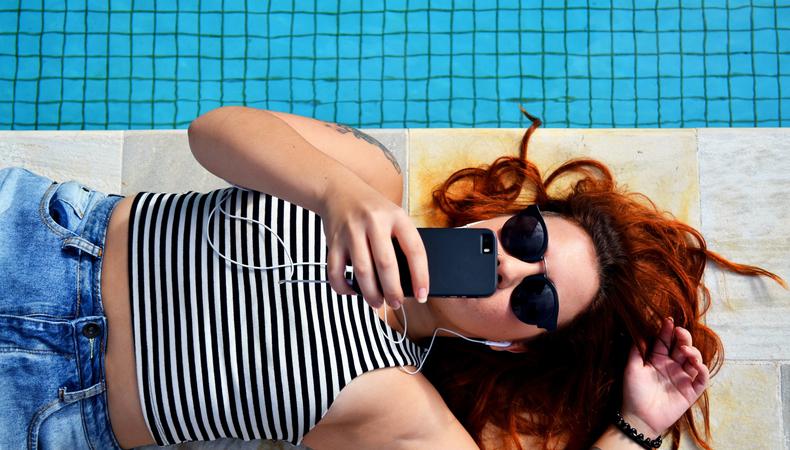 In a matter of weeks, so much about how content is produced has changed due to COVID-19. While commercial, film, and television sets, as well as theaters all over the world, are temporarily closed, many content creators are continuing to cast and produce projects remotely. Backstage is helping make that happen so whatever your project may be—commercials, voiceover, branded videos, and more—can still get air time. Creators are speaking to Backstage about how they're moving forward with production and casting talent from all over the world remotely while those on both sides of production are at home.
As productions shut down in mid-March, it was hard for some companies to figure out exactly how to keep creating meaningful branded content and messaging for this new time. How could they cast? How could they shoot? Who would edit? Bamboo, a best-in-class digital agency based out of Northern California, knew that they were going to have to quickly pivot to help their clients create content to stay relevant in this challenging moment. They immediately thought to lean into user-generated content as an excellent option for creating intimate, authentic content without needing to do an in-person shoot. Once they had a plan, they turned to Backstage to help find the talent that they needed for this unique moment in history.
We spoke to Bamboo's creative director Chris King about how the company is working with Backstage to cast their upcoming UGC campaigns.
Find talent for your project right now!
How did Bamboo decide to continue production by shifting to UGC? Did you consider simply stopping production altogether?
At Bamboo, our priority of producing data-driven content that aligns best with our clients and their customers is still top of mind. We are constantly adapting and shifting creative direction as data dictates. We are approaching this situation with the same agile mindset. Using older content and re-working past assets can only take us so far. When looking at further options, we believe using UGC style content gives us the ability to keep producing new ads for our clients that are relevant and fresh.
How would you tell a brand that feels paralyzed by the production pause to move forward with alternative content creation options?
Right now, everyone needs to think outside the box and realize that traditional live-action content cannot be created, plain and simple. There is no better time than now to try to reach customers through alternative types of production.
In terms of producing this new content, brands have three basic options: one, utilize older content that has already been shot, two, buy stock footage online that aligns with current creative briefs, or three, create UGC style content that can be shot remotely with relevant messaging for an at-home audience. At Bamboo, we are opting to focus on creating user-generated campaigns. UGC content lets us create completely original footage that is highly relatable for this specific moment.
At the end of the day, people are still spending money and the need for great ad work right now is high. Ideas that seemed crazy a few months ago may be just the strategy needed.
What has been your approach to finding talent for these new user-generated campaigns?
In order to create eye-catching UGC content, you are going to need some very well-versed talent. We essentially need to find people with two fairly different skill sets. We are looking for people who are great on camera who know how to present this style of content, but we also need people who can produce the actual video themselves.
How is Backstage helping with that process?
Backstage gives us the ability to find the exact person we need when developing this user generated content. First, it's a huge database all in one place—it is easy, immediate access to thousands of people that have these amazing and diverse skill sets. Then, the number of filters that can be easily selected to fine-tune to the specific parameters that we are looking for has been extremely helpful. Once we find someone we like, Backstage's platform allows us to request additional footage and to do remote auditions to make sure we make the right final decision.
What advice do you have for talent who is looking to get work right now?
Connect with as many people as possible as relationships are important right now. Being uppermost in mind when production companies resume or go remote will be very important. Work on UGC content created in your home and establish your social media presence to take advantage of all the remote jobs currently casting. Utilize your time at home to work on and update your production reel to market yourself. This crisis can only last for so long, and one thing that can be improved upon during a time like this is your talent. Take online classes, just because production is remote doesn't mean you need to stop perfecting your craft.
Learn more about Bamboo's work here.
Looking for remote work? Backstage has got you covered! Click here for auditions you can do from home!