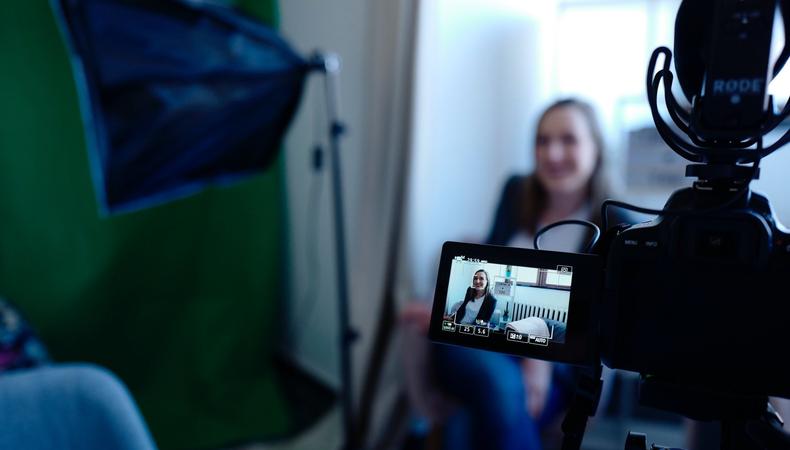 Whether it's a global pandemic, lack of space or resources, desire to widen your options, or the advent of technology, many creators are taking their casting processes digital. And while the goals for in-person and self-taped auditions remain the same, the methods of getting there can be very different, especially when you're not in the room to direct talent.
Not only that, with self-tapes, actors are able to work on their auditions until they are exactly the way they want them to be. It also allows them to be considered for jobs beyond just their geographical location.
Find talent for your project right now!
If you want actors to know how to film a great self tape before sending it through to you, you can always share our handy guide on how to make the perfect self-tape.
On the content creator side, there are some obvious differences, but also many similarities between prepping and carrying out self-taped and remote auditions. Creators worldwide are learning how to make the switch, and are casting remotely right now. Here's how to do it.
Write the breakdown.
Like with any audition process, start with the basics. Without a breakdown, you won't have sufficient information to send out and talent won't be compelled to apply or put themselves on tape because they don't know enough about the characters. Write a good breakdown, then decide what other information you'll need to send to actors for them to fulfill your needs in their audition or self-tape.
How to write a casting notice + breakdown.
Make clear instructions for applicants.
Include the technical details.
Decide what your priorities are in terms of technical aspects of the tape, framing, props, costumes, and more. Remind actors to make sure and check the frame or do a test run before they go for the real thing to confirm the visual elements are good to go.
"Your instructions should pertain to lighting, framing, sound, file names, and your reader," says acting coach Joseph Pearlman. Generally, "actors should be in the center of the frame with the bottom of the frame at the center of your chest and the top of the frame slightly above the top of your head."
"Make sure to include what direction should they shoot or definitely not shoot. How should the actor be framed?" Wendy Alane Wright confirms. People are used to shooting video vertically for social platforms, so make sure to specify if you don't want to view audition videos that way.
The creative elements.
Should actors be in costume or use props? If costumes or specific outfits aren't required, make sure to remind them that patterns might show up in a distracting way on camera. "A video audition says you look the part, are photogenic, and are a fantastic actor while looking attractive. It's not just about talent," says acting coach Gwyn Gilliss
Remember especially that an on-camera audition for a screen project shows what you will see onscreen—take advantage of that opportunity. Think about what you want or don't want the actor to be doing during the scene. "Ideally, the camera should remain in one position throughout the scene otherwise you risk distracting your viewer (producer or casting director) from your performance," says Joseph Pearlman. "Don't let the person behind the camera try any artsy or fancy camera movements. Chances are, it will just look off-putting and clumsy. Listen carefully to the start of the piece and make a choice whether you're sitting or standing throughout the scene." If you want your actor to incorporate movement in their audition, include that in your instructions that.
Additionally, think about whether you want actors to slate or not. Make sure you specify because some CDs see this as unprofessional while some see it as absolutely necessary or a plus and actors can't read your mind.
How Backstage can help save you money on your next campaign.
Help actors understand why following instructions and taking the time to put out the best possible product is important.
"We're dealing with industry professionals with extremely demanding jobs," says Joseph Pearlman. "If they click on your footage, and the sound is too low or they can't see you well, they might adjust the settings on their computer or they might just as likely click to the footage of the next actor."
Finally, make it clear what gear is needed (or not) for self-tapes and remote auditions.
Although there's a lot of gear actors can use to film themselves at home, it's important to make it known they don't need to spend a lot of money on equipment unless there is a technical aspect that is crucial to your remote audition process. Whether they have a home studio or a white wall and a propped up iPhone, make your self-tape priorities clear.
"When asking for self-tapes, I always include this line in my breakdown: 'Please don't spend any money recording this.' You can read into that statement any way you like," says CD Ken Lazer. "I'm sure there are actors who feel having an audition professionally filmed will help their chances of getting a callback or even a booking." Really, like any audition, it primarily comes down to talent and if you're right for the project (which they can only tell if they can see you!).
"In a lot of instances, a camera phone with a well-lit setting on a plain background will suffice," says acting coach Amy Russ. "But if you want to invest, here are some ways to do it: lights, tripod, camera, microphone, backdrop, editing software, and a professional reader or at least a reader that is an actor."
Where to promote your notice for a broad and diverse response.
And speaking of readers, decide how important a reader is to you.
"It's helpful if they can read with somebody who helps them. I've had some funny ones that come from a set where they've gotten a European cameraman reading in pidgin English back to them and it isn't really helping them," says CD Rachel Freck. "I know it's tricky when an actor hasn't got a human being to read, but it's not helpful when they've recorded the lines or there's a program on the internet that is saying their lines and it's a bit robotic. If it's a dialogue, always try and get another actor or somebody who can read with an element of understanding to give you something to work off of."
You might want to remind actors that a bad reader can break an audition.
What should you and your actor know about working with a reader? "Your reader should be as close to you as possible while being off-camera, positioned just right or just left of the camera," says Joseph Pearlman. "It's perfectly fine if your reader is the opposite gender to the character he/she is playing. It has never made a difference in an actor booking the role off the tape."
Why a good reader is the secret to a great self-tape.
The "don'ts" should be as clear as possible for the actors to do their best.
Do you want separate scenes to be shot at once or separately? How should actors end or sign off? Generally, actors should know to end the scene definitively and in character, but instruct them otherwise if that's not the case.
What do top CDs have to say about self-tapes?
"We want the tape to be of good quality. It doesn't need to be with a camera man, but we want to be able to see their faces, and we want it to be shot well. Ideally it's great to have a good reader because sometimes that can destroy an audition. We saw one where a guy was reading the stage directions in between the lines." —Rob Kelly
"As CDs, we can see through the technical problems. I wouldn't like to get people too hung up about looking professionally shot because if you're playing the part well we can see that. We can get you to do it again with notes if something needs to be fixed. Then, we'll present it to the director and it will give you a better chance. So there are sometimes useful tricks to the trade but ultimately it isn't the style around it that you're looking for. It's the quality of the interpretation." —Rachel Freck
Be prepared to give notes, even on a tape. If someone is good, you should be prepared to ask them to re-submit. Actors should know you might not be the only one reviewing the tape and you want to pass on the best possible audition to the decision makers.
Top CDs share their self-tape advice.
What if your auditions are taking place live through Skype, Facetime, Zoom, Hangouts, or another video platform? It's not that different!
Be in a quiet space with a good internet connection and ask the same of actors. Frame yourself in a way that you can be seen clearly and there's nothing distracting onscreen, and ask actors to frame themselves in a plain, well-lit area before the call begins. The result should be a happy medium between a self-tape and an audition happening live in the room.
Start casting on Backstage right now!
Here's how brands are learning to cast and produce remotely, and sometimes pivoting to user-generated content (with help from Backstage).
Hearst Digital's Sabrina Safran is a remote casting veteran. She says, "Now is the time to get creative. As a casting and production professional, what are some interesting ways you can take your current productions and alter them to fit a remote format? How can you continue to develop fresh content that's impactful during such an unpredictable time? Whether you're in front of the camera or behind the camera, the show must go on, as they say. It's up to all of us to collaborate in a way that makes sense and keep creating content that matters."
Bamboo's creative director Chris King shares how the company is leaning on UGC. "Right now, everyone needs to think outside the box and realize that traditional live-action content cannot be created, plain and simple. There is no better time than now to try to reach customers through alternative types of production," he says. "At Bamboo, we are opting to focus on creating user-generated campaigns. UGC content lets us create completely original footage that is highly relatable for this specific moment. People are still spending money and the need for great ad work right now is high. Ideas that seemed crazy a few months ago may be just the strategy needed."
Paired Up Media's co-president Martin Hardy is used to working remotely, and now that the world is operating like he's used to, he has some advice. "I think people should feel a sense of hope knowing that we can function in the industry with a bigger shift towards working remotely. There will be a bit of a learning curve initially for sure, but it is something that we have had great success in and I can see other areas of the industry being able to adapt to working this way. In some cases, this is going to be the only way that we can keep things moving in the future."
South James's co-founder Colin Olsen suggests that when production is being done from home and UGC is coming to the forefront, don't be afraid to ask for more from talent. "We have teams with at home studios and our clients have been able to send products to them. We use video conferencing for any live feedback from clients so we can ensure we aren't shooting content multiple times if not needed," he says. Creators can put out a call for talent with special skills that can increase your production value, limit the number of people who need to be involved, and ensure you will get the final product you are seeking. "If you have any experience operating cameras, lighting, production design, or hair and makeup, pitch that. Productions are looking to talent more than ever to help with the whole process. The more you can do, the more valuable you become."
Thrasio content manager Deandre Moore says with technology, almost everything can be done remotely these days, even if you end up filming in person. "Most of the production process can be done remotely successfully," he says. "Models can be found on Backstage and social media. Wardrobe and props can be delivered via...online shopping platforms. Shooting locations can be found via sites like Peerspace and Airbnb. Ask the owner if you can have a virtual tour! Pre-production meetings can be held via Zoom and Google Hangouts. I encourage you to do your research and find the best online platforms to push production forward."
Need somewhere to start? Request self-tapes through Backstage! Here's how:
1. Go to the application manager for your projects and filter down into the roles you wish to receive tapes from. Click on the audition request button on the applicant's application.
2. Write a detailed message about exactly what you need recorded. You can include this guide if you want!
3. Make sure to include a deadline and production details to ensure the talent is fully available for your project.
4. Upload the sides and send!
5. You can start finding talent on Backstage right here!
6. See how other companies are casting remotely on Backstage right now!