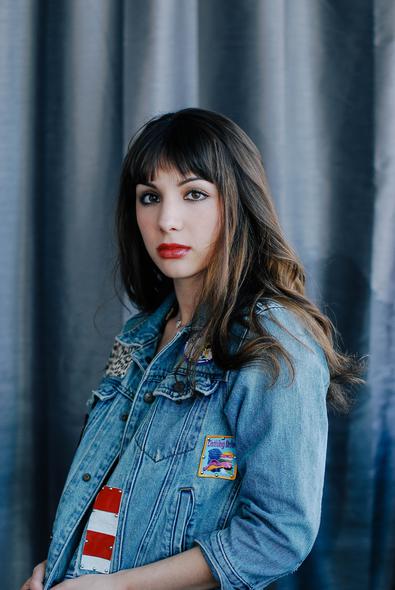 No stranger to the small screen, Hannah Marks can next be seen with Elijah Wood in Max Landis' adventurous BBC America series, "Dirk Gently's Holistic Detective Agency." She speaks with Backstage about playing Amanda, a woman with a rare and bizarre disease.
On her character.
"I'm Elijah Wood's sister on the show. [She] is a punk girl who has this disease that causes hallucinations that are life-and-death scenarios. It leaves her agoraphobic. Throughout the show, it's about her journey trying to get out of the house and return to her former self."
On going to extreme lengths during preparation.
"For an episode where I light on fire in a grocery store, I watched every movie where a character lights on fire. I was watching a lot of movies. I would also go on YouTube, and there's real teenagers out there who just light themselves on fire and put it on YouTube. They light themselves on fire with a lighter and then they jump in a shower or pool. Also, this is going to sound a little crazy or Method, but the episode where I freeze to death, I tried taking some baths in just ice just to get to the feeling of being so cold."
READ: "3 Ways to Bring Your Character to Unique Life"
On her earliest audition horror story.
"I remember one of my first auditions was when I was 12 and I was auditioning for 'Malcolm in the Middle.' I had the flu and I threw up in my audition. That was one of my earliest, [most] traumatizing auditions. After something like that, you just get back up and do it again."
On working with Elijah Wood.
"Elijah is one of the most incredible actors I've ever worked with. He's so kind and so professional. He's a true big brother in real life. I got really lucky. He's been famous since he was a kid and could be a total weirdo, and he's just not. I love the rest of the cast, too. I love working with them."
On having a self-starter mentality.
"There's no excuse these days to wait around for an audition or wait around for someone to give you an opportunity. I'm a firm believer in not waiting by the phone and living your best life. You can make a short film on your iPhone nowadays, a whole feature. You can write characters for yourself and you can go make something with your friends every single weekend. The busier you are, the more attractive you will be. If you take control of your own destiny, you will be much happier. Something that has been important for me is all the writing and shorts I've created. That's changed my life. I would encourage everyone else to do the same."
Want your shot on the small screen? Check out our TV audition listings!