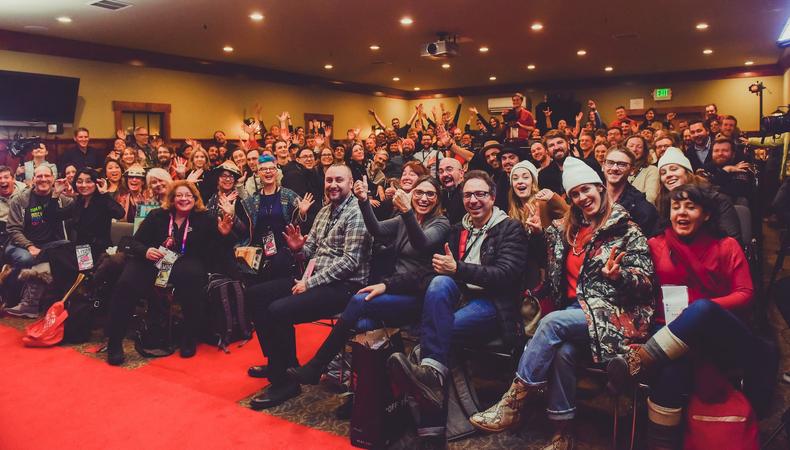 Welcome to Behind the Fest, Backstage's questionnaire series with film festival figures who are looking for that next big hit. Here, we feature behind-the-scenes insights from organizers and programmers at Sundance, TIFF, Cannes, and more fests from around the globe. These tips might just hold the key to your indie film success story!
Though the Slamdance Film Festival has been around long enough to be considered an institution at this point, president and co-founder Peter Baxter is resistant to that label. "Members of institutions tend to obey," he says, "and I'm happy to report there are more than enough dissidents to keep us going. If anything, we are an ongoing experiment." It's an experiment that has proven more than successful: Slamdance has discovered talent like Christopher Nolan, the Russo brothers, and more recently, Oscar-nominated "Minari" filmmaker Lee Isaac Chung.
The virtual 28th edition of the fest kicks off Jan. 27 with an on-demand film slate of more than 100 shorts and features; passes start at just $10. Backstage spoke with Baxter about Slamdance's year-round resources that every filmmaker should know about (including a cash fellowship from the Russo brothers!), and why fest attendees should never ignore the shorts programs.
What is Slamdance's mission in 2022? Has it changed since the festival was founded?
In all we do, Slamdance fiercely embodies its mantra: "by filmmakers, for filmmakers." Though Slamdance has greatly evolved since the early years, its mission and organization remains the same. With a variety of backgrounds, interests, and talents, but with no individual filmmaker's vote meaning more than any others, the result is a program that, year after year, is consistently unique—and, we think, different from other festivals. Some have begun to call us an institution, but I don't think that's quite true. Members of institutions tend to obey. And I'm happy to report there are more than enough dissidents to keep us going. If anything, we are an ongoing experiment that's proven that when it comes to discovering talent and launching careers, independent and grassroots communities can do it themselves.
What kinds of filmmakers should submit their work?
Slamdance serves new and emerging artists, filmmakers, and storytellers from around the world. Our programmers gravitate toward films that embody the true DIY spirit of guerrilla filmmaking and push the boundaries of what's possible in storytelling.
Do any particular Slamdance success stories come to mind?
Slamdance has a strong track record for discovering artists. Filmmakers who first showed their work at the festival are now among the biggest in the entertainment industry, like Chris Nolan and the Russo brothers. Recent stars [and films] launched at Slamdance include Andrew Patterson's "The Vast of Night," which was acquired by Amazon Studios after winning the audience award for best narrative feature at Slamdance 2019; and Hannah Peterson, 2019's Russo Brothers Fellowship recipient, who premiered her short "East of the River" at Slamdance and was then hired to direct the Disney Channel web series "Shook." 2021 saw success for alums Lee Isaac Chung, Oscar nominee for "Minari"; and screenplay competition winner Tyler Tice, whose Slamdance award-winning "Day Shift" recently completed production with Netflix; it stars Jamie Foxx.
What year-round resources does Slamdance have available for filmmakers?
Now in its second year, Slamdance's Unstoppable program has expanded its showcase of work by creators with disabilities. The showcase is entirely programmed by disabled artists.
The annual Slamdance Screenplay Competition has established a strong track record for identifying and supporting new screenwriters. Screenplays in every genre, on any topic, from anywhere in the world are welcome to submit. The next competition begins in March.
Recently, Slamdance teamed up with local artists and arts organizations from South Florida to showcase filmmakers from Central and South America, Mexico, the Caribbean, and Florida. Slamdance Miami 2021 saw a lineup of 18 films from filmmakers in nine countries, representing the future of filmmaking from these regions of the Americas.
Finally, the annual AGBO Fellowship from alumni Anthony and Joe Russo, [which is] awarded to a Slamdance filmmaker, includes a $25,000 prize, in addition to an office at the brothers' Los Angeles–based studio, mentoring from Anthony and Joe, and a cash stipend for one year.
What is something you wish more people knew about networking at festivals?
Watch the short films, too, because it's there where you'll find most rule-breakers and the promise of the new.
What is the No. 1 piece of advice you have for early career filmmakers?
Don't ask for permission!
And what's your favorite film you've seen recently?
Watching Kathryn Hunter portray the three witches in "The Tragedy of Macbeth"—it's a film cast for the ages.