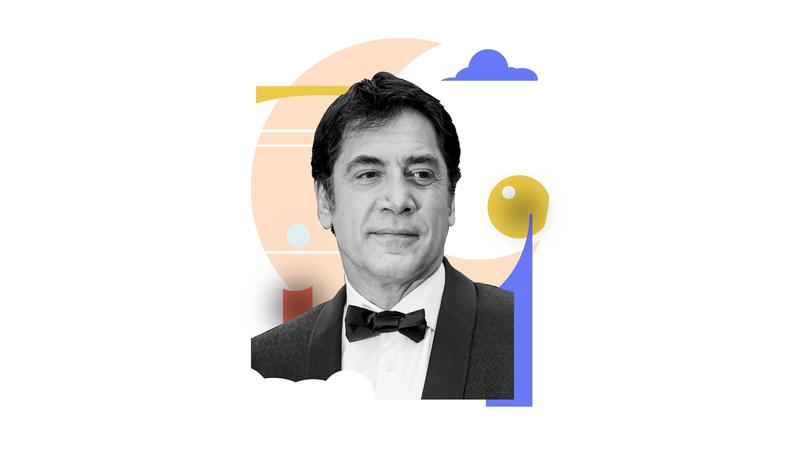 Like most performers, Bardem vividly remembers the moment when he first knew he wanted to become an actor. Implausible as it sounds, it happened at the age of 5 when he was at the zoo. There, his father bought him a safari hat to go along with a tiny knife, two props that young Bardem made use of in the sandbox.
"I remember feeling like I was in the middle of the jungle surrounded by animals, and I was trying to make this hole—I don't remember why. And I felt I had this sensation that I was kind of detached from my own body, like I was seeing myself from the outside and enjoying it so much," he recalls.
Now, the "No Country for Old Men" Oscar winner is in the awards race once again, nominated for a SAG Award for his turn as Desi Arnaz in "Being the Ricardos." Here, he answers our career questionnaire.
How did you first get your SAG-AFTRA card?
I think it was with "Before Night Falls" in the year 2000. We shot in Mexico, but I also had to be in New York, so I had to get a SAG card—which, for me, was something absolutely brand new. We have our union in Spain, of course, but this was gigantic. I felt like I was belonging to a group of people I admired so much. To be in with that group of actors that I'd been following for years and to become part of that group of people—it was a big honor.
What performance should every actor see and why?
Marlon Brando in "A Streetcar Named Desire," because of what he represents and what he really meant for acting. After that moment, he changed the whole way of performing for the rest of history. Some other actors may have done it before, and we are not aware of that in some ways—or I'm not aware of that. But when Marlon Brando did the Elia Kazan movie, being that young and being that present, so focused in every second of every frame of the movie, where you absolutely don't know what he's going to do next—even today, after seeing the movie a hundred times, it elevates in you that feeling of insecurity, watching that performance. It's a museum piece. It's part of history.
What's the wildest thing you ever did to get a role?
That depends on what we understand as wild. I've been blessed. I've been lucky to work consistently and have jobs once I started when I was 18, 19 years old. There were moments when I have been out of work, of course, as any other actor in the world. I worked many years as a waiter. But even then, I had chances to keep on working on roles in theater and in movies and on TV. So I haven't done anything wild to [get] one role, because I was not chasing it out of desperation, which is very common in our craft. The job that we do is very unstable. It's very hard to sustain or maintain a career, because we depend on others' likes and dislikes and opinions—on how we are perceived by others. That's what keeps us going.
What is your worst audition horror story?
The worst one was, funnily enough, when I was, like, 23 and they offered me "A Streetcar Named Desire" in the theater. I was doing the audition and it went so wrong, because I didn't want to do it. I felt there's no way I would ever be able to cope with this character at this age with this experience—and, of course, having in mind the enormous burden and weight of one Marlon Brando. So I thought, It's not gonna happen. But still, I needed a job and I was doing the audition, and they actually gave it to me! But it was a very bad audition, because I was going against it. I was, in a way, trying to get the job because it would have been a very important breakthrough in theater for me, but I was having the hardest time believing that I would be able to do it. It was a mix of feelings that the director saw, but I was in misery. I got the offer, but I didn't take it.
What advice would you give your younger self?
I would like him to understand that he's enough—that he doesn't have to impress anyone or earn anything that he is not capable of coping with, or being able to achieve that is not in his nature. I would tell him to try to really enjoy what it is for what it is rather than what it could become, and understand that what it is is way more important than what it could be. We are always kind of chasing the next thing. In this job, it's like: OK, great. Check. I've done this job. What's next? So this constant chasing of something that is still to come creates lots of uncertainty and insecurity. And if you are not too alert, you can miss the time of enjoying the process and enjoying what it is for what it is. So I would say that; and I would say that to me at the age of 52! Take it for what it is. Take its flaws, take its values, and move on. It is what it is. You tried your best, so be more gentle with yourself.
Looking for remote work? Backstage has got you covered! Click here for auditions you can do from home!