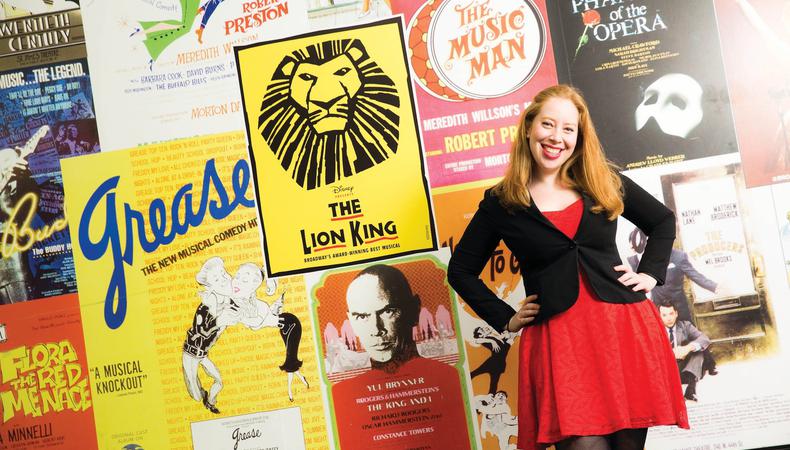 Producer Jennifer Ashley Tepper (on Backstage's Future Broadway Power List last year!) is director of programming at New York City's fabulous cabaret venue 54 Below, and author of "The Untold Stories of Broadway, Volume 2."
What does running 54 Below entail?
We do about 16 shows a week, which is a large amount. My job is essentially managing everything that gets onto our stage: who we want to have perform, what kinds of shows we want to do, and how we want to make them happen using our staff and the artists we get to work with. All the New York cabaret and concert venues are different but what we do is pretty impressive in that basically the owners are all Broadway producers. And there's a lot we do in-house with each artist that other venues might not necessarily have the same support team to back up. We have a great tech team and the room was designed by Broadway sound, lighting, and scenic designers. There are a lot of pieces of the puzzle that come with every show we do. And of course we have a full-service restaurant and bar so it's kind of like running a theater and a restaurant at the same time—with different shows every night!
What is 54 Below's role in the NYC theater scene?
Our goal has been to provide a home for the Broadway community—after hours, we say. We do three shows a night at 7, 9:30, and 11:30 p.m. What's great is I've always been passionate about Broadway history and all the people who are very much legends in the theater; and then also emerging artists, people who are just getting started, performers and writers and directors. Our goal is to create a place where all those people can come together and be in the same room, whether in the audience or onstage. There's someone very established, like a Patti LuPone, who plays at 7 p.m., and at 9:30 p.m. we might have an Annaleigh Ashford, who is certainly well-known but younger and coming up, and then at 11:30 we'll have the cast of a current Broadway show sing. We joke that it's Broadway's living room because on any given night you find a lot of Broadway folks in the audience.
What constitutes a great cabaret performance?
As far as favorite performances and things that make people stand apart, it has a lot to do with finding the exact right material for you that excites you. A lot of people will come in and sing the same songs and they might be incredibly good performers, but it's really the people who seek out brand-new material that someone is collaborating with them on. Or looking back on the musical theater canon and making lesser-known songs your own. Cabaret is an art form that has to do with the whole evening. [It works] when people really have something they want to share and say over the course of an evening, and songs illustrate that. When we had Jeremy Jordan, his show was extremely exciting because he had never done a solo concert before and he really made it personal. He's actually weirdly shy and was able to get that across while at the same time talk about his rise to playing lead roles on Broadway, and he was very honest. Honesty is a big part of what can make cabarets great.
What advice do you give beginner cabaret artists?
The hard thing with a lot of actors is you don't really know exactly who you are as a performer until you start discovering it. If you love Bernadette Peters or Sutton Foster, you're going to try to be them a little bit—which is totally OK and makes you excited about what you're doing. But you have to work to discover the honest things about who you are and hone in on them. The most exciting thing is when someone performs at 54 Below and they're not like anyone else. And you think, Oh my gosh, what can we do to invite that person to come sing? There are people in the Broadway cabaret world who have very much made a name for themselves for not being like anyone else. I'm thinking of Molly Pope, who's so fantastic. People see her perform and go, "I want to see more of her; she's very unique."
How has the art form changed?
Laura Benanti...was talking about how some of her very high-profile TV jobs have been because the producers have watched things she's done at 54 Below on YouTube. That idea that YouTube has a role in casting these days is so important to remember! You have to be aware of what's on YouTube because it can represent you really well and lead to a job. When I was working on the Broadway production of "Godspell," the producers and casting directors and all of us were watching YouTube to see people from auditions we liked, to see more of them. That's become such a tool in casting that when I see somebody do something incredible at 54 Below and see that they have a videographer there I'm so excited because that can lead to a really great job or another concert opportunity. People are still discovering that's a big part of what's going on. It has its pros and cons, but it's given such an avenue for emerging writers. New musical theater writers put their songs on YouTube and a lot of people get to know them through that. Of course we want them to be writing musicals, not necessarily writing songs for YouTube, but the fact that that's there as a tool to help them gain audiences—it's like a brand-new Tin Pan Alley.
Inspired by this post? Check out our Broadway audition listings!