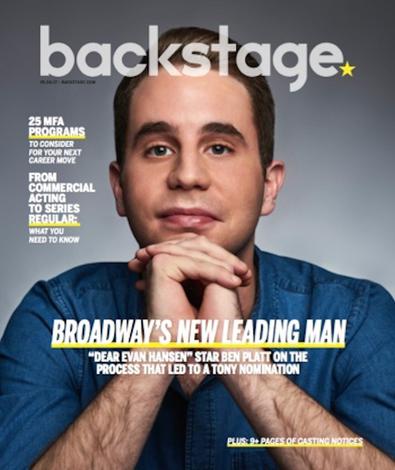 On paper, "Dear Evan Hansen" feels familiar. A lonely high school kid fabricates a lie in order to maneuver his way into a place he feels he belongs. But minutes into the show and Ben Platt's performance, it becomes clear that anything you thought you knew about this musical ends there.
A complete original from Oscar-winning co-lyricists and composers Justin Paul and Benj Pasek ("La La Land"), "Dear Evan Hansen" is a refreshingly humanizing look at a major challenge facing Generation Z: How do we reconcile the polished realities we build online with the ones we have to face every day? The crux of the show lies in the space where they collide.
Platt stars as the titular disconnected 17-year-old whose social anxiety sees him fumbling through most conversations and avoiding the rest. (He often can't make eye contact and balks at the thought of having to make small talk with the pizza deliveryman.) Evan can't admit to his single mother (Rachel Bay Jones) the truth about how he really broke his arm. And a conversation with his crush, Zoe (Laura Dreyfuss), is a tidal wave of words peppered with apologies for moments he's self-aware enough to realize are awkward—which are in turn made more so by his attempts to fix it. It's this gorgeously delivered understanding of life's ironies that makes Evan's plot-driving lie feel like it's meant to be empathetic rather than malicious.
READ: How Rachel Bay Jones Gives Her All to 'Dear Evan Hansen'
It begins when Zoe's problematic older brother, Connor (Mike Faist), finds one of Evan's self-addressed letters, written at the suggestion of his therapist, in the school's computer room. Angry about its contents, he sardonically signs Evan's cast in big block letters. Later, when the teen kills himself, the two bits of writing lead Connor's parents (Michael Park and Jennifer Laura Thompson) to believe their son has penned his suicide note to "Dear Evan Hansen," his only friend. And what begins as an attempt to help a family heal balloons into a deep connection with Connor's family, a romantic relationship with Zoe, and an unforeseen social media campaign that goes viral. (Any more plot description would be doing a disservice to book writer Steven Levenson's tender and necessarily surprising story.)
"[Playing Evan] is particularly challenging because he's doing a lot of things that are morally ambiguous," Platt says in the Library at Manhattan's NoMad Hotel. "I think he's not the easiest to root for when you take him on paper as far as what his actions are, so I really started, especially with Steven, making sure that his intentions were clear all the time and making sure that you felt like you really knew why he was making the decisions he was making, because I feel like if not, [the audience] can't understand what he's doing and they start to resent him."
Evan Hansen is the first meaty role of Platt's career after making a name for himself on Broadway as Josh Gad's Elder Cunningham replacement in "The Book of Mormon," and in Hollywood playing Benji in "Pitch Perfect" and "Pitch Perfect 2." Now he's originating a Broadway role, a feat compounded by his being with the production since its very first cold table read four years ago.
But it seems Platt, who's celebrating his Tony nomination this week, has been preparing for this moment his entire life. He's a dyed-in-the-wool, self-professed musical theater nerd, and comes from a long line of them. (His father is producer Marc Platt.)
"I'm sure 'Rose's Turn' was playing in the car when my mom was pregnant," he says, laughing.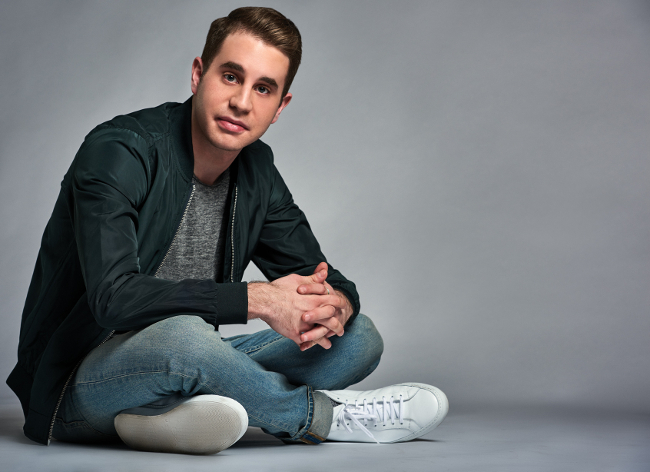 When some high school kids were just discovering "Into the Woods," Platt had already fallen in love with Bernadette Peters and Mandy Patinkin in "Sunday in the Park With George" (what he calls "must-see viewing for any musical theater person"), and was auditioning his family members, nicknamed the "Von Platts," for staged backyard productions.
READ: How to Audition With Sondheim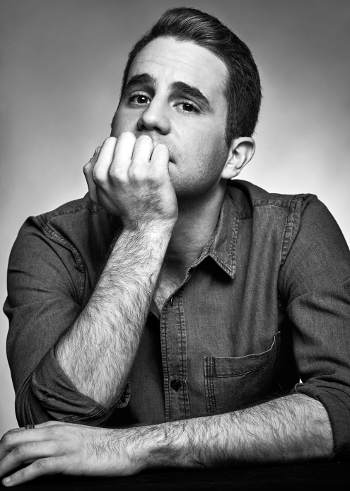 "I could get three cousins at a time to participate, and I already knew who everyone was going to be," he explains, "but I loved the pomp and circumstance of everyone having to come in and read a scene that I wrote down on a piece of paper." He'd then post the casting results on his bedroom door. Once, he re-created the opening scene of the touring production of "Footloose"—where, as he remembers, church benches flew out from the theater wings—using skateboards. "It was an excellent effect," he laughs before elaborating: "Every birthday I would try and get something that would up the production value. I got a fog machine and a clip-on microphone and a boom box. I just wanted them to be as professional as they could be…. But I would have, like, one really nice moment that was well directed, and the rest would kind of be a free-for-all to the album, just, like, singing and walking around."
Stories like these explain how Platt is as in love with his work as he appears to be eight shows a week. After time in two workshops, a run in Washington, D.C., and another run Off-Broadway to doggedly explore Evan's "self-effacing humor and the rhythm of his speech and the visible anxiety" alongside director Michael Greif, plus Pasek, Paul, and Levenson—what he describes as a "tag team figuring out which things are the most useful in terms of making that deep desire to disappear into whatever chair he's sitting in apparent, and which things were overkill"—Platt is so deep into Evan's world (he has yet to miss a single performance out of nearly 200), he has to actively find ways to maintain offstage. So he attends voice lessons and physical therapy twice a week, and the latter includes cupping and dry needling.
"The character is sort of hunched over and tight, and so for singing that's, like, the worst because over time you slowly start to close yourself off," he explains. "[Physical therapy] just opens everything back up." He also keeps copious amounts of coconut water in his dressing room, and adheres to a gluten- and dairy-free diet. "It alleviates a lot of mucus, especially dairy, so for singing it's been really helpful." In another interview with Theater Talk, he spoke to how dieting also came into play when building his image of Evan. "I always saw him as a kid who can't eat too much," he said, before affirming that it was his own creative choice. "No one on the creative team told me I needed to [lose weight]."
"Part of this opportunity that really blows my mind is that I feel like I'm really able to use every tool in my sort of box that I've built over time," says Platt. "I've been doing this since I was, like, 9 years old—the musical comedy side of things, and then the sort of pop-contemporary musical theater singing, and the physicality and the dramatic acting—all of these things that over time I've loved to find and grapple with and find affinities for have been sort of combined into one character that I could've never really foreseen. And that's what makes it feel incredibly surreal; this whole moment is feeling like such a perfect combination of stuff for me. That's why it never gets old. I've done it, like you say, 120 times, with the two other productions as well. It never gets old to get to use everything that's at your disposal."
"I never wanted to make him too specifically based on one type of kid or one kid in my mind," he says when asked about the research he'd done on social anxiety. "I wanted to make sure that he, of course, was a specific person, but anybody who came in could see some part of themselves in him, and that he had kind of a universal quality."
In February, "Dear Evan Hansen" and "Hamilton" were the first two musical theater albums in Billboard 200's Top 20 in over 50 years (the last two were "Hello, Dolly!" and "Fiddler on the Roof" in 1965). At No. 8, it was also the highest debut for a cast recording since 1961, a testament to the scale on which Platt and Evan Hansen have resonated.
"That's what's great about a musical," says Platt. "When you have a character who can turn to you and sing their inner monologue, you feel like you know them in a way that you don't otherwise. You get to see their insides a little bit." Which in turn, sheds light on our own tangled viscera.
---
Get In the Room
You're looking at an audition all wrong if you think you're just there to get the part. As Platt's career trajectory shows, auditions are as much about making connections as they are about landing a role. When the Broadway star auditioned for legendary "Rent" and now "Dear Evan Hansen" director Michael Greif's touring production of "Next to Normal," he was too young to be cast. The same was the case when he auditioned for Benj Pasek and Justin Paul in 2012 for their musical "Dogfight." But the latter two were so impressed, they promised to contact him once the right project came along. Platt, who says his go-to audition songs are "How Glory Goes" from "Floyd Collins" and Michael Bublé's arrangement of "Feeling Good," wrote it off as a courtesy gesture until a year later when they reached out via Facebook about coming in for a table read. He went in for a cold reading of "Dear Evan Hansen" with no ideas about who he'd be playing, the character's age, or the narrative, and clicked immediately with the material—and look at him now.
Just goes to show: Even if you leave the room without the part, make sure you leave with a new fan.
Want to make fans on Broadway? Check out our Broadway audition listings!
Styling by Sam Spector with assistance by Mitsu Tsuchiya. Jacket by Topman, T-shirt by Sandro, jeans by Acne, shoes by Common Projects. Shirt by APC.