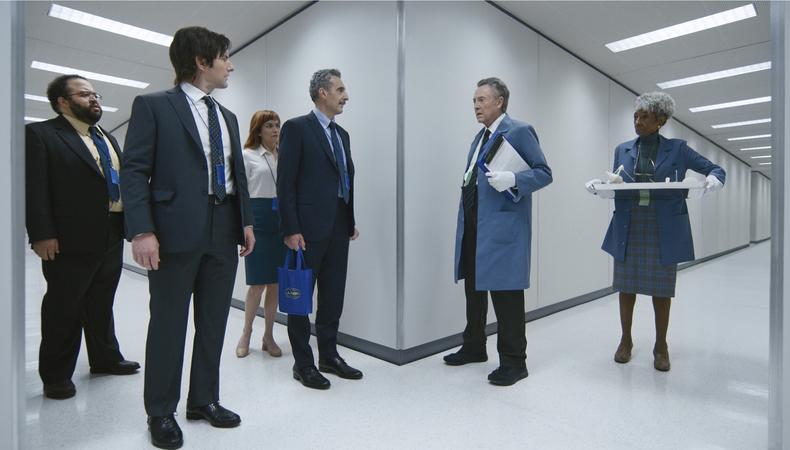 ​​The unsettling "Office Space"–meets–"2001: A Space Odyssey'' aesthetic of the Apple TV+ thriller "Severance'' is such an odd mashup of tones and inspirations that it's impossible to describe it without contradicting yourself.
"We tried to form this language that was somehow evocative of very specific things but also wasn't specific at all," says Ben Stiller, who directed six of the first season's nine episodes.
Stiller's involvement in the project might feel like a contradiction to anyone who hasn't been following his recent work. After several decades spent carving a comedic path in Hollywood, the former Derek Zoolander has shown that his talents behind the camera lend themselves to much darker material. That was true of the Emmy-nominated 2018 drama "Escape at Dannemora," but "Severance" feels like the next level of what Stiller the director is capable of. The dystopian story is bleak, but that's only because it's so comically familiar to anyone with a 9-to-5 office job.
"Steadicam is a tool that's so easy to use, so you can do a lot, but I find it gets used in a haphazard way."
Set in an alternate version of our own present, "Severance" follows the employees of the megacorporation Lumon Industries who have undergone a procedure to separate their memories of their lives inside and outside of work. When Mark Scout (Adam Scott) rides an elevator down to the company's "severed" floor, he effectively becomes a different Mark—one who will never know life outside Lumon's sprawling headquarters.
Stiller, who developed the series alongside creator Dan Erickson, wanted the hollowness of the "severed" experience to seep into the show's look. Together with production designer Jeremy Hindle, Stiller mapped out the Lumon office by emphasizing a lack of an identity—the set has featureless white walls, needlessly winding corridors, and cubicle areas that are 90% negative space.
Perfecting the tone of "Severance" involved "knowing what it wasn't," Stiller says. He and the design team studied everything from 1950s Brutalist architecture to 1980s Soviet interior design to the empty office photography of Lars Tunbjörk and Lynne Cohen, all to hone a "minimalism aspect" they felt was vital to the show's mood.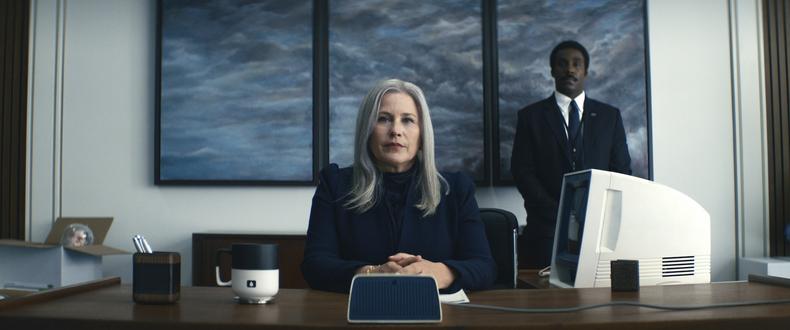 Patricia Arquette and Tramell Tillman on "Severance" Courtesy Apple TV+
That less-is-more directive also applied to Stiller's camerawork. For any scene set inside Lumon, he and cinematographer Jessica Lee Gagné wanted the lens to be an impartial observer, refraining from using the free-flowing style of Steadicam photography whenever possible. "Right off the bat, we had the idea it should be a pretty static world," Stiller says.
"For me, Steadicam is a tool that's so easy to use, so you can do a lot; but I find it gets used in a haphazard way," he continues. "Which is fine, depending on the style of what the show is. But for our show, I felt there had to be something to the rigidness of the camera moves."
Stiller's lens captures Scott and his co-stars John Turturro, Britt Lower, and Zach Cherry with the precision of a surveillance camera. He opted for slow pans that he describes as feeling "like there's some sort of servomotor turning the camera."
"I find that interesting, if you can figure out a way to do it," he says. "Where the camera is more objective, as opposed to [the audience] feeling a camera operator who is moving the way the actors are going. When the camera isn't reacting to the actors, and it's just moving, machine-like, it feels more disconnected."
"Severance" does employ one highly effective piece of camera trickery: Stiller captures the transitions between a given character's two severed personas using the disorienting dolly zoom first made famous by Alfred Hitchcock in "Vertigo."
The effect, achieved by tracking the camera toward the subject while simultaneously zooming out with the lens, is as dizzying as ever. Stiller gives a large share of the credit to his cast, who had to portray a total personality change with nothing but a subtle shift of the face. He recalls Scott, "who is an amazing technical actor," needing to do it over and over again: "Ten, 12, 15 takes of that transition, because we had to match up his acting to the camera movement."
Stiller laughs. "That's a situation where I'm glad I'm the director."
This story originally appeared in the Jun. 2 issue of Backstage Magazine.