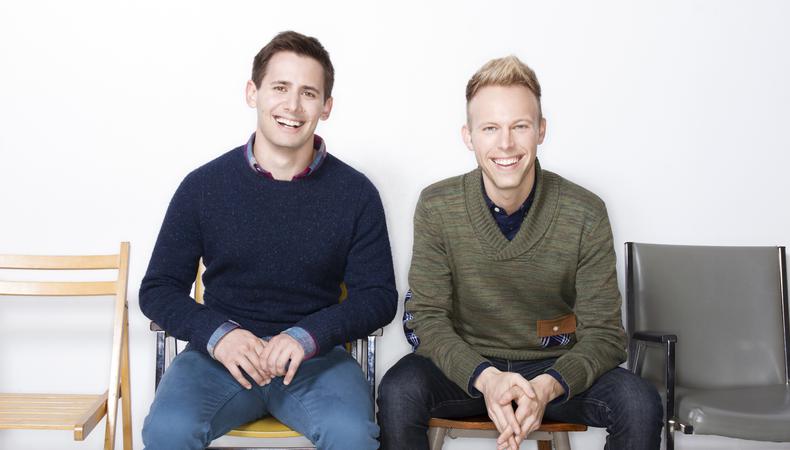 Ken Davenport is a Tony Award–winning producer and best-selling author. Below is an excerpt from his new anthology of interviews with industry icons and artistic pros, "Cast of Mentors."
The advice in this book is timeless. From Benj Pasek and Justin Paul to Mandy Gonzalez to Kenny Leon to Susan Stroman, their words will help theatermakers and non-theatermakers during a pandemic and post-pandemic because they continue to help me everyday:
Pasek and Paul first appeared on everyone's radar (and computer screen) when the revue they wrote in college, "Edges," began racking up views on the newly born video-sharing platform, YouTube. Their collaboration continued after college with the musical adaptations of "James and the Giant Peach," "A Christmas Story," and "Dogfight." But it was their entirely original idea about a teenager struggling to belong that would become the musical "Dear Evan Hansen," which has become one of the megabits of the modern theater. In addition to their Tony Award for "Dear Evan Hansen," the pair won an Academy Award for their work on the film "La La Land," and were again nominated for "The Greatest Showman."
On the songwriting process:
Benj Pasek: Writing songs feels similar to crafting the five-paragraph essay that you had to write in high school. What is your thesis statement? Your "thesis statement" in songwriting is usually in your chorus and it's sometimes even the title of the song. It's the central idea you need to consistently support throughout the lyrics. We like to find a phrase or thesis statement that has a unique enough angle that we can keep coming back to it again and again while approaching it from different perspectives, making sure that as the song moves and grows, we are still examining the same central question.
Justin Paul: From there, I'll start working on a way to musicalize that thesis statement. Sometimes we'll just start with a chorus idea and then work backwards. Sometimes the only way in is to go through the song chronologically, by starting where it wants to start, and continuing it as we go from there.
On being creative entrepreneurs:
BP: The world has changed a great deal since the advent of the internet. We now live in a time when there are fewer gatekeepers than ever before who can determine if work will be heard. Artists are able to connect much more directly with an audience and that direct connection and the excitement that it generates can propel a musical to a Broadway stage. Writers have the opportunity to act more like entrepreneurs, and generate their own opportunities to get their work out there.
On exorcising personal demons with "Dear Evan Hansen":
BP: I've been thinking about why we wrote the story. For me, at least, so much of "Dogfight," but particularly "Dear Evan Hansen," is about asking a question and trying to get to the answer through the creation of something artistic. I don't really know if I have the answer myself, but I see a lot of myself in these characters and in much of the plot. The songs wrestle with identity and try to investigate who we are as humans. They are meant to shine a light on the dark, weird, and scary parts of ourselves that are sometimes terrifying to examine. Getting to explore that in a theatrical way is exciting.
On when they feel like they "made it" (this was pre-Evan Hansen...):
BP: I don't know that you ever really feel like you've "made it" but I definitely feel like we're on the right path when we write stories that feel true to our lived experiences. We're trying to create work that has a sense of authenticity—sometimes hopeful and often messy—and hope that by sharing something honest about ourselves in our writing, we can create something to which others might relate.
JP: I would agree with that. I would also say that it takes so much work—not just for the writers, for everyone—and a confluence of events, people, and artists to create a show that plays on Broadway and runs on Broadway. It's like magic in a way. It's lightning in a bottle. It so rarely happens: a show that works in all those ways. A show where all 120 people or 270 people or however many, in the orchestra, onstage, in the crew, all of the designers, etc. are all speaking the same language at the same time throughout the 2.5 hours the show plays. The audience comes and sees it, sees it again, and tells their friends to come and see it.
To gain 49 additional mentors (including Ben Brantley, Ted Chapin, Alan Cumming, Michael Greif, David Henry Hwang, Joe Iconis, Mara Isaacs, Lisa Kron, Kenny Leon, Robert Lopez, Joe Mantello, Kathleen Marshall, Terrence McNally, Casey Nicholaw, Diane Paulus, Eva Price, Daryl Roth, Jordan Roth, Stephen Schwartz, Bartlett Sher, Ali Stroker, Susan Stroman, Jeanine Tesori, Sergio Trujillo, and many more!), visit CastOfMentors.com. And enjoy!
Looking for remote work? Backstage has got you covered! Click here for auditions you can do from home!