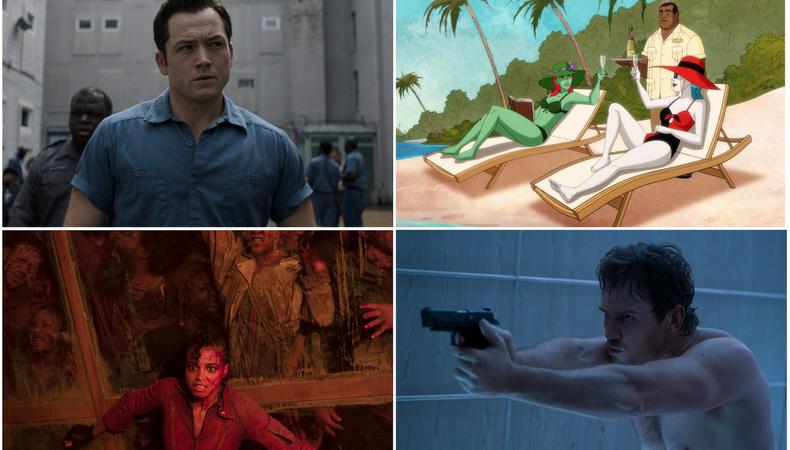 Television doesn't sleep. Backstage is breaking down, month by month, the buzzy shows and performances that merit attention from awards voters and couch potatoes in the ever-growing landscape of the small screen.
July is a bit of a sleepy month when it comes to big drops from the world of television. But streaming services are continuing to give us a steady drip of entertainment for those days when it's just too hot to venture outside.
This month sees the return of two cult comedy faves: The third season of animated series "Tuca & Bertie," whose third season premieres July 10 on Adult Swim; and Season 4 of the Emmy-nominated vamp-com "What We Do in the Shadows," hitting FX July 12. Unparalleled comedic weirdo Nathan Fielder (of the late, great "Nathan for You") is making a comeback with "The Rehearsal" on HBO Max (July 15), as is creator-star Phoebe Robinson with "Everything's Trash" on Freeform (July 13).
Genre buffs can look forward to AMC+'s "Moonhaven," a murder mystery set on the moon (July 7); a small-screen take on the bloody "Resident Evil" franchise (July 14); an adaptation of time-traveling comic book series "Paper Girls" on Amazon Prime Video (July 28); and the third season of the raunchy, brilliant "Harley Quinn" animated series (July 28 on HBO Max).
Meanwhile, the "Pretty Little Liars"–verse is roaring back with "Original Sin" (July 28 on HBO Max); Apple TV+ is debuting amnesia thriller "Surface," starring Gugu Mbatha-Raw (July 29); and Neil Patrick Harris is returning to the world of sitcoms in gay rom-com "Uncoupled," co-created by "Sex and the City" and "Modern Family" vets Darren Star and Jeffrey Richman (July 29 on Netflix).
Check out the full July TV slate right here, as well as our top three picks for the premieres we're most looking forward to.
"Black Bird"
With this miniseries, legendary crime novelist Dennis Lehane is adapting someone else's book rather than one of his own. "Black Bird" is based on "In with the Devil: A Fallen Hero, a Serial Killer, and a Dangerous Bargain for Redemption," Jimmy Keene's 2010 memoir. The series surrounds Keene's deal with the FBI to get a shortened prison sentence; all he has to do is befriend an incarcerated serial killer in order to force a confession. Easy, right? Taron Egerton ("Rocketman") stars alongside Paul Walter Hauser ("I, Tonya"), Ray Liotta, and Greg Kinnear. The limited series hits Apple TV+ on July 8.
"Rap Sh!t"
"Insecure" fans mourning the passing of Issa Rae's groundbreaking series don't have to miss her for long. The Emmy-winning multihyphenate is back on HBO Max on July 21 with "Rap Sh!t," a new comedy that she's creating and executive producing; "Insecure" alum Syreeta Singleton will serve as showrunner. "Rap Sh!t" follows two former high school BFFs (Aida Osman and KaMillion) who reunite in Miami as adults and set their sights on hip-hop stardom. The show has earned its music-industry bona fides: In addition to real-life rapper KaMillion's starring role, Yung Miami and JT of hip-hop duo City Girls are executive producing.
"The Resort"
Whether you're a fan of time-loop rom-com "Palm Springs" or techno-thriller "Mr. Robot," keep an eye on Peacock. The streamer is debuting "The Resort" on July 28, co-created by the former's Andy Siara and the latter's Sam Esmail. The dark comedy follows Emma and Noah (Cristin Milioti and William Jackson Harper), a couple who go to a Mexican seaside resort to unwind—only to become embroiled in an unsolved murder that rocked the hotel 15 years earlier. A slate of comedy greats are co-starring, including Nick Offerman, Dylan Baker, Michael Hitchcock, Ben Sinclair, Parvesh Cheena, and Becky Ann Baker. Is "The Resort" a ripoff of "The White Lotus"? Maybe. But honestly, with a cast and creative team this good, who cares?
Acorn TV
July 18 – "The Other One" Season 2
Adult Swim
July 10 – "Tuca & Bertie" Season 3
Amazon Prime Video
July 1 – "The Terminal List" premiere
July 8 – "Modern Love Hyderabad" premiere
July 29 – "Paper Girls" premiere
AMC+
July 7 – "Moonhaven" premiere
Apple TV+
July 8 – "Blackbird" premiere
July 22 – "Trying" Season 3
July 29 – "Surface" premiere
BET+
July 1 – "The Black Hamptons" premiere
July 14 – "All the Queen's Men" Season 2
July 28 – "The Family Business" Season 4
Bounce TV
July 10 – "Johnson" Season 2
Comedy Central
July 6 – "Crank Yankers" Season 7
Crackle
July 1 – "Funny Girls" premiere
Disney+
July 27 – "High School Musical: The Musical: The Series" Season 3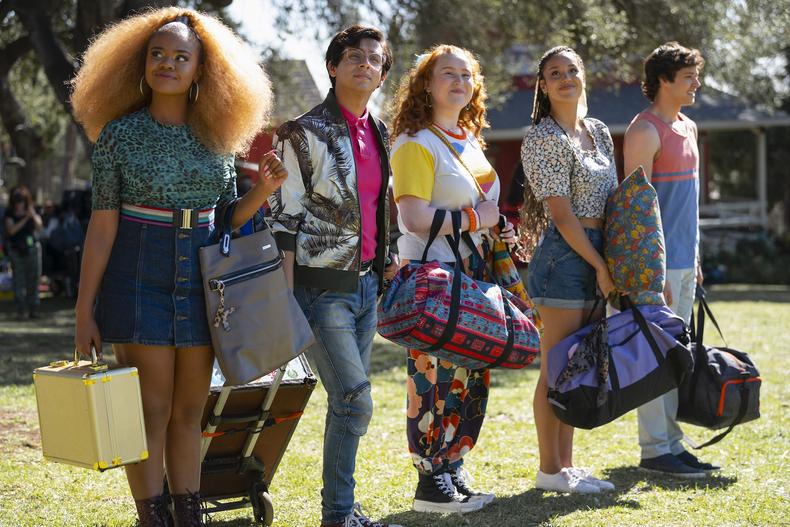 Courtesy Disney+
EPIX
July 10 – "Bridge and Tunnel" Season 2
Freeform
July 13 – "Everything's Trash" premiere
July 20 – "Grown-ish" Season 5
FX
July 12 – "What We Do in the Shadows" Season 4
HBO/HBO Max
July 1 – "How to Screw It All Up (Cómo mandarlo todo a la mierda)" premiere
July 7 – "The Visitors" premiere
July 14 – "Vote for Juan" Season 3
July 15 – "The Rehearsal" premiere
July 21 – "Almost Fly" premiere
July 21 – "Rap Sh!t" premiere
July 28 – "Harley Quinn" Season 3
July 28 – "Pretty Little Liars: Original Sin" premiere
Hulu
July 6 – "Maggie" premiere
July 13 – "Solar Opposites" Season 3
July 26 – "Santa Evita" premiere
Lifetime
July 9 – "Flowers in the Attic: The Origin" premiere
Netflix
July 1 – "Stranger Things" Season 4, Part 2 premiere
July 6 – "King of Stonks" premiere
July 8 – "Boo, Bitch" premiere
July 8 – "Capitani" Season 2
July 8 – "The Longest Night" premiere
July 13 – "Hurts Like Hell" premiere
July 13 – "Sintonia" Season 3
July 14 – "Kung Fu Panda: The Dragon Knight" premiere
July 14 – "Resident Evil" premiere
July 15 – "Alba" premiere
July 15 – "Country Queen" premiere
July 15 – "Farzar" premiere
July 15 – "Mom, Don't Do That!" premiere
July 15 – "Remarriage & Desires" premiere
July 20 – "Bad Exorcist" premiere
July 29 – "Uncoupled" premiere
Courtesy Netflix
Paramount+
July 10 – "SkyMed" premiere
July 17 – "Blood & Treasure" Season 2
PBS
July 10 – "COBRA" Season 2
July 10 – "Grantchester" Season 7
Peacock
July 8 – "Trigger Point" premiere
July 11 – "Days of Our Lives: Beyond Salem" Season 2
July 28 – "The Resort" premiere
Showtime
July 1 – "We Hunt Together" Season 2
July 31 – "City on a Hill" Season 3
Sundance Now
July 21 – "Showtrial" premiere
TBS
July 11 – "Chad" Season 2