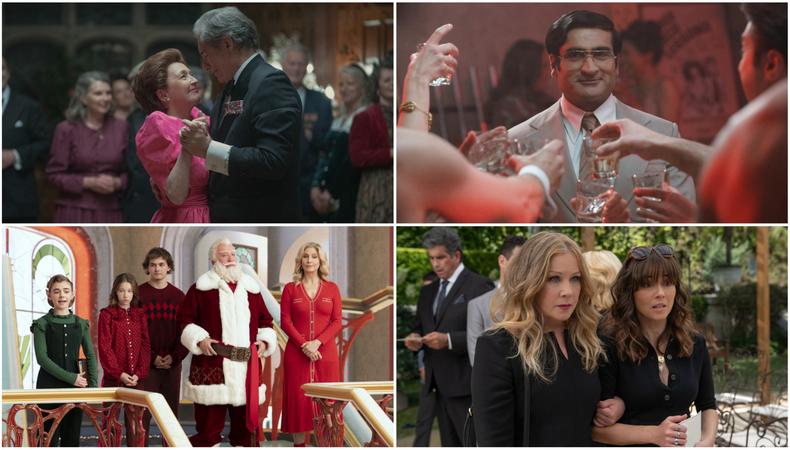 Television doesn't sleep. Backstage is breaking down, month by month, the buzzy shows and performances that merit attention from awards voters and couch potatoes alike in the ever-expanding landscape of the small screen.
November on the small screen is basically a bottomless Santa's bag of Christmas movies, but there's still plenty to watch if you're not feeling the preemptive holiday cheer.
Two of streaming's most epic family sagas are dropping their fifth seasons. Netflix's Emmy darling "The Crown" is returning Nov. 9 with an aged-up cast led by Imelda Staunton and a heavy weight on its shoulders in the wake of Queen Elizabeth II's passing. On Paramount+, the Duttons are riding back into town with a new season of Taylor Sheridan's "Yellowstone" (Nov. 13). The creator is also taking a stab at a mob drama with "Tulsa King," starring Sylvester Stallone (Nov. 13 on Paramount+). FX is making a late-season awards gambit with "Fleishman Is in Trouble," Taffy Brodesser-Akner's star-studded adaptation of her own bestselling novel (Nov. 17 on Hulu).
RELATED: How to Become a TV Actor
On the lighter side, Netflix is—ironically—delving into the pre-streaming world with "Blockbuster," a sitcom about the last Blockbuster Video store (Nov. 3). November will also see the return of three critically acclaimed comedies: The third season of "Mythic Quest" (Nov. 11 on Apple TV+), Season 3 of the Emmy-nominated "Dead to Me" (Nov. 17 on Netflix), and Season 2 of Mindy Kaling's "The Sex Lives of College Girls" (Nov. 17 on HBO Max).
For the nostalgic, three big-screen faves are launching spinoff series. On Disney+, Tim Allen is donning the red suit once more for "The Santa Clauses" (Nov. 16), and Warwick Davis is going back to Nelwyn on "Willow" (Nov. 30). Meanwhile, Netflix is getting morbid with "Addams Family" riff "Wednesday" (Nov. 23).
Read on for our picks of the most promising new shows, including a historical thriller set at sea and the latest true-crime limited series from Hulu.
"Mood"
Like Phoebe Waller-Bridge before her, Nicôle Lecky is creating and starring on a TV adaption of her own critically acclaimed play. Based on "Superhoe," which debuted at London's Royal Court Theatre in 2019, "Mood" follows the travails of Sasha Clayton, a 20-something with dreams of pop stardom who turns to social media influencing to make ends meet—with dicey consequences. Premiering Nov. 6 on AMC+ and BBC America, the six-part series also features Lara Peake, Jordan Duvigneau, Jessica Hynes, Paul Kaye, Mia Jenkins, and Mohammad Dalmar.
"1899"
Though it flew under the radar, Baran bo Odar and Jantje Friese's German-language sci-fi series "Dark" made critical waves when it premiered in 2017. Netflix is reuniting with the pair for "1899," a historical mind-bender set on a ship full of European immigrants bound for New York. When they come across another vessel drifting through the open ocean, things take a sinister turn. The series features a sprawling multinational ensemble that includes Anton Lesser, Emily Beecham, Aneurin Barnard, Mathilde Ollivier, Andreas Pietschmann, and Lucas Lynggaard Tønnesen. We have a hunch this series, which drops Nov. 19, could be your next favorite water-cooler puzzler.
"Welcome to Chippendales"
Nine months after the release of his Emmy-nominated "Pam & Tommy," Robert Siegel is debuting another Hulu miniseries based on true events. "Welcome to Chippendales" stars Kumail Nanjiani as Somen "Steve" Banerjee, the founder of the male stripper troupe known for their bow ties and bare chests. Like so many limited series subjects, Banerjee commits a string of alarming crimes, including orchestrating a few murders. The big-name cast includes "White Lotus" Emmy winner Murray Bartlett and "Yellowjackets" star Juliette Lewis, as well as Annaleigh Ashford, Dan Stevens, Robin de Jesus, and Andrew Rannells. The pecs start pumping on Nov. 22.
AMC+/BBC America
Nov. 6 – "Mood" premiere
Nov. 17 – "Gangs of London" Season 2
Apple TV+
Nov. 4 – "The Mosquito Coast" Season 2
Nov. 23 – "Echo 3" premiere
Disney+
Nov. 9 – "Zootopia+" premiere
Nov. 16 – "The Santa Clauses" premiere
Nov. 23 – "Daddies on Request" premiere
Nov. 30 – "Willow" premiere
Epix
Nov. 13 – "Rogue Heroes" premiere
Freevee
Nov. 16 – "Leverage: Redemption" Season 2
HBO/HBO Max
Nov. 3 – "Titans" Season 4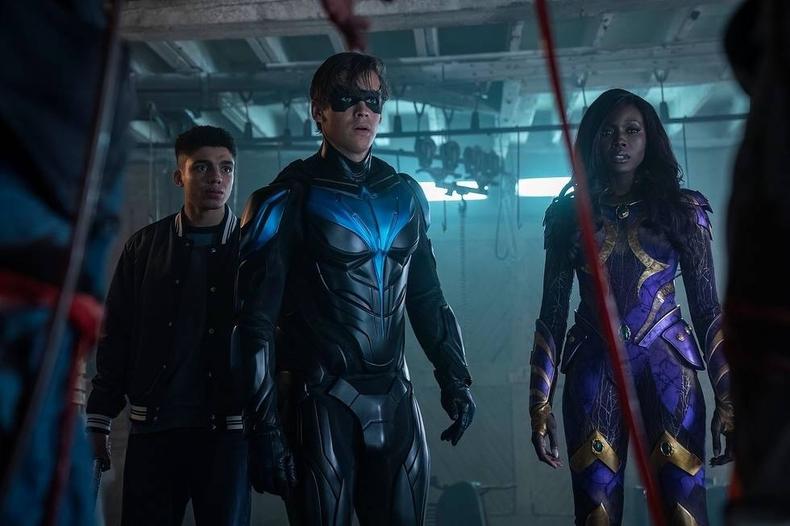 Courtesy HBO Max
Hulu/FX
Nov. 17 – "Fleishman Is in Trouble" premiere
Nov. 22 – "Welcome to Chippendales" premiere
MUBI
Nov. 27 – "The Kingdom Exodus" premiere
NBC
Nov. 4 – "Lopez vs. Lopez" premiere
Nov. 4 – "Young Rock" Season 3
Netflix
Nov. 1 – "Young Royals" Season 2
Nov. 2 – "The Final Score" premiere
Nov. 3 – "Blockbuster" premiere
Nov. 3 – "The Dragon Prince" Season 4
Nov. 4 – "The Fabulous" premiere
Nov. 4 – "Manifest" Season 4
Nov. 9 – "The Crown" Season 5
Nov. 10 – "Warrior Nun" Season 2
Nov. 17 – "Dead to Me" Season 3
Nov. 17 – "1899" premiere
Nov. 18 – "Somebody" premiere
Nov. 23 – "Wednesday" premiere
Nov. 24 – "First Love" premiere
Paramount+
Nov. 3 – "Bosé" premiere
Nov. 13 – "Yellowstone" Season 5
Nov. 24 – "Criminal Minds: Evolution" premiere
Peacock
Nov. 10 – "The Calling" premiere
Nov. 16 – "Acoso" premiere
Nov. 17 – "Leopard Skin" premiere
Nov. 23 – "Pitch Perfect: Bumper in Berlin" premiere
Nov. 30 – "Irreverent" premiere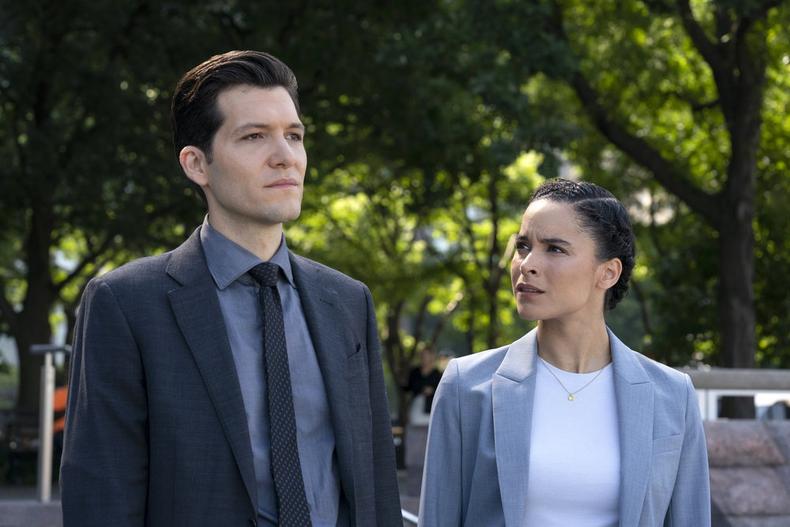 "The Calling" Credit: Heidi Gutman/Peacock
Prime Video
Nov. 11 – "The English" premiere
Nov. 11 – "Mammals" premiere
Showtime
Nov. 20 – "The L Word: Generation Q" Season 3
Starz
Nov. 6 – "Dangerous Liaisons" premiere
Sundance Now
Nov. 3 – "The Suspect" premiere