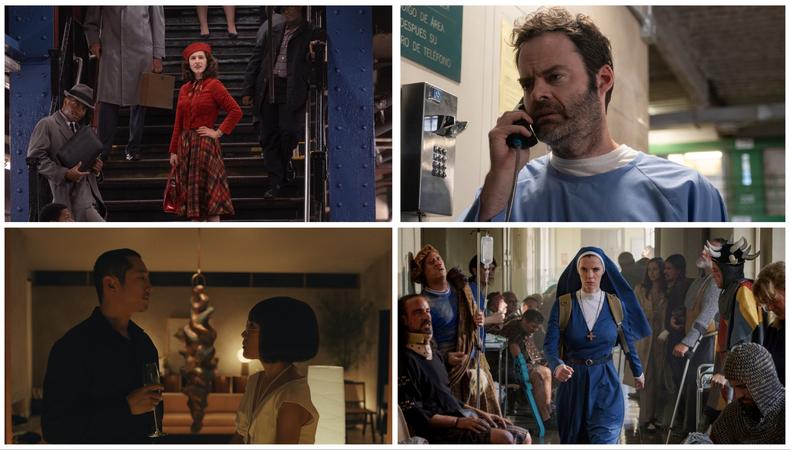 Television doesn't sleep. Backstage is breaking down, month by month, the buzzy shows and performances that merit attention from awards voters and couch potatoes alike across the ever-expanding landscape of the small screen.
Spring is here, and with it, the final installments of two Emmy-dominating series: Season 4 of HBO's "Barry" and Season 5 of Prime Video's "The Marvelous Mrs. Maisel." The departure of these two prestige comedies—not to mention "Ted Lasso" last month—could open up the field for newer shows to take home gold after next year.
Some of those could be the other comedies returning this month—including Apple TV+'s "Schmigadoon!" (April 2) and "The Afterparty" (April 28), FXX's "Dave" (April 5), Freeform's "Single Drunk Female" (April 12), HBO's "A Black Lady Sketch Show" (April 14) and "Somebody Somewhere" (April 23), and Comedy Central's "Awkwafina Is Nora From Queens" (April 26). Plus, the Kathryn Hahnaissance is continuing with Hulu's new miniseries "Tiny Beautiful Things," an adaptation of Cheryl Strayed's popular advice column (April 7).
If drama is more your speed, the next few weeks will see the premieres of WWII-set British tale "Transatlantic" (April 7 on Netflix); thriller "The Last Thing He Told Me," starring Jennifer Garner and Nikolaj Coster-Waldau (April 14 on Apple TV+); and true crime drama "Waco: The Aftermath," featuring Michael Shannon (April 14). In a strange twist, David E. Kelley is returning to our screens with "Love & Death" (April 27), an HBO Max miniseries about the same real-life murder that was the subject of last year's "Candy" on Hulu. (Are TV writers running out of crimes?)
On the weirder side, check out Zoe Lister-Jones' "Slip" on the Roku Channel, which hinges on "Everything Everywhere All at Once"–style universe-hopping (April 21). Richard Madden and Priyanka Chopra Jonas are also going sci-fi on Prime Video's epic "Citadel" (April 28). Then there's "Dead Ringers," a gender-swapped remake of David Cronenberg's body-horror classic starring Rachel Weisz (April 21).
Read on for our top picks of new series to watch, as well as a full list of everything premiering and returning this month.
"Beef"
Following its triumph at the Oscars this year, A24 is going back to the small screen with this Netflix comedy from Lee Sung Jin ("It's Always Sunny in Philadelphia," "Tuca & Bertie"). "Beef" stars Emmy nominee Ali Wong and Academy Award nominee Steven Yeun as Amy and Danny, two strangers whose charged encounter in a parking lot grows into a full-on feud. The series also features Ione Skye ("La Brea"), Andrew Santino ("The Disaster Artist"), and Joseph Lee ("Star Trek: Picard"). Episode directors include indie up-and-comers Jake Schreier ("Robot & Frank") and Hikari ("37 Seconds"), as well as Lee himself. "Beef" throws the first stone on April 6.
"Grease: Rise of the Pink Ladies"
In a world of infinitely recycled IP, you'd be forgiven for meeting the announcement of a "Grease" television spinoff with an eye roll. But "Rise of the Pink Ladies," which drops on April 6 on Paramount+, is fresh and joyous beyond all expectations. That has a lot to do with the gleefully gee-whiz dialogue from creator Annabel Oakes ("Atypical," "Minx"); but it's even more thanks to catchy original songs from pop impresario Justin Tranter, who's written for the likes of Britney Spears, Kesha, and Dua Lipa. Expect the four newcomers (Marisa Davila, Cheyenne Isabel Wells, Tricia Fukuhara, and nonbinary actor Ari Notartomaso) who play the titular girl gang to break out in a big way.
"Mrs. Davis"
It's fitting that "Watchmen" and "Lost" Emmy winner Damon Lindelof's latest is premiering on 4/20, because it looks trippy as hell. It also looks incredible—and timely. The series stars "Glow" breakout Betty Gilpin as Simone, an ass-kicking nun who sets out to stop an all-powerful AI named Mrs. Davis from taking over the world. Considering the trailer features a wheat field full of grand pianos, an underground wrestling ring, and Gilpin jumping a dirt bike through a giant doughnut, we could not be more pumped. Add to that a stacked cast including Margo Martindale, Elizabeth Marvel, Ben Chaplin, and David Arquette, and "Mrs. Davis" is primed to be the greatest nun-based comedy since "Sister Act."
Acorn TV
April 2 — "The Brokenwood Mysteries" Season 9
April 24 — "Dalgliesh" Season 2
Adult Swim
April 2 — "Royal Crackers" premiere
Apple TV+
April 2 — "Schmigadoon!" Season 2
April 14 — "The Last Thing He Told Me" premiere
April 21 — "Drops of God" premiere
April 28 — "The Afterparty" Season 2
April 28 — "Frog and Toad" premiere
Comedy Central
April 26 — "Awkwafina Is Nora From Queens" Season 3
Disney+
April 5 — "The Crossover" premiere
April 5 — "Journey to the Center of the Earth" premiere
April 12 — "It's All Right! (Todo Está Bien)" premiere
April 26 — "Star Wars: Young Jedi Adventures" premiere
Freeform
April 12 — "Single Drunk Female" Season 2 (also streaming on Hulu)
FXX
April 5 — "Dave" Season 3
HBO/HBO Max
April 14 — "A Black Lady Sketch Show" Season 4
April 14 — "#BringBackAlice" premiere
April 16 — "Barry" Season 4
April 17 — "Para—We Are King" Season 2
April 20 — "Fired on Mars" premiere
April 23 — "Somebody Somewhere" Season 2
April 28 — "Love & Death" premiere
April 28 — "Headless Chickens" premiere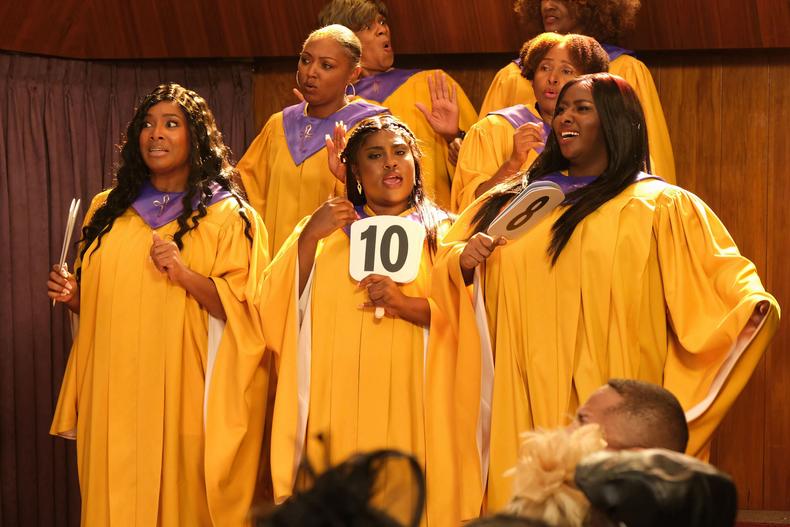 Credit: Tina Thorpe/HBO
Hulu
April 5 — "The Good Mothers" premiere
April 7 — "Tiny Beautiful Things" premiere
April 11 — "Am I Being Unreasonable?" premiere
April 26 — "Saint Ex" premiere
IFC
April 5 — "Hullraisers" premiere (also streaming on AMC+ and Sundance Now)
MGM+
April 23 — "From" Season 2
Netflix
April 2 — "War Sailor" premiere
April 6 — "Beef" premiere
April 7 — "Thicker Than Water" premiere
April 7 — "Transatlantic" premiere
April 12 — "Smother-in-Law" Season 2
April 13 — "Florida Man" premiere
April 13 — "Obsession" premiere
April 14 — "Queenmaker" premiere
April 19 — "The Marked Heart" Season 2
April 19 — "Mighty Morphin Power Rangers: Once & Always" premiere
April 20 — "The Diplomat" premiere
April 20 — "Tooth Pari: When Love Bites" premiere
April 21 — "Rough Diamonds" premiere
April 26 — "Love After Music" premiere
April 27 — "Firefly Lane" Season 3
April 27 — "The Nurse" premiere
April 27 — "Sweet Tooth" Season 2
Paramount+
April 6 — "Grease: Rise of the Pink Ladies" premiere
April 11 — "Yonder" premiere
April 14 — "Rugrats" Season 2
April 20 — "Mike Judge's Beavis and Butt-Head" Season 2
April 30 — "Fatal Attraction" premiere
PBS
April 30 — "Tom Jones" premiere
Peacock
April 20 — "Mrs. Davis" premiere
Prime Video
April 7 — "The Boarding School: Las Cumbres" Season 3
April 14 — "Greek Salad" premiere
April 14 — "The Marvelous Mrs. Maisel" Season 5
April 21 — "Dead Ringers" premiere
April 28 — "Citadel" premiere
The Roku Channel
April 21 — "Slip" premiere
Showtime
April 16 — "Waco: The Aftermath"
Shudder
April 6 — "Slasher" Season 5
Starz
April 14 — "Blindspotting" Season 2
Sundance Now
April 20 — "Totally, Completely Fine" premiere