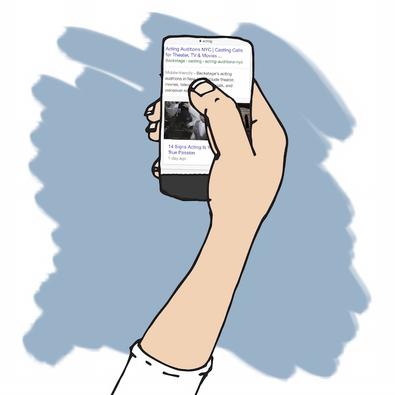 There's no doubt that new actors need to learn a lot about the industry! That's what we do here at Backstage: educate and inform you so that you can become the most powerful and talented performer possible. You can browse our casting notices, the Monologuer, and Call Sheet, but there are other websites that can help with your finances, show you podcasts and more.
As professionals spanning various areas of the business, our Backstage Experts know the websites you need to visit first, so we asked them the following question:
What are the best websites for new actors?
Here are 13 websites from five industry professions!
(And if you missed the last installment of this column, check out "The Top Skills That Make Actors Castable" and see how to get your acting questions answered at the bottom of this article!)
Wendy Braun, founder of ActorInspiration.com
Please run from any websites, classes or teachers that undermine you, belittle you or shame you for being new. Don't get sucked into fear-based marketing that's always telling you what not to do. Rigid rules will stifle your creativity and keep you in your head.
Find websites that connect you to your heart.
Anthony Meindl's YouTube page will uplift you, empower you, and inspire you. In a word: Amazing.
Stay motivated, stay connected, and believe in yourself. Good luck!
Heidi Dean, founder of Marketing 4 Actors
Advice and Inspiration
The SAG-AFTRA Foundation's YouTube channel has video seminars and interviews to help you with the business and craft of your acting career.
Acting Advice
Acting coach Philip Hernández's blog for actors is a great resource for any actor starting out in the business.
Learning Lines
Rehearsal Pro helps you learn your lines and prep for auditions.
Actor Reels
Whether you need a self-tape audition or your reel edited, Actor Intro is a fantastic resource for new actors.
Insider Advice
Seeking practical audition advice from a trusted casting director? Check out Marci Liroff's blog for actors.
Child Actors
The BizParentz Foundation is a terrific website providing education for child actors and their parents.
Cathryn Hartt, founder of Hartt and Soul Studio
I am constantly answering questions for newbies about whether agents and acting offers are legitimate. So my first suggestion is to just Google the questionable name followed by the word "scam."
Second, I suggest the that you use the wonderful resource of our union, SAG-AFTRA, at www.sagaftra.org. It is a great resource to find franchised agents and to check out questions and scams. They also have lots of wonderful tips and events.
Also, please support each other. We are all just one step ahead of or behind someone else. Reach out your hands in both directions.
Ben Whitehair, L.A.-based actor
SAG-AFTRA
On the SAG-AFTRA site, union members can track their residuals, pay their dues, or anyone can head over to the Production Center for information on union contracts, rates, etc. I also highly recommend checking out the SAG-AFTRA YouTube Page. Many of the events, panels, and discussions put on by SAG-AFTRA are videotaped and available to all on the YouTube page.
SAG-AFTRA Foundation
The SAG-AFTRA foundation is a remarkable resource for actors, especially union members. Available to everyone, though, is its video gallery which has a tremendous archive of interviews, panels, information sessions, and more.
NextGen Performers
NGP is a SAG-AFTRA committee committed to connect, energize, and engage young performers. They put on events, and are also active on Facebook, Twitter, and Instagram.
Inside Acting
Trevor and AJ have been hosting this podcast for many years, and have over 200 episodes with incredible information, interviews with every kind of person in the entertainment industry, and stories about their own personal journeys to success. You can also become a member for access to additional resources, community chats, and coaching.
Ms. In The Biz
This is a remarkable site full of blog posts from 250+ female bloggers in the entertainment industry, resources, events, and the like.
Mint.com
My favorite (free!) site for tracking my finances. User-friendly, simple, and easy to use. And did I mention it's free?
Ryan R. Williams, L.A.-based on-camera coach, founder of Screen Actors System
The best one, present company excluded, would be the Internet Movie Script Database. This is a place where you can find scenes for class and read entire screenplays.
Your sense of story and ability to perform text analysis on movie scripts will define you as a screen actor.
How will you book if you are always lost on your audition sides. You won't learn how to decode sides in gimmicky audition classes. You will develop an instinct for filmed stories by reading scripts all the time.
In this way you will become a dramatist actor who can truly fulfill your calling. Your role is that of assistant storyteller. Watching movies isn't enough. You won't have the luxury of seeing the finished productions of the film roles you originate.
You should always be reading the entire script for the scenes you do in class. Let that grasp of the entire piece guide your decisions about the individual scene.
Work the process the way a pro would. Best way to become one.
Want more acting tips? Watch here:
Have a question? Message us on Facebook or tweet @Backstage.
Want to be more involved in the Backstage community? Become a subscriber here!
The views expressed in this article are solely that of the individual(s) providing them,
and do not necessarily reflect the opinions of Backstage or its staff.