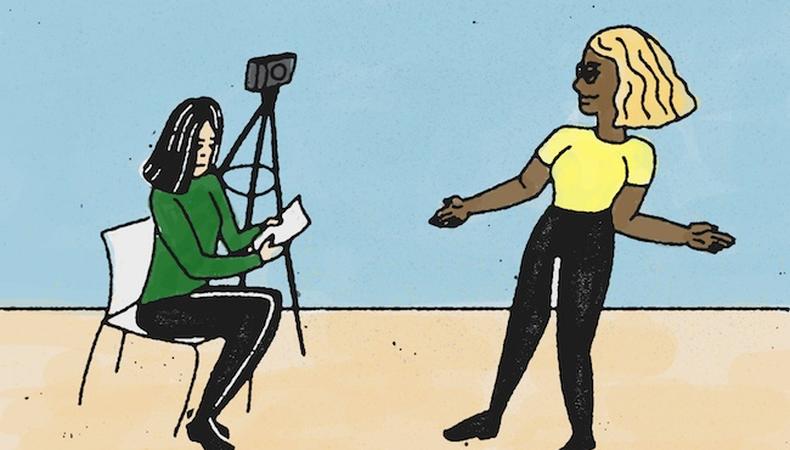 Today's technology has truly changed the game of auditioning. While in-person auditions are still the format actors based out of large cities do most frequently, the ability to self-tape an audition has allowed people to be considered for projects that are casting thousands of miles away from home. It's also expanded the amount of auditions people can apply to. Here, we explore the art of self-taping and the best way to get a quality product for that upcoming audition.
What exactly is a self-tape?
A self-tape is an audition requested by a casting director that you are asked to film on your own and then submit to them electronically. They will provide the sides, instructions, and deadline, and then it is up to you to film, edit, and return it to them on time.
What does the revolution of self-taping mean for the everyday actor?
Self-taping revolutionizes auditioning for the everyday actor in a couple of ways:
First, you have the ability to work on an audition until it is exactly the way you want it to be since you can keep filming until you are happy with the final product. It truly lets you put your best foot forward, therefore giving you a greater chance at catching the eye of the casting director and alleviating a lot of nerves that naturally come with in-person auditions.
Second, you can be considered for jobs hundreds or thousands of miles away. You used to have to mail a hard copy of your headshot to be considered for these projects; then, if you received an audition, you would have to travel to get there or videotape it and send it in by snail mail. Self-taping therefore increases access to auditions for actors and allows you to be seen for a wider range of projects. (Cutting out traveling also gives you more time to audition!)
How do I know if a job is accepting self-tapes?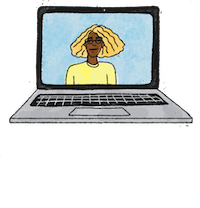 Most of the time you will be specifically asked to self-tape by a casting director after either your agent or manager submits you, or after you have submitted yourself for a role through a casting site such as backstage.com. There might be some open calls you can find where anyone can submit a tape, similar to open calls for theater auditions where anyone can show up, but for the most part you have to be asked to specifically self-tape. When this happens, you will be given the sides, directions, and deadline along with the request.
Are there any differences between a self-tape for TV and film versus theater?
The quality of a self-tape should be the same, whether it is for a TV or film audition or a theater audition. As Backstage Experts Risa Bramon Garcia and Steve Braun write, "Yes, in theater you have to reach the back of the house. And in film and TV, you have to reach the person a foot in front of you when the camera frame is tighter. How do you do that? You have to listen, be aware of who you're talking to, be affected by them. It's a delicate balance." All this to say that the truth and quality of the acting should shine through, no matter the form of the audition.
As for self-tapes for theater auditions specifically, while a theater casting director might be paying a bit more attention to your physicality and vocal quality to see if what you present can reach the back of the house, you still have to be cognizant that they are viewing your audition on film and probably on a small screen on their computer at that. To this end, your audition should not overwhelm them. Be aware of being too loud, gesticulating wildly, or going in and out of frame by moving too much when filming theater auditions. Find the truthfulness of the piece and reign it in to fit on film.
In terms of TV and film acting, stillness is of great importance; this isn't to say you don't use your body and voice, but you must be able to convey your thoughts, feelings, and emotions with minimal movement. You need to be able to convey expression and vulnerability through your eyes alone. Check out our How to Act for the Camera guide for more tips on acting for TV and film, and how this differs from theater acting.
What should I prioritize in my self-tape?
The most important part of any audition, whether it be in-person, on tape, for film or theater, is to provide truthful, engaging acting. However, when it comes to self-taping, there are multiple technical tricks you can employ to increase the quality of your product. These include paying attention to the quality of the visual image, sound, and lighting, as well as smaller choices like helping yourself out by having a neutral background and wearing flattering clothing choices. Here is a list of 13 Self-tape Mistakes That Can Sabotage Your Chances. We'll dive into many of these aspects further, below.
RELATED:
What camera should I get?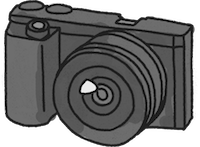 With today's advanced cellphone technology, using the camera on your smartphone should be more than adequate for putting together self-tapes. However, in order to improve upon the filming capabilities of your phone's camera, it is helpful to get some accessories. Namely an external lens, rig (if your lens and rig aren't a two-in-one device), tripod, lights, and mic will all help to really make your audition professional quality and give you at-home access to your very own filming studio.
If you want to get fancier than your smartphone and have a DSLR of your own, try the Canon EOS Rebel T7i camera; it's great as a starter and goes for $749 for the base cost. You'll also need a bunch of accessories to get you started, such as a memory card, lens, etc. Factor those into the total and consider buying an accessory bundle package like this one from Ritz Camera, which is an extra $150 for a wide range of accessories on top of the cost of the camera itself.
If you are well versed in DSLR cameras (and have extra money to spend) the Nikon D7500 is a good choice. The base cost is $1,246.95 on Amazon. But again, you will need accessories to get you started. Depending on which lens you choose, it can cost anywhere from $300 for an 18–140mm VR lens, or $630 for a 18–300mm VR lens. If you go with their recommended accessory bundle, it includes a memory card, tripod, and camera case that will run about another $145.
If you are interested in DSLRs and are looking to save some money, buying an older model, a preowned one, or a refurbished product (always from an authorized dealer, of course!) can help.
In most instances, it is not recommend to use a laptop to film, as it is difficult to add accessories to get the type of film quality that is expected, and sitting at your kitchen table filming in a program such as Photo Booth is not going to give you a competitive audition when compared to what else is out there.
What types of external lenses work well if I'm filming from my phone?
If you do decide to film with your phone, an external lens can help you get a sharper, more focused shot. Some good options include the following:
OlloClip has a range of lens sets from $79.99 to $119.99 that come with a pocket-size tripod that you can place on something to get steady filming.
Moment has a selection of high-quality lenses that are compatible with many types of phones, in addition to their own selection of phone cases. They run from $89.99 to $99.99.
Another option is a camera that actually replaces your phone's camera, rather than augmenting it. The DxO ONE 20.2MP Digital Connected Camera for iPhone and iPad with Wi-Fi plugs into your phone and uses the display as a viewfinder while still giving you full manual control if you like. It also comes with full HD video. Unfortunately, it is not cheap, coming in with a $402.47 price tag.
What rigs work well?
If you are using your phone, you will need a rig to attach it to a tripod. Some lens and rigs are two-in-one types of devices. Others are sold separately. Below, you'll find a range of rig options to fit your needs:
If you want a standard rig that your phone can be secured into that connects to a tripod, the Aoonar ll078 Universal Smartphone Adapter is cheap at only $7.34 and has great reviews.
The Ulanzi Smartphone Video Rig is a nice option because it allows you to also mount a lighting and microphone attachment (sold separately) right onto the rig itself, while also including a stabilizing feature, allowing for good grip with two handles, and having the ability to connect to any tripod. It goes for $14.95.

Iographer makes a good selection of phone cases that are compatible with tripods to act as rigs for your phone. They run from about $49.95 to $59.99, and are nice because you don't have to deal with clipping your phone in—they fit snugly right into the case.
What tripod should I get?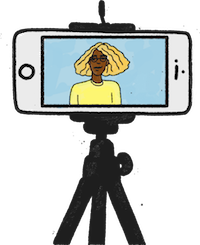 To get a stable, professional-looking shot, using a tripod is a good idea whether you are filming with your phone camera or a DSLR.
If you are looking for a shorter tripod that you can balance on varying types of surfaces, with flexible legs that are designed for your phone, try the UBeesize Phone Tripod. It goes for only $13.98 and comes with a universal clip to make sure any type of phone is secure.
A very basic, taller tripod also specifically designed for an iPhone is the Eocean iPhone Tripod. It is 50" and also comes with a universal rig, level indicator, and carrying case. It'll run you $22.99.
For a full-length tripod for both cameras and phones (rig not included), this adjustable Neewer 64" 360 Degree version works well in order to allow you to get the angle that is best for your shot. It is $69.99.
What about the sound?
It's so important to have clean sound in your self-tape. You should never use a phone to record without an external microphone; it will pick up all sorts of distracting ambient noise.
A favorite for getting good sound while recording on your phone is the Rode VideoMic Me Directional Microphone. It runs for $58 and has crisp, clear, high-quality sounds without breaking the bank. It also plugs directly into the headphone jack on your phone.
For those with phones without a headphone jack (looking at you, newer iPhone users!), the Shure MV88 iOS Digital Stereo Condenser Microphone plugs directly into the charger. It sells for $149, has high-quality audio, and can be designed to optimize for different types of sound recording settings, including speech, singing, flat, acoustic instrument, and loud. As such, it might prove a good option for those actors out there recording for a musical theater audition.
If you are using a DSLR camera to record your audition, the sound quality is probably decent, but an external mic attachment can help take it to the next level. The most popular type of mic available for this purpose is the shotgun microphone, which can be placed on top of the camera. Another option is the lavalier microphone, which can be attached to the clothing near an individual's mouth. For self-tapes, you would not want to use a hand-held mic or headset, as that would prove distracting from the action taking place. You would also not need a boom mic, which is what is used on film sets, as that would be overkill and would require either an extra person to help you film or a boom stand.
One of the most popular shotgun mics available is the Rode VMPR VideoMic Pro R with Rycote Lyre Shockmount. It goes for $229, is ultra compact, lightweight, and has shock-mounting and a built-in windscreen.
As for lavalier mics, the Audio-Technica ATR3350 Omnidirectional Condenser Lavalier Microphone is great for your budget at only $29 and has a low profile designed for decreased visibility while also being omnidirectional.
If you are worried about distracting noises appearing in your self-tape, you'll want to consider investing in a mic shield. This is not necessary as a basic accessory for filming self-tapes, however, as it might not work well with all of the other filming equipment you have going on. (For example, if you have a plug-in mic for your phone that is on a tripod, a mic shield would probably get in the way of filming.) Although, if you are doing a voiceover audition or recording a song, a mic shield might come in handy. A very basic one is the Monoprice 602650 Microphone Isolation Shield that goes for $64.99.
What kind of lighting should I have?
Casting directors need to be able to clearly see your face in the shot. The lighting you use should never overpower you, causing a washed-out look, or be so dim that it creates shadows on your face. It's always best to use two light sources: a key light (from the front) and a fill light (from the side). You may have to play around with where you set your lights up to avoid distracting shadows in the back and make sure that your face is evenly lit.
Popular softbox lights can be purchased from LimoStudio and cost $63.99.
The Neewer 160 LED CN-160 Dimmable Ultra High Power Panel Digital Camera/Camcorder Video Light is the classic go-to for affordable lights. Each one costs $26.99. Make sure you purchase a tripod and battery pack for each light separately. Two tripods can be purchased for $26.99. A two-count battery pack can be found for $28.99.
For professional-level lighting, try the Fovitec StudioPRO 600 LED Panel. It does run a hefty $159.99 a light, however. It is the same type of light as the Neewer LED, but has 600 individual LED lights instead of 160, providing a much more powerful light source.
Having natural light for your self-tape can be helpful, but natural light alone is usually not enough to achieve the type of lighting you need to make your audition look good. It can also prove fickle when factoring in weather changes like cloud cover, the time of day, and the natural movement of the sun, all of which can change over the course of filming.
In general, avoid using the flashlight function on your phone as a lighting source. It can be difficult to manipulate if you are also using your phone for filming, might prove too harsh, and doesn't account for the fill light you need from the side.
What should the background look like?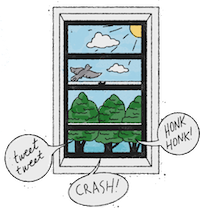 Your filming background should be neutral in color, even throughout, and look good when well-lit. You can go one of two routes: Use a blank wall in your home, or purchase a professional screen if a blank wall is not available.
In terms of color, plain white or black backgrounds work best. However, if you happen to have an off-white or gray background, that could work as well. Be sure to avoid anything with patterns, bright colors, or objects behind you, all of which could distract the casting director from what they should be focusing on—you.
Here are some screen options to consider:
An easy, cheap option is the Neewer 6x9 feet/1.8x2.8 meters Photo Studio 100 Percent Pure Muslin Collapsible Backdrop Background for Photography, Video and Television. It runs only $14.99 and comes with a choice of a black or white fabric backdrop. (It has other colors as well, but neutral is best for self-tape auditions.)
Another option is the LimoStudio Photo Video Studio 10 foot Adjustable Muslin Background Backdrop Support System Stand. It has over 3,000 reviews on Amazon and is adjustable, which can be nice if you tend to film in different spaces or move a lot. It runs $33.90. Please note: You have to buy the clamps ($7.98) and fabric backdrop separately ($11.99).
Another great option is the Upland Softbox Lighting Kit that includes three backdrops, the backdrop support stand, and two softbox lights in one package; it totals $109.99.
RELATED:
What should I wear?
It is important to look your very best for on-camera auditions. This is especially true for auditions for TV and film because casting directors tend to look at these types of auditions more like a finished product, whereas theater casting directors, theoretically, have a more open mind about the ability of different actors adapting to fit the character.
Since your self-tape will most likely require a tighter shot instead of a full-body shot, it is best to wear a form-fitting top. Avoid patterns and colors that match the background behind you. It is also good to know what is best for your particular skin tone. Avoid colors that match too closely to your skin and therefore wash you out.
Additionally, while you shouldn't wear a "costume" per se, do try and think of what the character would wear. If you are going out for a white-collar professional role, a blazer might be best; if it is a goth character, darker colors and heavier makeup might work well, etc. As part of your preparation, think of what the character would wear, as it will help root your acting in the reality of the scene. To this end, even if your feet aren't seen, try to wear footwear that your character might, to help you fully embody the role.
Of course, be sure to heed any direction that is provided regarding what to wear to audition. They may or may not supply this information with the instructions, but if they do, be sure to follow them.
To sum this all up, Backstage Expert Paul Barry, a Los Angeles–based acting teacher and founder of Acting 4 Camera writes, "A casting director once told me that actors should dress the way the character would dress, but only to the point that they would feel comfortable wearing that outfit on a bus to the audition. If you would feel comfortable wearing full priest blacks and dog collar, or blood-stained wedding dress on the bus, then go for it. It's the difference between being the character and pretending to be that dictates your level of comfort."
What should the framing look like?
Unless otherwise specified, a tight frame from your chest to just above the top of your head is best. It's also best to not move around a lot while acting, especially taking care not to walk in and out of the frame. Give yourself a mark on the floor to ensure that you're centered for all of your takes.
Backstage Expert Matt Newton adds his own two cents: "The frame should be from the chest up. Be still. Think it and feel it, and the camera will capture it. Save the flailing chicken acting for your 'Guys and Dolls' audition. Don't pan, and don't do any hand-held 'Law & Order' stuff. Lock the frame and keep it simple. Too much movement is distracting from the performance. The camera should be at eye level, not below, not above."
What's the best way to edit my audition?
One of the easiest (and cheapest) ways to edit your audition is to use good old iMovie. It's user-friendly, and if you film on your phone, you can complete your whole audition in one place without even having to transfer it to your computer. You can cut the scenes, add text, photos, music, and transitions, all with iMovie. This is a free app you can download on your phone or computer.
The more professional (and expensive) program that is popular to use is Final Cut Pro. This allows for more advanced editing techniques, but is not often necessary for a regular self-tape audition and is better suited for editing films that are to be produced and seen in their own right. The personal version of Final Cut Pro is $299.99.
How do I deliver a great performance?
You should always try to memorize as much of the sides as possible with the time frame you're given. However, be sure to always keep the sides in your hand just in case you draw a blank, and also to illustrate that this isn't necessarily a "finished product." (Even if casting directors for film and TV might look at it as such.)
Having a good reader to help you with your taping is another essential element of successful self-tape performance. Ideally, you could even have one friend film the audition and another serve as the reader off-camera. However, reality often dictates that whoever is filming the audition will also be serving as the reader. While you might have some terrible or inexperienced readers at in-person auditions, you can give yourself a leg up by having a friend who's an experienced, professional actor read with you to give you something to act off of. As actor Ross Lynch mentions in his interview with Backstage, "It's really hard to find someone who can give you a good rhythm and good push and pull because a lot of acting is really musical, it's let's play off of each other and let's get something going because a lot of times with self-tapes, you find yourself not necessarily connecting with the other actor, and that makes you look worse because you're not having that chemistry."
In terms of slating, it is important to pay close attention to the instructions that the casting director provides. They will let you know if they want a slate at all, and if they do, what exactly should be included and if they want it to be a separate clip or not.
Remember that even well-known actors had to tape auditions at some point in their career. Here's a list of some great audition tapes of actors you may know to help get a sense of the quality of acting that casting directors are looking for on the auditions they receive.
RELATED:
What other tips should I keep in mind for my self-tape?
Be sure to follow the specific instructions that the casting director has requested. This seems like quite an obvious suggestion, but you'd be amazed at how many actors don't fully follow the directions that are requested. This could include instructions such as: what needs to be included in the slate, the length of the piece, the number of takes to include, what to wear, when the audition is due, if the different scenes should be sent as separate files or all part of one file, what type of file to send, etc. Give yourself a boost by carefully reading the directions, following them exactly, and then double-checking them before you press send.
Additionally, don't send unsolicited "hard copies" of your material. For starters, if you've sent an electronic copy, it is redundant. Also, no one wants to plug a USB from a stranger into their computer.
Self-taping has truly revolutionized the way actors audition. Be sure to set yourself up for success by creating auditions that are of professional quality and can compete with the level of self-tapes that your fellow actors are submitting to casting directors. You never know when your audition will catch that casting director's eye hundreds of miles away!