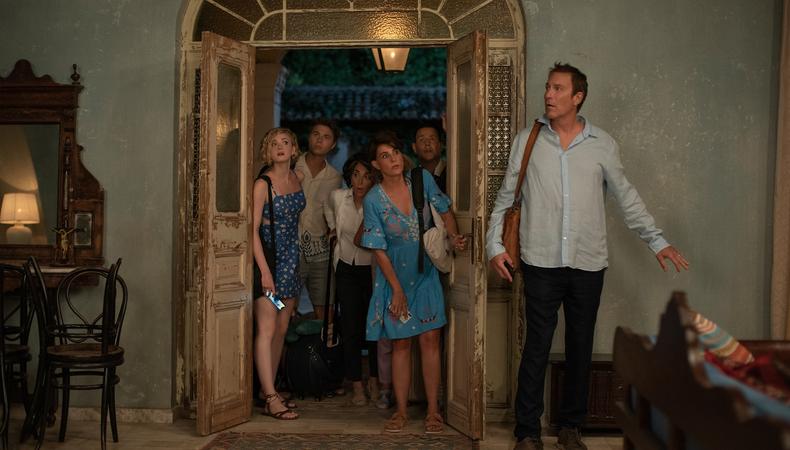 Over the course of his nearly three-decade career in film and TV, Grant Armstrong has taken on everything from soap operas to superhero blockbusters. After working as an art director for many years, he transitioned to production design; his latest is Nia Vardalos' "My Big Fat Greek Wedding 3," the third in her rom-com trilogy that begin in 2002. Here, Armstrong talks about the art of collaboration, what it was like to film on location in Greece, and his experience with changing careers in the industry.
Does shooting abroad change your approach to your job?
In a strange way, not really, because it all starts with the script. The first two films were so iconic and popular in showing the humor of reality. [I wanted to try] to keep that comedy and keep that visual interest but find a place that was real. When I first read the script, it described a mountain village in a neoclassical style. We did two weeks filming in Athens and then four to five weeks on Corfu. We wanted to keep with the neoclassical style as something a little bit different than what you've seen on film before. You want to keep that authenticity but then find something visually stunning in the decay, beauty, and architecture. It's very hard to make Greece look ugly.
Vardalos is the writer, director, and star of the movie. What was it like to collaborate with someone involved in so many aspects of a project?
We hit it off from Day 1; I could see what she wanted to do. I put [together] a full package of how I saw the film, and she was like, 'That's it!' We had that kind of chemistry from Day 1, which was great. This is her baby, and she's the type of person you want to do your very best for. She lifts people up. I think the whole crew was behind trying to make a really good, fun film for her. I'm sure the pressure was on, [but] she never showed it. She was a stalwart.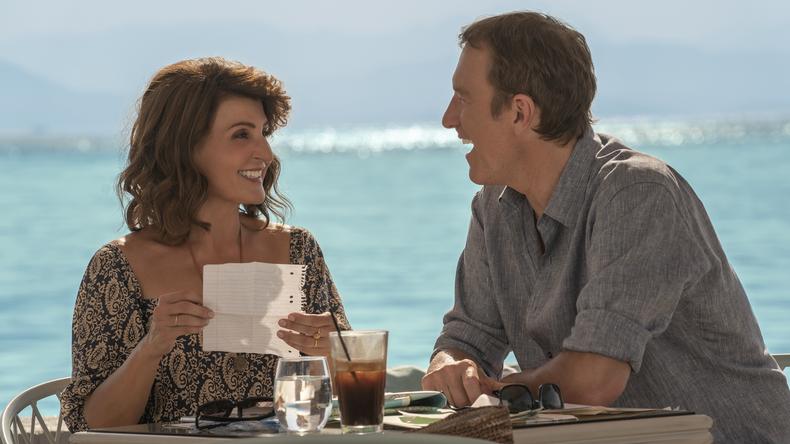 Nia Vardalos and John Corbett in "My Big Fat Greek Wedding 3" Credit: Yannis Drakoulidis/Focus Features
You were shooting at the height of Greece's summer tourist season. What did you have to consider in terms of shutting down locations?
Athens was tricky to start with. We had to start really early in the morning before all the tourists came out; by 9 a.m., you'd had it. Then we went into the shops and places we could actually control, but it was impossible. On every street corner, Nia would get stopped; she was, like, the queen of Greece. Everybody wanted their photographs taken [with her], and it took time. On Corfu, we found a location that was very controlled, so we took over [that] village. It was built by the Bouas family in 1977, I believe, as a historic monument to the old village that [used to be] there, and [they] opened [it] as a museum.
What's the biggest lesson you've learned in your career?
I spent eight or nine years being an on-set art director, which was probably [when I learned] the biggest lesson, because you deal with every department: the directors, producers, assistants, caterers—you name it; you deal with everything. It's the best problem-solving course you can ever [have]. I loved it.
What advice would you give aspiring art directors and production designers?
[Have] perseverance, enthusiasm, and a dose of common sense. Those three things [are key]—and, of course, a little bit of creativity. Enthusiasm is No. 1. I've been responsible in my time for hiring a lot of crew; you've got to be enthusiastic. The minute you start taking it for granted is the time when you really shouldn't be doing it anymore, because [it's an honor] to work in film and television. Perseverance; it's hard. Sometimes you get so many knockbacks, especially starting out, and you can [spend] months out of work. And [have] common sense; you've just got to keep your head on your shoulders and work hard. It's hard work. Realize that you're slightly giving up your life for the next however long it's going to be, whether [it's] four months, six months, or a year. It takes up everything.
This story originally appeared in the Sept. 7 issue of Backstage Magazine.