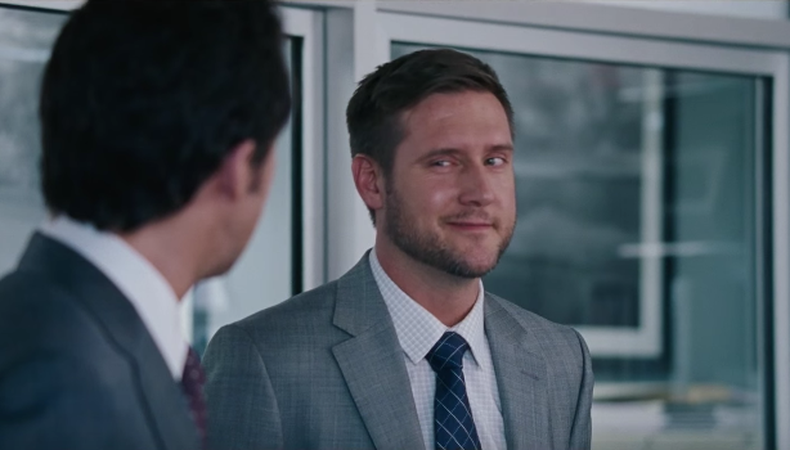 Adam McKay's "The Big Short" is fast emerging as one of the year's buzziest ensemble films. With a cast headed by Christian Bale, Ryan Gosling, Steve Carell, and Brad Pitt—not to mention recognizable up-and-comers like Finn Wittrock and John Magaro—who wouldn't be excited? It's proven worthy of the hype with two SAG nominations, including one for Outstanding Performance by a Cast in a Motion Picture, and recognition from the Palm Spring International Film Festival this past weekend with its coveted Film Ensemble Award.
It's interesting, then, to learn via Variety that one of director McKay's favorite relationships in the film isn't one between his A-list stack (we're partial to the young investors portrayed by Wittrock and Magara) but between Gosling's slimy investor, Jared Vennett, and his sad-sack assistant, played by extra-turned-principal Jeffry Griffin.
Houston-based actor Griffin tells Variety he arrived on the Baton Rouge, La., set earlier this year as an extra before being singled out by an AD and told to switch his jacket. He'd been upgraded to a principal player alongside Gosling.
Of course, Griffin admits, the unexpected promotion didn't come without a few gaffs.
"The first thing [Gosling] said was, 'Hey, buddy, you Chris?' I said, 'No, I'm Jeffry, nice to meet you.' Then I realized Chris was the character," Griffin tells Variety. "I felt so stupid. I just met this guy and I'm already looking like an idiot. But it was perfect for our relationship."
Later on, their rapport was further developed thanks to Gosling's advice to create Chris the assistant as if he couldn't do anything right. " 'That's easy, that's my life,' " Griffin recalls quipping. "We shot it, and it was great."
That one day on set, which had him giving out keys at a Las Vegas convention, was enough to win the affections of Gosling. The Academy Award nominee insisted that Griffin's role be written in for another week of shooting. Griffin got a call from Charlotte Gale from the casting department telling him to cancel his plans (Griffin had been booked to shoot a Louisiana Lotto commercial) because he'd "just won the Lotto." It pays to make a good first impression!
"I've spent years doing this and found myself in the right place and just went with it," Griffin says. He also concedes to studying up on the film's subject matter—the housing market crash of 2008—at lightning speed. It's not the easiest material (nor jargon) to nail down on short notice. "I am overly grateful to be a part of this film and I am forever in debt to Ryan and Adam for believing in me," he says.
As with any Lotto win, it seems luck was on Griffin's side with "The Big Short," but it's clear that he's dealt with the grueling demands of a working actor for years before catching what many would consider his big break. He first appeared as an extra in "Varsity Blues" all the way in 1999! Griffin is reportedly now talking to prospective agents in Los Angeles. It's a rags-to-modest-riches Hollywood story worth believing in, and you could be next.
Watch Griffin play a high-stakes game of Jenga with Gosling below.
Inspired by this post? Check out our audition listings!