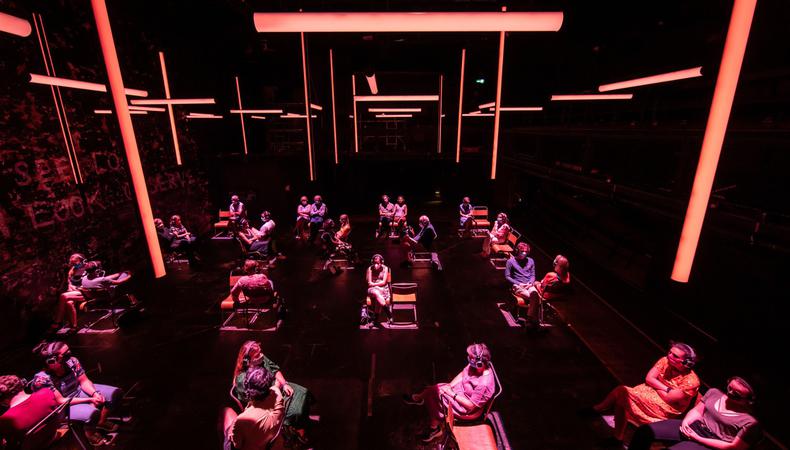 In "Blindness," which was notably New York City's first live theatrical event to open following the pandemic shutdown, there are no live actors. The story told in Simon Stephens' play, running Off-Broadway at the Daryl Roth Theatre, is done so basically using just two elements: sound—a narrator speaking into the audience's headphones—and light. Here, lighting designer Jessica Hung Han Yun discusses how she created an entirely immersive story through lighting and how (in non-pandemic times) her designs help get inside an actor's head.
To start broad, can you describe the role of a lighting designer?
As a lighting designer ,you are part of a creative team who collaborates closely together to tell one story. A lighting designer tells stories with light, painting compositions that will transform spaces into other worlds.
How did you get your start in the field?
In high school I actually took GCSE drama as I thought it would be easy pass—little did I know, I was terrible at acting and I hated it. But there was a technician in the drama department who then introduced me to lighting design and I just loved its endless possibilities.
What was unique about working on "Blindness" from a lighting standpoint?
My work on "Blindness" enabled me to draw on my experience from both theater and installations; the combination of these [forms] are very present in this piece. This meant having to collaborate extremely closely with Walter, the director; Lizzie, the designer; and Ben and Max, the sound designers, to really uncover the many layers of this story, to find the core and to expose it through the use of the space, light, and sound.
Light obviously plays a huge role in "Blindness." Can you speak to how the lighting helps to tell this story?
The lighting design for "Blindness" is set in three environments that transform and build around you throughout. The aim was to immerse the audience into this narrative and to evoke the presence of the emotional and physical feelings in the story. An example of this is in Part 2, where you see and feel moments of sharp and short bursts of light that reflect the anxiety and uncertainty the protagonist feels. Another moment is during the pre-show, when the audience is entering the space for the very first time and sees the LED tube sculpture changing color and intensity. This draws parallels to the hustle and bustle of a city that never sleeps.
"Blindness" is of course an exception as there aren't any actors but in theater generally (pre-pandemic!), how does your work relate to or impact the actors' performances?
I feel as a lighting designer that I help—alongside other creative disciples—to create environments and atmospheres onstage that can aid in how an actor can feel. It can help them lose themselves in a new world. I always like to understand from an actor how they would describe their character's journey and how it feels to be inside of this character's mind. That helps me to understand on a deeper level what this world I am creating is, as there may be moments where I present the characters' emotional states onstage.
Why do you think lighting design and the technical field generally is still so male-dominated? What can be done to change that?
I do feel that it is changing and that lighting design is becoming more seen as a viable career. I think that lighting design is not necessarily known as a possible career when you are younger—and that's important. It is also important to be able to see people who look like you in the industry.
What is the advice you would offer to an aspiring theatrical lighting designer?
I would say, do not ever feel like you need to know it all! You will be constantly learning no matter how experienced you are. It is an amazing job to work in theatrical lighting, as you work on such a range of projects that are never the same, making it a constant creative challenge. I was always afraid that I had to know everything and that I couldn't ask questions but that's not true. I would also say that if there is a lighting designer you admire and want to chat with, just reach out to them. The industry is great in that those working in it do want to help the next generation—and generally want to geek out about lighting to anyone!
Looking for remote work? Backstage has got you covered! Click here for auditions you can do from home!