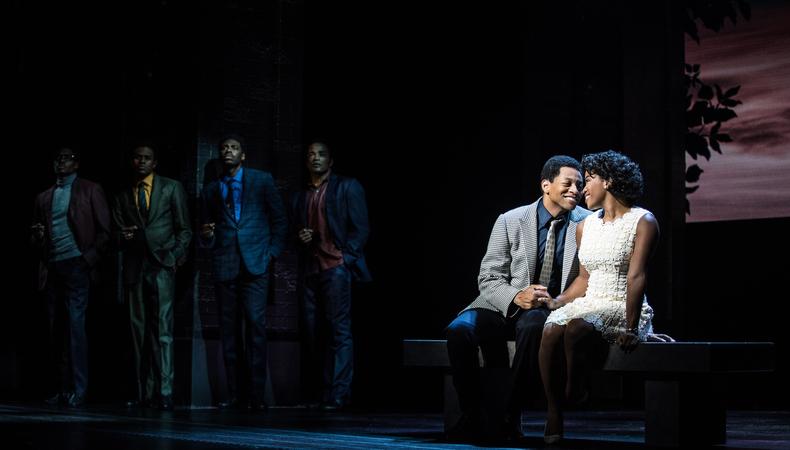 Lighting designer Howell Binkley has illuminated everything on Broadway from "Hamilton" to "How to Succeed to Succeed in Business Without Really Trying," and he's got two Tony Awards to show for it. Back on the boards—and again Tony-nominated—for "Ain't Too Proud—The Life and Times of the Temptations," Binkley hopped on the phone to discuss the ways in which lighting is its own character in a given show, and the education all aspiring lighting designers must pursue.
How would you describe the role of theatrical lighting designer?
The lighting design is a major part of the show. I think every show is layered with the scenery, the lighting, the costumes, the sound. It's just another element that we're adding to the process. We all collaborate [as designers] extremely closely. Especially with a show like "Ain't Too Proud," because it's so layered with the production design, the costumes, the scenery. And it all starts with the director. They have the formula for the show, and they bring us in to put all the ingredients together.
READ: Broadway's First All-Female Design Team's Advice for Women to Break In
How did you initially get your start in lighting design?
Well, I grew up in North Carolina, and I started at an early age, working backstage in one of the local road houses where all of the touring performances would come in. When I was a young teenager, my neighbor was actually a stagehand there, and I would go to the theater with him on the weekends. That's really where I got my theater discipline as a young kid.
For "Ain't Too Proud" specifically, what was unique from a lighting design standpoint?
It was how [director] Des McAnuff and [book writer] Dominique Morisseau wanted the story to be told, taking the show through the [different time periods]. Another ingredient for me to work with was creating that old sepia look to the show, and then, as it moves chronologically, the color starts being added in. It was a challenge to me in a way as far as the palette. It's a subtle kind of change, and there are formulas and concepts that we format in the very beginning. That totally goes back to Des and his vision of the show.
Since you've done both, are there major differences in lighting a straight play compared to a musical?
These days, both are so complicated with the automation and technology that's available to all departments. I love the challenge of doing both plays and musicals, but they are similar in the complexity of what we have to do now. You go see "Network"—look at the complexity in the design and the format of the show. It's incredible what audiences get to see now on Broadway, from straight plays to musicals.
READ: The 3 Major Differences Between Stage and Screen Acting
How do you think lighting affects an actor's performance?
I think lighting is another character in the show. It really determines location, the time of day, the mood, whether it's a really isolated scene. In "Ain't Too Proud," there's a lot of down pool light, where the actors have to go. If they don't go there, they're not going to be lit; we do that so that other things can happen upstage or a scene change can happen around it. I think lighting where the actors are or have to be is significant not just in "Ain't Too Proud" but in every show you see. That's another reflection of the fact that lighting is used as a storytelling tool that works along with the actors. It's another ingredient.
Do you work with actors at all as the lighting designer?
I don't work directly with them. A lot of times, when actors have to go to certain locations on the stage, they'll say, "Howell, am I in the right place?" Generally, I'm kind of out of the loop, but we're all in the same room and we're all working on the same show, so we all know everybody. We are actually a very close-knit team while we're working in the room.
Any advice for someone who wants to get into the lighting design field?
My first thing would be to see as many shows as you can. That's what I still do at my age. I just learn so much when I go to the theater. We all know each other, it's a small community, and we all support each other in our work. So, I just love to go and see other people's processes. Go and see their design concept and what they're doing. When I talk to students, I try to encourage them to see as many plays as they can possibly can for their own vocabulary, for their own knowledge of what's being done now. There are not many books written right now about formula or structure or how we do what we do. Just as an actor can't really say how she acts or how he acts as a given thing, lighting is a process.
Want to hear more from the best creators in film, TV, and theater? Get it right here!