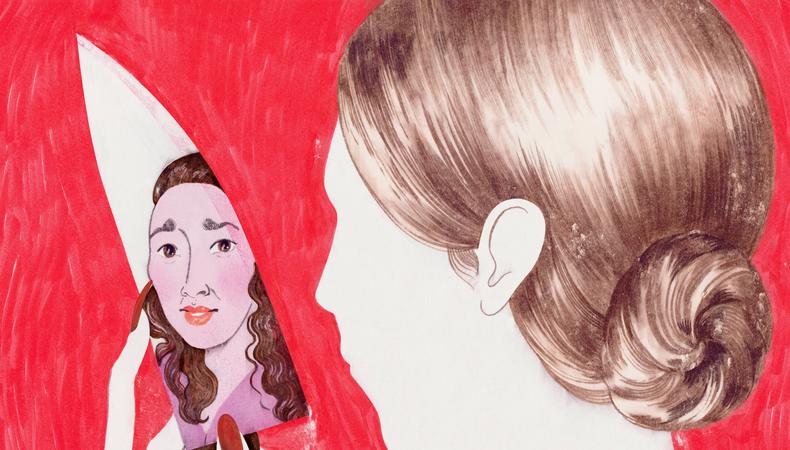 A story about a female MI6 agent being hunted by a female assassin is not a common premise, which is why "Killing Eve" casting directors Suzanne Crowley and Gilly Poole had to be very particular when choosing actors for the BBC America series. The team searched the United States, the United Kingdom, and beyond to find the perfect pairing. They brought Sandra Oh—who later landed a Golden Globe win and Emmy and SAG Award nominations for her performance—back to a starring role on a TV drama as agent Eve Polastri. Jodie Comer took on the role of the international assassin Villanelle. Phoebe Waller-Bridge's multilayered scripts made the job one of a kind. Here, Crowley and Poole explain why Oh and Comer ended up winning out.
Why was Sandra Oh the right fit for Eve?
Suzanne Crowley: We needed somebody who could handle comedy who also felt very real. She's a character who has lived in London for more than 20 years and works in a very British institution. She made sense in all of those aspects. Gilly Poole: She had to have the charisma to lead the series, but we also felt that she had to be an everywoman—she wasn't overly glamorous. She was somebody people would relate to, and, as Suzanne said, had to have humor and twinkle and be smart. She's written quite chaotically, and we wanted it to feel uncontrived. With Sandra, it felt that she would inhabit that without losing her intelligence.
What did Jodie Comer bring to Villanelle?
SC: That was a long process, because we were looking at many nationalities. GP: It was important that she felt like a real young woman, not a daft action woman. When you watch Jodie climb up the side of that building in Tuscany, you're looking at a proper girl, and that was really important. Villanelle needed to have as much humor as Eve. We knew Jodie had a great sense of humor. She's from Liverpool and she's very grounded and funny, but most of the parts she's played were serious and intense characters.
What was challenging about this casting process?
GP: The smaller roles, even those with just two lines, are kind of formed characters. At the start of Episode 2, the guy who's shot in the office, which you see mostly from the bus, you've got to really feel for him. To find somebody who can carry a role like that to start an episode with barely any lines, whose first language isn't English, those are challenging and very exciting to discover. We found people who are really talented living in the U.K. that ordinarily we would not have a chance to meet. SC: That role, where he's really running and crying—a really good actor has to be able to pull that off without masses of dialogue.
READ: Killing Eve EP Reveals Why Emmy Nominee Sandra Oh Was the Perfect Heroine from Day 1
What advice do you have for actors?
SC: Don't try and second-guess what's wanted. You need to be prepared, but you have to bring something into the room that makes you special for a role. GP: Treat the audition as if you are playing that role, not thinking, Are they looking for this or that? Often, things aren't so defined on the page and everybody has a sense of what they're looking for, and then somebody will do something completely different and we'll think, Isn't that much more exciting than we thought it could be? You've got to own your audition. Listen to any notes that are given, which is why you need to be prepared, but you also have to bring something of yourself to show what you would do.
What can an actor do to be remembered for future parts?
SC: When we're just putting actors on tape, we tend to spend a good 15–20 minutes, but we would have a little chat as well as auditioning. GP: We get to know some of them, because you might not think they're right for that role, but we'll see something in them that's really interesting and that's not what they've played before. That's something you bring as a person. It's really great when we get the chance to go back to them and say, "We'd like you to come in for this part because of what you did in your last audition."
What can an actor expect from auditioning for you?
SC: We always do our best to make actors comfortable, so it's really nice if an actor comes relaxed and gives their best. GP: In the U.K., the norm, particularly if you've got the director with you, is to have an audition of 10–20 minutes, and a small part would probably be 10–15 minutes. So we play, we get to try things different ways, it's not all about the actor coming in and just giving a version of it. They get the chance. I think when we're working together for a bit longer, you get the chance to relax a bit more. Sometimes people just really don't have the time for a long audition, but that would be the ideal.