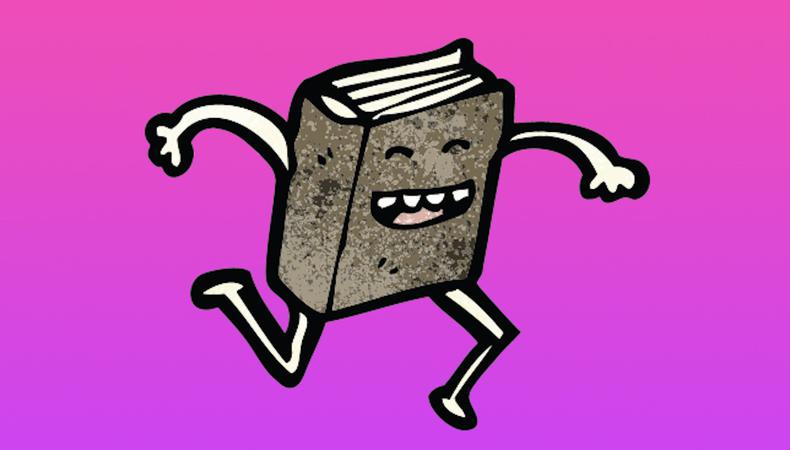 Nothing and no one can give a comedian a step-by-step guide to being funny. It's like moxie: You either have it or you don't. But knowledge is power, and these seven books from some of the funniest people and institutions offer up plenty of nuggets to hold onto. Learn about what you find funny and why you do, and you might just unlock the idea for your next brilliant bit.
"Sick in the Head: Conversations About Life and Comedy"
It'd be unwise not to take curated comedy advice from the same guy who brought us "The 40-Year-Old Virgin," "Knocked Up," and, more recently, the brilliant Netflix series "Love." Judd Apatow's "Sick in the Head" is a series of insightful interviews with modern-day comedy club kings including Louis C.K., Chris Rock, Jon Stewart, and Mel Brooks about the craft of making people laugh. Entertainment Weekly called this book "an essential for any comedy geek."
"The Serious Guide to Joke Writing: How to Say Something Funny About Anything"
This book won't write your jokes for you, but it will provide a guide of sorts to creating your own standup routine. Written by British ex-comedian Sally Holloway, "The Serious Guide to Joke Writing" uses a series of exercises that meticulously breaks down what it takes to make an audience cackle—before and after they've met their two-drink minimum.
"The Comedians: Drunks, Thieves, Scoundrels and the History of American Comedy"
Written by former comedian Kliph Nesteroff, this little gem examines the history of comedy using time periods and locales (vaudeville, standup, late-night television, Las Vegas, etc.) as road maps. Spanning 100 years, the book consists of over 200 of Nesteroff's personal interviews with comedians, plus extensive archival research. It reads like a who's who of comedy titans while also digging up some talented, under-the-radar stars. Plus, its conversational tone makes "The Comedians" an informative and breezy read.
"The Will to Whatevs: A Guide to Modern Life"
In 2009, Eugene Mirman—voice actor for Gene Belcher on "Bob's Burgers"—released the ultimate guide to living a successful, anxiety-free life in the 21st century. "Whatevs" is his absurdist take on approaching adulthood and all its facets delivered with a deadpan style for spot-on comedic effect. For reference, Chapter 7 is titled "Ca-Motherfuckin'-Reer, Ca-Motherfuckin'-Job, and Ca-Motherfuckin' Business."
"Sleepwalk With Me: and Other Painfully True Stories"
Mike Birbiglia's creation is a master class in adapting one story across several mediums. The comedian not only wrote this book, he turned the idea of a comedian with a fear of commitment and a sleepwalking disorder into an award-winning Sundance film that chronicles the complex, often painful process of mining personal experiences for standup material. Read the book first so you can be the one to tell all your friends how you liked it better than the movie.
"The Naked Jape: Uncovering the Hidden World of Jokes"
A combination of wisecracks, reflections on the role of humor in the human psyche, and practical advice on jokeology, this book is likely to accomplish what it's trying to teach and will have you cracking up while flipping through. It's co-written by English comedian Jimmy Carr and Lucy Greeves.
"The Second City Almanac of Improvisation"
Looking for a good blend of practical advice and recollections from the early careers of Tina Fey, Joan Rivers, and Bill Murray, topped with a dollop of inspiration? "The Second City Almanac of Improvisation" offers up bite-sized morsels of the techniques and attitudes that make the Chicago-based training ground one of the most successful in the country—with a star-studded alumni list to boot. The mix of anecdotes and debates over short- versus long-form improv, for example, set the stage for a varied read.
Inspired by this post? Check out "5 Quick Comedy Tips!"