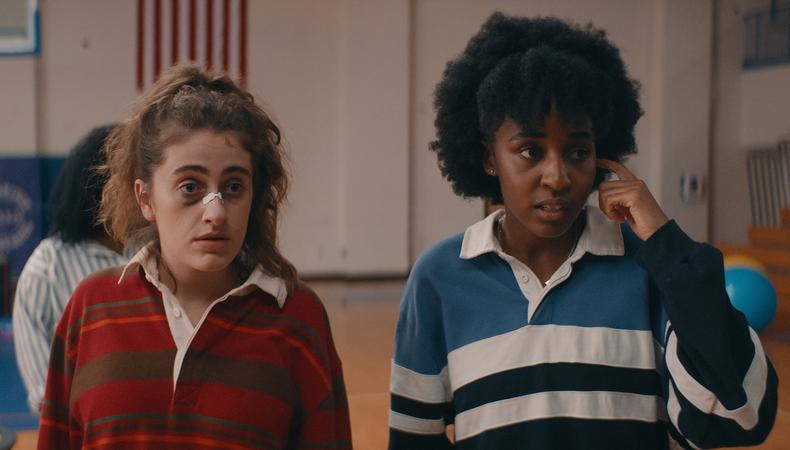 Originally, Emma Seligman wanted to be a film critic. But after directing theater in school, they became interested in crafting stories instead of critiquing them. Studying film at New York University taught Seligman how to use their love of the art form to innovate and explore their point of view rather than simply copying the style of the movies they grew up with.
While at NYU, they met comedian and actor Rachel Sennott, who would go on to become one of their regular collaborators. The two first worked together on 2020's "Shiva Baby," which Seligman wrote and directed and Sennott stars in. She plays a young Jewish woman dealing with the excruciating awkwardness of running into both her ex-girlfriend and her married sugar daddy at a family shiva in the suburbs. The story began as a short at SXSW in 2018, which Seligman adapted into a feature in 2020. Three years later, the pair returned to SXSW with their latest, "Bottoms." The two co-wrote the film at the same time that Seligman was working on "Shiva Baby."
RELATED: How to Become a Film Director
"Bottoms" follows two queer teenage girls (played by Sennott and "The Bear" Emmy nominee Ayo Edebiri) who create a fight club in order to have sex with their cheerleader crushes. It's a hilarious high school satire set in a delightfully absurd, heightened reality. "Bottoms" is a departure from "Shiva Baby" in that it doesn't reflect Seligman's point of view, but it is the kind of movie they'd like to see more of: one that centers LGBTQ+ people without focusing on trauma and explores women's sexuality without being exploitative or treating it as a punchline.
But don't worry—there are plenty of other good punchlines in the film. In writing the script, Seligman says that she benefited from Sennott's comedic impulses. "She really writes super instinctually, especially with her jokes. So on top of it just being so pleasurable in terms of someone making you laugh all the time, it's also fun to work with someone who can work off their instincts so well and doesn't get stuck in the minutiae, which is probably more appropriate for my job."
Sennott's comedic chops and Seligman's attention to detail came together to create a script that works multiple layers of jokes into nearly every scene. The two were meticulous about crafting the film's satirical tone.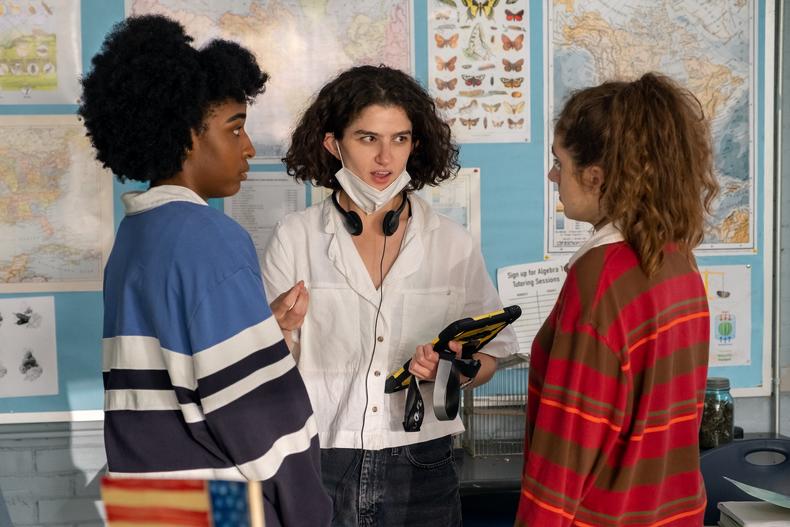 Emma Seligman with Ayo Edebiri and Rachel Sennott on the set of "Bottoms" Credit" Patti Perret B
While she was directing the movie, Seligman worked closely with cinematographer Maria Rusche and stunt coordinator Deven MacNair to create fight scenes that are both realistic and funny. The filmmaker wanted everyone involved to have ownership of the humor.
"We tried to encourage, whenever we could, every single actor and background actor to be doing something, to be having fun and doing their own joke," she says. That resulted in Seligman incorporating details like the bizarre posters decorating the school's bulletin boards, which were dreamed up by the film's production designers; a costume designer's idea for the football players to always be in uniform; and the actors playing them to do drills in the background of scenes.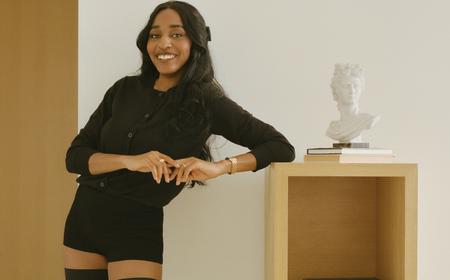 Ayo Edebiri's New Reality
Though "Bottoms" is marked by its absurd style, the jokes work so well because Seligman made sure the actors were grounded in reality. At a Q&A following the debut screening, cast members talked about how Seligman would meet with them one-on-one to talk about their characters' backgrounds and motivations.
"I tried, as much as possible, to have the actors come from a place of truth," the director explains. "I think that makes absurd humor even funnier, if they truly believe their characters' intentions and they fight for them and they believe the ridiculous words that they're saying."
Judging by the SXSW audience's reaction to the film, believing in the ridiculous pays off in spades.
This story originally appeared in the Sept. 7 issue of Backstage Magazine.