This interview and photo shoot were conducted prior to the SAG-AFTRA strike.
If Ayo Edebiri goes dark on the movie-reviewing app Letterboxd any time soon, blame Willem Dafoe. "I saw this interview where he was like, 'The reason I keep working is that nobody knows my taste,' " she says.
As her acting career kicks into high gear, Edebiri has been thinking a lot about what she wants to share with the world. The 27-year-old multihyphenate is having her breakout moment in an online era when the nature of "knowing" stars—and even the concept of stardom—has changed.
"Because comedy is my bedrock, expressing my opinions is something I'm so used to in my career," she explains. "Even as a writer, saying your opinions can be beneficial. As an actor…maybe mystery behooves me a little bit."
She sighs, musing on the idea of a life led offline. Maybe she'll just log off for good, or maybe something will happen to the miles of internet cables running along the sea floor. "We have to train the sharks in the ocean to cut [those] tubes," she says. "If the orcas organized, that would actually be so sick." But barring any underwater intervention, life in the public eye is likely something she's going to have to continue navigating.
Post-college, an early interest in improv and performance meant years of hustling as a standup comedian and writer before she made the official leap to acting. First came "Ayo and Rachel Are Single," the 2020 Comedy Central web series Edebiri co-wrote and starred in with her friend and fellow NYU alum Rachel Sennott. That same year, Edebiri joined the writing staff of Netflix's "Big Mouth"; when Jenny Slate announced she'd be stepping down as the voice of the character Missy so that a Black actor could take her place, Edebiri auditioned and landed the part.
From there, her on-camera career took off like a rocket. She's appearing in five feature films this year alone: Molly Gordon and Nick Lieberman's mockumentary "Theater Camp"; Jeff Rowe and Kyler Spears' animated "Teenage Mutant Ninja Turtles: Mutant Mayhem"; Sean Price Williams' indie drama "The Sweet East"; Emma Seligman's raunchy comedy "Bottoms," alongside Sennott; and another animated epic, Joaquim Dos Santos, Kemp Powers, and Justin K. Thompson's "Spider-Man: Across the Spider-Verse."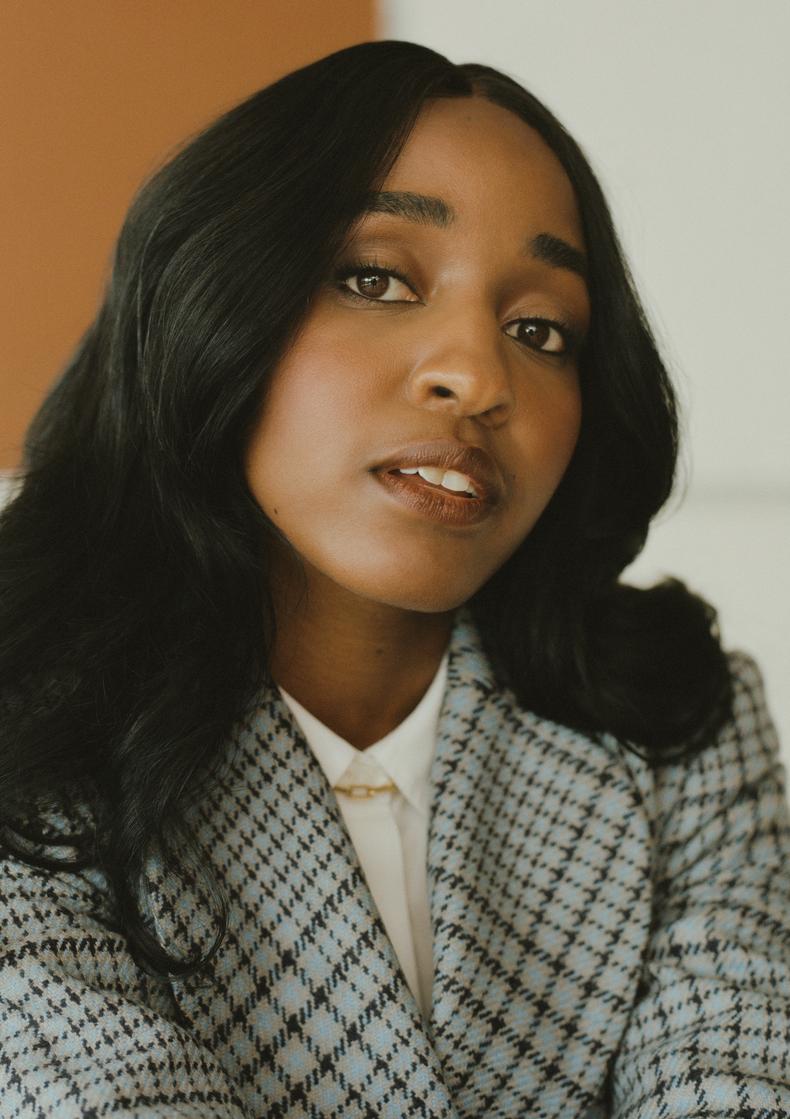 On the small screen, Edebiri returned to the role of enterprising chef de cuisine Sydney Adamu on Season 2 of Hulu's "The Bear," which dropped on June 22. Christopher Storer's lauded series, set at a Chicago sandwich shop–turned–fine-dining restaurant, secured 13 Emmy nominations for its first season—including one for Edebiri in the supporting actress in a comedy category.
More than anything that came before, getting cast on "The Bear" was a pivotal moment for the actor. Inside the pressure cooker of the kitchen dramedy, she proved she had the gravitas to complement her comedic skills.
Replicating the quality of her Season 1 performance was top of mind going into production on the sophomore season. "Most of the battle was just getting over [viewers' expectations] when we were filming," she says. "Knowing that [the audience existed], accepting that, and being like, 'Great; that's not why we're doing it, though.' We just want to make a good show and be honest to each other and the characters as we know them and feel them."
But the list of Edebiri's 2023 projects doesn't end there. She also voices Harriet Tubman on 10 episodes of Max's "Clone High," plays a small role on ABC's "Abbott Elementary," and appears in a sketch on Tim Robinson's madcap Netflix comedy "I Think You Should Leave."
There's also the small matter of joining the Marvel Cinematic Universe in "Thunderbolts," the franchise's new team-up movie; the film also stars Harrison Ford, Florence Pugh, Sebastian Stan, and Steven Yeun. Edebiri's role in the film is a closely kept secret that the world will have to wait a bit longer to find out, as production has been halted indefinitely due to the ongoing SAG-AFTRA and WGA strikes.
"As a comedian and a very physical person, I've got very long limbs, and I'm always stretching them. I just feel like I'm a very kinetically aware person."
There's a lot about her new reality that Edebiri is still getting used to—for starters, how deeply complete strangers care about her Letterboxd review razzing Robert Eggers' "The Northman." ("Somebody was like, 'Look at you—you're never getting cast in a Robert Eggers movie now!' " she recalls.)
On the positive side, her boosted public profile has given her the chance to work alongside performers she's long considered idols—like actor-filmmaker Robert Townsend, who plays Sydney's father on the latest season of "The Bear." Even now, a vintage movie theater leaflet for Townsend's 1987 comedy "Hollywood Shuffle"—which he wrote, directed, and starred in—sits on Edebiri's writing desk.
"I think he's such a North Star for so many Black creatives—multihyphenates, especially," she says. So it was surreal when, on a cold night in Chicago, Townsend asked her to take a stroll through the city to run their first scene together. "We did it a few times, not really with too much inflection," she remembers. "Kind of marking it, almost, just to make sure we got the words and the feeling and the intention.
"For him, as somebody who is also a writer, he was like, 'If it's on the page, that's where it comes from,' " Edebiri continues. "I really resonate with that. As a writer and as an actor, I've seen other actors ask, 'What's my motivation?' or, 'What's the backstory?' And it's like, everything that is relevant is here. Sometimes you do need to do a bit of that work, diving in. But that's for you—it's not for the other actor."
For Edebiri, it's been both a surprise and a comfort to realize that her own processes (and anxieties) align with those of many industry veterans she encounters. "I feel so self-conscious talking about [my acting process]. But also, I'm like, Oh, yeah, all of us are babies. All of us are learning."
Watching the performances of guest stars like Townsend and Jamie Lee Curtis on Season 2, Edebiri says she was moved by the fact that "both of them had questions and were nervous sometimes. That was just so encouraging to me—that these people, who I view [as operating] at such a high level, are still seeking. It's not finished for them. They're still pushing, and they still want to learn and grow."
The actor is also continuing to push herself. Much of her early performance experience came from running friends' plays in school or participating in table reads as a writer. She took a few acting classes at NYU, gravitating toward the Feldenkrais Method, a technique developed by engineer Dr. Moshe Feldenkrais that helps actors connect movement to emotions.
"A lot of that method of acting is focused on the body and the body's response," Edebiri says. "As a comedian and a very physical person, I've got very long limbs, and I'm always stretching them. I just feel like I'm a very kinetically aware person."
She believes that there are three intertwined approaches to acting. "I know there are proper terms for this, but I haven't thought about it since school, so forgive me," she says with a laugh.
The first type is cerebral. "You're thinking about the process; you're thinking about all the things you've learned," she explains. "It's very by-the-book. It's correct."
The second is looser. "It's just free-flowing. It's almost improvisation," she says. "It's [similar to] that feeling where you're like, Whoa, I finished writing this thing and I don't know how I wrote it. I don't know what I did to get here, but there are some good things in it. It's messy, but it's good."
Edebiri affectionately refers to the third type as "the zone." "That's the perfect mix of both those things, where you have enough awareness that what you're doing is based in skill and routine," she says. "You have that solid and steady foundation, but you still have enough free-flowing energy to be able to have lightness and create."
"The zone" is where Edebiri prefers to spend her time in front of the camera. And the set of "The Bear," she says, is the ideal place to get into it. "There's space for that type of play, for that type of freedom, because the…the camerawork is a little bit frenetic. Our camera crew is so amazing at working with us, leading us, and following us back and forth." At other times, she adds, "It's like, 'Hey, heads up—there's going to be a very still frame. This is a quiet moment.' "
During production on Season 2, Edebiri shadowed Storer—who often directs episodes—with the hope of adding the skill to her résumé down the line.
"I've worked with actors who are like, 'I don't even want to know where the camera is; I just want to feel like this is a real, human moment,' " she says. "I really love that; but also I think there's that producer side of me—and also that side of me who wants to make things—where it's actually interesting for me to know what the frame is."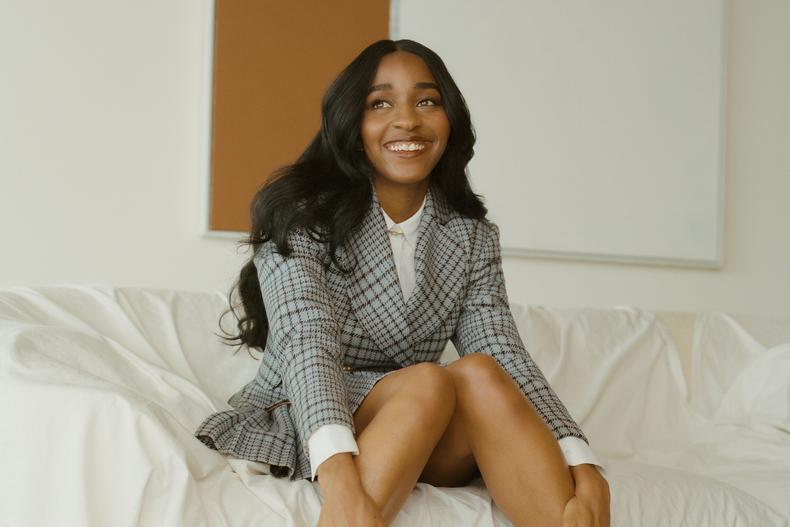 The experience of directing has made her pay more attention to her environment when she's acting, making decisions in the moment based on where the camera is—and why. "I remember when I went to do 'Bottoms' after the first season of 'The Bear,' I was like, Oh, I understand lighting now. I know that I should turn my head a certain way," she recalls. "It's not something that I'm thinking about while I'm acting—not consciously, at least."
That technical knowledge has melded surprisingly well with her Feldenkrais training; the same movement-focused method that makes her such a joy to watch on a standup stage helped her become a dynamic presence onscreen.
"Sometimes, you work on things where the way you're being lit is different because a specific lens is being used or it's a specific type of shot," Edebiri says. "Just having a sense of that is helpful, because then…I can just focus on my performance, and we're not wasting takes because I don't understand how to be, physically."
"It's important for me—not just as an artist, [but] for me as myself—to know I deserve to have agency, to be an active participant in my own life."
That pursuit of an on-set education is part of the reason she's headed to the MCU, the most logistically complex circus in town. While a production start date for "Thunderbolts" is still up in the air, Edebiri is already looking forward to what she'll absorb—and what kind of performer she'll become—from working on a blockbuster set.
"I love being a sponge. I just want to learn as much as possible," she says. "I'm excited [for 'Thunderbolts'] because I don't know; and to me, that's cool. I feel like those are always the situations that I've benefited from the most. If I don't know what I'm going to learn, that's the best possible scenario for me."
As the strikes continue, Edebiri has found herself caught in a liminal space between wrapping "The Bear" and waiting for whatever's next—an unexpected quiet period after a long stretch of project-hopping. These next few months should see all of her 2023 films and TV shows released to the public, barring any strike-related delays.
She's not opposed to watching herself onscreen; polishing standup work pretty much necessitates it. But for now, she's focusing on organizing her house, seeing her friends, and giving her dog the long walks she missed while filming "The Bear." Maybe she'll even write a Letterboxd review or two.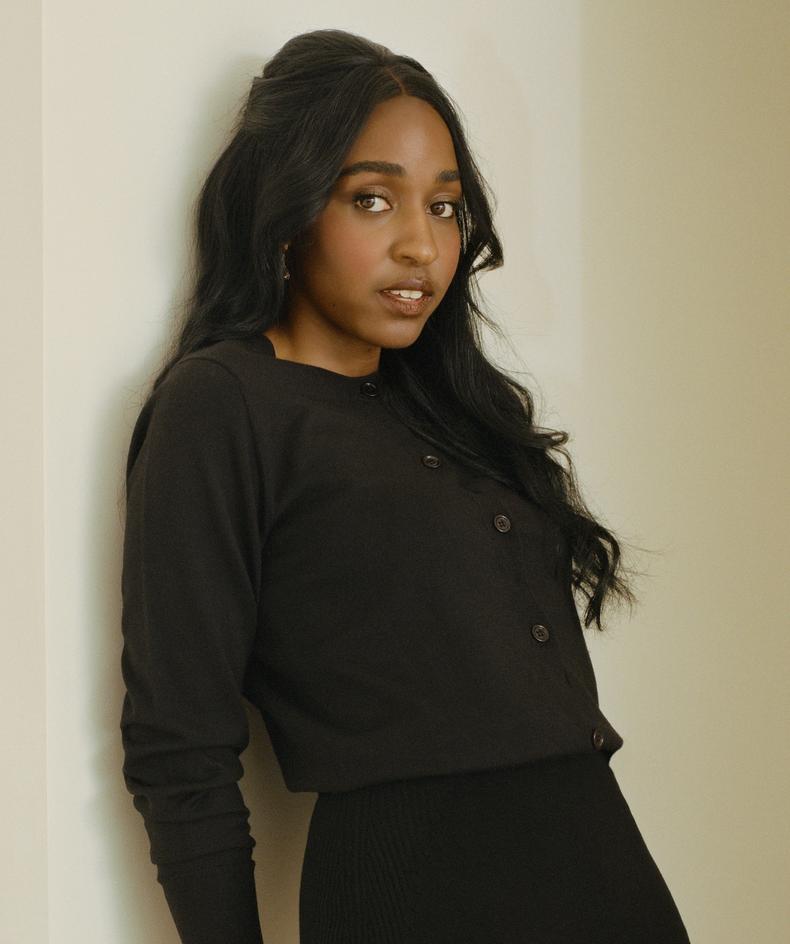 For Edebiri, these simple human pleasures are vital to being an artist. "It all does feel so trite, but it's also the most crucial thing," she says. "If you're so consumed with making things, making things, making things, there's no reserve in the well. There's no real life in you."
It's interesting for her to look back on a time when she couldn't rest, when she was missing out on memories with friends and family so she could do four standup shows a night. "I'm really grateful for that grinding period, because now I'm in a place where I don't have to be like that," she says. "I don't have to give 120% to work, work, work 24/7.
"But I am glad I did that, because now it's given me this space to say, 'Ah, I'm a human being, and I love being a human being,' " she adds. "It's important for me—not just as an artist, [but] for me as myself—to know I deserve to have agency, to be an active participant in my own life."
Edebiri is indebted to her past self not only for going as hard as she did, but also for being "unrelenting with my standard for myself," she says. "That's allowed me to look back and realize that I did have a high standard for myself. I always want to do excellent work and try to be a decent person. That's as much as I can do. Even if that fails, at least I'll have that intention."
She pauses, then throws her hands up in the air. "That's so cheesy. Was that unbearable?" she asks, with the charm of a bona fide star still getting used to stardom. Even the best interview quotes feel embarrassing to her. But for anyone who gets to listen, they simply sound like the words of someone who's in the zone.
This story originally appeared in the Aug. 3 issue of Backstage Magazine.
Photographed by Emman Montalvan on 6/22 in L.A. Hair by Marcia Hamilton, styling by Jared Ellner, styling assistant Jess McAtee. Sweater and shorts by Dries Van Noten. Watch by Cartier. Earrings by Roxbury Jewelry. Rings by Shay Jewelry and Metal Noir. Stockings by A New Day. Shoes by Jimmy Choo. Suit by Acne Studios. Shoes by Stuart Weitzman. Jewelry by Jennifer Fisher. Cover designed by Ian Robinson.