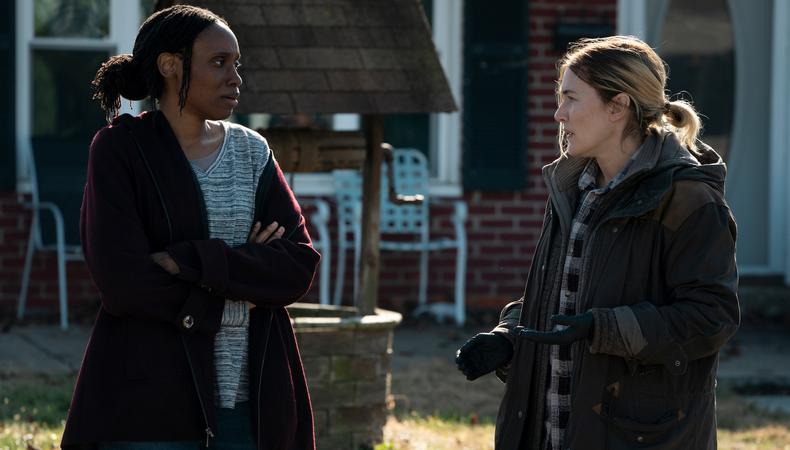 A successful whodunit needs to be both surprising and believable—two somewhat inherently contradictory qualities—and it also needs to provide worthwhile emotional payoff. So when "Mare of Easttown" creator Brad Ingelsby began to flesh out the characters and setting for his murder mystery, he found one way to ensure he didn't get the ending wrong: He simply didn't write it.
"There was a long checklist, so until I could structure the ending to hit all those beats, I just wouldn't write it, because we all know when you get to the end and the finale lets you down, you kind of go, 'Eh.' You have to stick the landing," says Ingelsby. He adds: "I don't know if we did." Speaking on the afternoon of the 2021 Emmy nominations, hours after "Mare" received 16 nods, including one for best limited series, it's safe to say that, yes, Ingelsby stuck the landing.
The series, which premiered in April, stars Emmy and Academy Award winner Kate Winslet as a detective confronting the tragedies consuming the Pennsylvania town where she's lived all her life, as well as her own personal traumas. It used a throwback model to make itself a hit, becoming appointment Sunday-night viewing and building buzz with each of its seven installments. The May 30 finale was HBO Max's most-viewed episode, even causing the platform to briefly crash that evening.
Part of the success of "Mare of Easttown" certainly is thanks to the mystery at its core—each episode introducing new suspects. But its appeal also lies in its atmospheric specificity (Ingelsby himself is from Pennsylvania) and the community it depicts, which is brought to life by an ensemble including Julianne Nicholson, Jean Smart, and Evan Peters, all of whom received individual Emmy nominations for their work. "That's the fun of it: You get to hand [your writing] off, and the actor takes ownership of the character," says Ingelsby. "And the hope is [that] they elevate it in ways that the writing isn't able to. It becomes something that you couldn't create on the page."
Winslet, in particular, took agency over her role as both an actor and first-time executive producer. Though her Delco accent immediately became a lightning rod for internet chatter, the consensus now is that Mare Sheehan is her best performance in years—and possibly of all time.
"I think for Kate, it was a chance to do something different," Ingelsby says of his leading lady, who was already attached to the project when he brought it to HBO. "She imbued the character with such emotion and regret and guilt, all just under the surface, [and was] extremely strategic as to when it shows and when it's reined in. That's what a great actor can do. It was so different from her as a person, but what she could tap into was the family."
Speaking of family, Mare's own provides the series with much-needed levity. Despite its exploration of a grisly murder (not to mention addiction and grief), the show, is at times, very funny—not in a comic sense, but in the way that human beings are actually funny. "Life is funny and it's heartbreaking, but you still laugh, and that was so important," Ingelsby says.
READ: Evan Peters Talks Acting With Kate Winslet
on 'Mare of Easttown'
What ultimately gives the show its resonance is that its characters feel like real people—people who grew up together, went to school together, married each other, and divorced each other. They're imperfect, but, like the show itself, they come from a place of love.
"Everything I've written always starts with a character that interests me, and then having to build a story around that character. It started with Mare," Ingelsby says. "Write about the things you're passionate about, because that will come through—not just in the writing itself, but in the themes of the piece. That's the best advice I can give: Be passionate, because anyone reading will feel the passion come through the page."
This story originally appeared in the Aug. 5 issue of Backstage Magazine. Subscribe here.
Looking for remote work? Backstage has got you covered! Click here for auditions you can do from home!