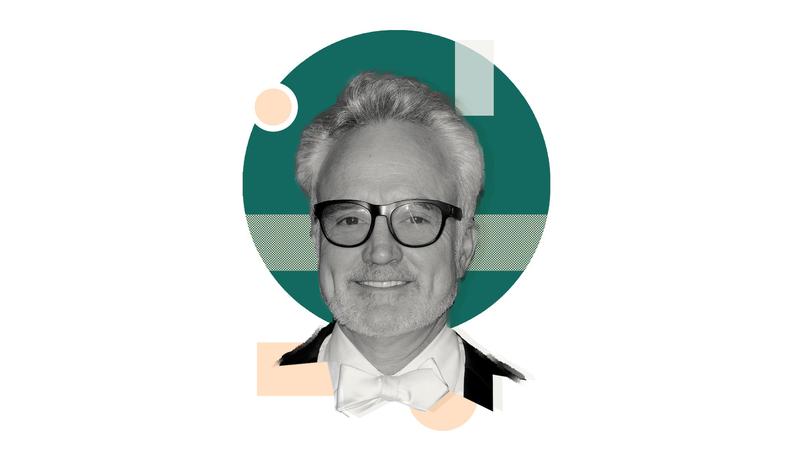 Bradley Whitford is nothing if not versatile. Since cutting his teeth in the Juilliard School's drama division, the actor has spent the last 35 years playing everything from a White House deputy chief of staff on "The West Wing" to a closeted cross-dresser on "Transparent"—which earned him Emmys in 2001 and 2015, respectively. He won the Television Academy's highest honor again last year for playing Gilead mastermind Cmdr. Joseph Lawrence on "The Handmaid's Tale."
There's no doubt about the varied résumé you've built over your years onscreen. Did you have any idea when you were first starting out what you wanted your career to look like?
Honestly, the older I get, the more grateful I am for the opportunities that I've gotten. I think I'm greedy in terms of the variety of experiences I want to get. I love doing radically—whenever I'm doing one thing, if I'm doing something dark and subtle, my first instinct is then to want to do some slapstick. And I've been really, really lucky.
I've been able to do these things, which, on top of being these creative experiences that I'm so grateful for, also tend to have a social component. And people will say, "Is that intentional?" I always tell this story: I did a movie with Clint Eastwood in the '90s, and [while] we were on set, I was reading the Arts & Leisure section, and he had just won the Oscar for "Unforgiven." There was this iconic picture of him, and it said, "Clint Eastwood's Vision of America." I said [to Eastwood], "Hey, did you see this?" And he said, "Ten years ago, I was working with an orangutan. Now they think I'm Gandhi." [Laughs] All I have ever done is taken the best part available. So, there's no plan involved, but I've been really grateful to be able to mix it up.
"To all these actors out there: These directors who direct through intimidation and cruelty, they're idiots. It's not productive."
How has playing Cmdr. Joseph Lawrence on "The Handmaid's Tale" made you a better actor?
I've gotten to play some wonderful characters. Lawrence is absolutely the most interesting to play. I always say that talking about acting is like dancing about architecture: You can do it all day, but it's really kind of pretentious. But at the risk of being pretentious, I had a pretty clear idea of what this guy might be like. There was a guy, Secretary [of Defense Robert] McNamara…a brilliant, brilliant guy who ended up using his brilliance to exterminate 3 million people in Southeast Asia during the [Vietnam War]. It was a situation where his humanity got obliterated by his big brain. That was my sort of starting point for this guy. But he's always in play. There's something about playing this guy that makes me think about opening the aperture, and there are a lot of radically conflicting things in him. It's just written so well. In a lesser show, a character like Lawrence, who is subjectively evil in terms of what he has created and unleashed—in a badly written version, that character would have an epiphany and suddenly be good. This writing was a lot more complex, because if you did it that simplistic way, it would be an insult to the genuine obstacle that [Elisabeth Moss'] character June is up against. That's not the way the world works.
How did you first get your SAG-AFTRA card?
I was at Juilliard and I somehow got cast in a movie called "Dead as a Doorman," which was an extremely low-budget movie that was not very good. Actually, I have a funny story about that. The very first time I ever did anything on film was for this movie. I had only done plays, and it's intimidating! You wonder if you're going to be able to do it or are nerves going to take over? Are you going to be comfortable? It was the first time I was being filmed, and the first thing was me on a phone call, it was kind of a monologue into the phone, and they said, "Quiet, action!" I heard the camera humming for the first time. And I start doing this monologue and I realize, Oh, my God, yeah, I know this, and I'm going to be able to do this! I feel my blood flowing and I have this incredible wave of confidence. I'm like, I might be able to make a living at this! This is so incredible! I get cocky, and I throw the phone in my other hand, I'm playing with props. And I'm like, Jesus, you're like Marlon Brando! And at that moment, the assistant director goes, "We've gotta cut—Brad's got nose hair. Brad's got nose hair!" And at the moment of my greatest arrogance, I had to have my nose hair trimmed in front of the crew. You've got to stay humble.
Do you have an audition horror story you could share with us?
Yeah, I have a thousand! Listen, I think there are less now, but I will happily go on the record saying that Oliver Stone is the most toxic human being I've ever met in my life. Notoriously horrible, especially to women, but fundamentally just cruel. And, you know, being cruel to actors who are auditioning is like shooting fish in a barrel. I was auditioning for "Born on the Fourth of July."
"I think I'm greedy in terms of the variety of experiences I want to get…. Whenever I'm doing one thing, if I'm doing something dark and subtle, my first instinct is then to want to do some slapstick."
Billy Hopkins, who is one of the great casting directors—there were those casting directors when I was coming up who really wanted you to succeed and wanted to make sure that you succeeded and didn't live in a state of fear that you were going to make them look bad, and Billy was one of those great ones. He calls me and he goes, "He's very intense. Just warning you, don't expect [Oliver Stone] to be warm and fuzzy." I walk in, and he was, like, in a kimono. Billy Hopkins is there, Oliver Stone is there; Oliver is itching his head over my résumé, long awkward pause, and then goes [through a yawn], "OK, read." I was prepared for this, so I start doing it, and he goes, "Stop! Stop! Why are you sitting there?" And I go, "Oh, do you want me to stand?" And he goes, "Yeah! It's a speech at a rally!" I stand up and do it, and he's yawning and he's spinning his Rolex and I'm just like, "Oh, my God, I wanna get out of here." And I finish, I put it down, I walk out, and he goes, "Stop!" And, I think to torture me, he made me read a battle scene cold, which is just a bunch of description and then, like, "Tommy, get on point! Give me a stick!" It was one of the worst experiences of my life.
Fish in a barrel, truly.
To all the actors out there: These directors who direct through intimidation and cruelty, they're idiots. It's not productive. I get so upset when I experience it. I used to feel insecure because I used to think I should be able to deal with that. I should be able to deal with a really hostile authority figure when I'm trying to act—and you're going to have to deal with it, but just know that they're wrong. There's nothing productive about it. I really, really believe that.
What advice would you give your younger self?
First of all, I think people always feel like they should have more confidence than they have, and I like to remind people that there's nothing worse than a totally confident actor; some of the greatest actors we love the most precisely because [of that]. I think of James Gandolfini walking around with that bag of insecurity, which was part of what made him such a fascinating actor. It's a weird thing, because as an actor, you're subjecting yourself to doing for a living what most people think of as their worst nightmare: standing up in public. And you're constantly trying to get more comfortable there.
This story originally appeared in the July 9 issue of Backstage Magazine. Subscribe here.
Looking for remote work? Backstage has got you covered! Click here for auditions you can do from home!