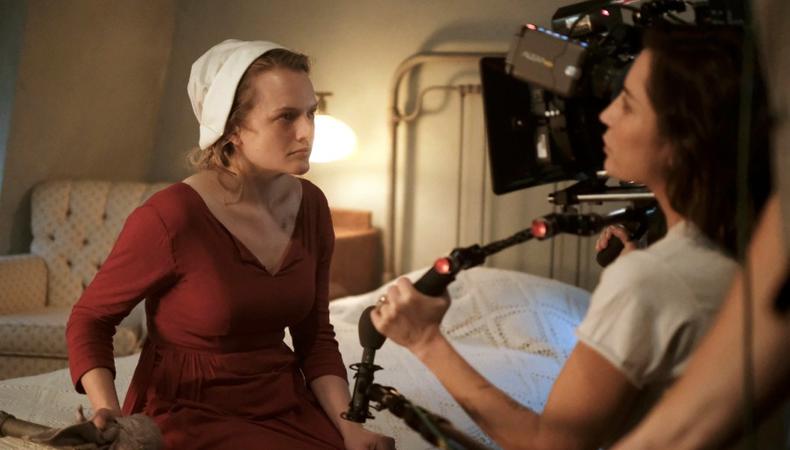 From the moment casting director Sherry Thomas and her associates at Bialy/Thomas read Bruce Miller's pilot script for dystopian drama "The Handmaid's Tale," they knew it was a show they had to work on. "I was blown away," she says. Now she's landed her second Emmy recognition (the first was in 2014 for "Breaking Bad"), alongside Russell Scott and Sharon Bialy. The series received an impressive 13 nominations, including star and executive producer Elisabeth Moss, plus actors Thomas helped cast: Ann Dowd, Samira Wiley, and Alexis Bledel.
The Book of Ann Dowd: 'You Will Find Your Way'
The veteran CD spoke to Backstage about casting such an important cultural touchstone and why listening is the best thing an actor can do in the audition room.
What challenges were unique to casting "The Handmaid's Tale"?
"I don't think any of us looked at it as a challenge because all of the collaborators were very open to creating what Gilead would look like now, as opposed to how it was represented in Margaret Atwood's original novel. The challenge was to create the world in which we live today but keep the integrity of the original piece.
The timeliness of the show against our current political reality—how much of that was intentional?
"I don't think any of it was intentional. Everybody was working from a very authentic place to bring to life Bruce Miller's pilot script. We were casting in the summer of 2016, and we had many conversations around, 'Could you imagine?' Now that we're in this political climate and there are issues very important to many people, it's eerie and scary. I think that's why people all over the country, and the world, frankly, have attached themselves to this and are using it as a way to protest."
Any lessons learned from season one going into Season 2?
"With the success of the show, we will have a lot of people of name value saying they want to be part of it. We have to be careful not to take us out of the world we've created while still paying attention to those requests. When we cast 'Breaking Bad,' we were very careful of that. We didn't have true famous people, and we're going to also have that on 'Handmaid's.' "
Are you surprised by the overwhelming response the show has received, or did you feel that in the production process?
"I saw the dailies, and I was blown away. [Director] Reed Morano had a very strong vision to create this world, and I think when you see that, you tilt your head and go, 'This is going to be special.' When we read the pilot script, everyone in our office called each other asking if we had read it. We thought, 'We have to get this job.' And we did! And as an artist, it feels good to be part of something so important in its context."
Any memorable auditions in your career that led to a role being cast?
"Robin Lord Taylor. We had seen him on a self-tape when he was living in New York for the role of Creepy Todd in 'Breaking Bad.' It was very close between him and Jesse Plemons. We remembered Robin, and when the 'Gotham' script came to us, we met with Bruno Heller and said, 'We have your Penguin.' I made sure he went on tape in New York, and he got the part. It's that gut instinct. That's our job as a casting director, to really pay attention. When you meet actors, they may not be exactly right for that role, but perfect for someone else on another show.
"It's not about going in and getting this job. Just do good work. That's how we're going to remember and acknowledge that and keep bringing you in, if we feel there's something there."
What's the No. 1 rule to keep in mind when casting?
"Are [actors] listening? Are they listening not just in the scene but to the direction, to the notes? As we start to read a role, we discover actors falling into the same trap over and over. If somebody walks in, and you give them a note, sometimes they can't quite get out of their brain because they've prepared so diligently in their own way. I wonder if they're really listening to what I'm saying. Also, you have to be a good person. It goes a really long way."
Any advice for actors to stand out to casting directors?
"It should be about the work. When you come in, we do our preparation, and we expect you to do yours. Do your job, do the best you can, and leave it at the door because there are things you can't control. You can only control yourself—not the surroundings or the producers. Focus on yourself and don't worry about what other people are doing."
Looking for your big acting break? Apply to casting calls on Backstage now.