It all started with a cart full of tennis balls, painted to look like oranges, bouncing across a West End stage. Brendan Fraser was just a boy at the time, moving from home to home thanks to his father's career in tourism—which, in the actor's words, "meant a lot of starting over and reinventing yourself in new places." One of those locales was London, where a young Fraser sat awestruck through a production of "Oliver!" As the stage revolved on giant rollers like a Lazy Susan, the pickpocketing Artful Dodger knocked over the cart, sending those oranges rolling across the boards.
"I remember thinking it was very funny how they bounced around on the stage like oranges never would. But I was also concerned they might fall off," the actor says. "I guess I bought into the reality and the artifice at the same time—hook, line, and sinker."
The young Fraser knew immediately: "That's how I wanted to tell the stories that I read as a kid. I didn't know how I was going to go about doing that. I didn't even know it was a real job, necessarily. But it was meaningful to me."
The search for that perfect place between reality and artifice drove the decades-long acting journey that followed. For proof, head to brendanfraser.com, a relic of the GeoCities age that seemingly hasn't been touched in decades. There, you'll find a surprisingly robust collection of photographs Fraser took in the early stages of his career: an out-of-focus shot of Michael Caine at a table read for "The Quiet American," an image of Rachel Weisz reading a script while shooting "The Mummy" in Morocco. They're mostly candid shots, all showcasing a desire to capture life at its most surreal—oranges bouncing like oranges never would.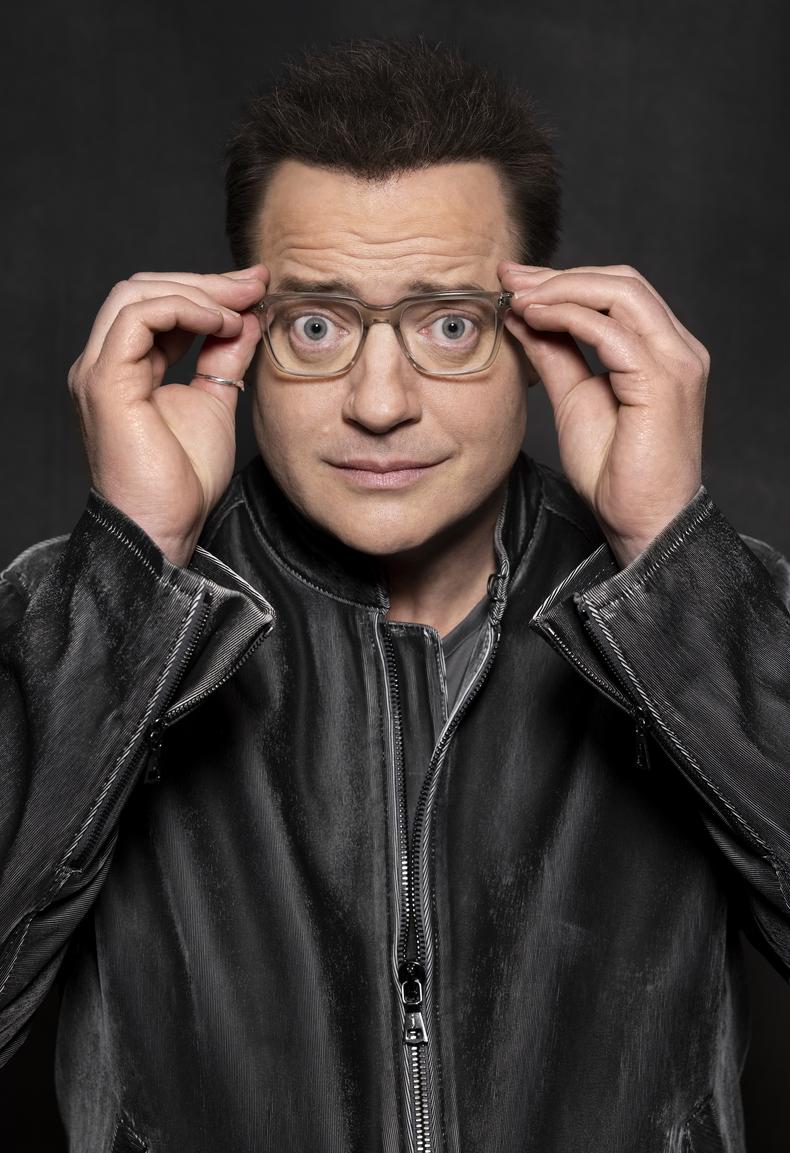 "[In] those days, I did have a real craving for the authenticity that comes with instant photography," Fraser says, likening it to the experience of live theater. "The operative word is 'immediate connection.' [With] my photography, I wanted the image now. I wanted to capture something I could have and hold, that could be taken spontaneously."
These days, Fraser has replaced photography with what he calls his "pinch-me pages"—a collection of screenshots showcasing the praise he's received for his latest film, "The Whale." In Darren Aronofsky and Samuel D. Hunter's adaptation of the latter's 2012 play, Fraser dons painstakingly built prosthetics to play Charlie, an English teacher living with severe obesity who tries to reconnect with his estranged daughter, Ellie (Sadie Sink), in the last few days of his life. The film tells a painfully human story in a theatrical way, giving Fraser the chance to experiment with that analog-meets-digital approach he'd been dreaming of since that day in the West End.
"The Whale" also led to the actor's first Oscar nomination, plus a SAG Award nod and Critics' Choice win. These unexpected accolades have Fraser feeling extra nostalgic, particularly because they've brought him back to Los Angeles, a city he last lived in 15 years ago.
"I've heard from many [cynics] in the response that's come from this film. I guarantee you, the audience who comes to see 'The Whale' already has a preconceived notion about it."
"I still feel an affinity for this town, especially at this time of year, because it's when I arrived 32 years ago," the actor says. While on a cross-country road trip back to Southern Methodist University in Texas, Fraser made a pit stop in L.A., where he decided to "get good and scared and lost" in pilot season instead of returning to his MFA program. "Often, I would go and sit on the beach at Will Rogers State Park in the sand, where it's very cold and damp," he remembers. "I'd stare at the waves and do that romantic thing of asking, 'What am I going to do with my life?' "
Fraser didn't receive any answers, but he did start landing roles. His boisterous energy and golden retriever charm—both still in full force today—meant he was tailor-made to play lovable lost boys like the unfrozen caveman of 1992's "Encino Man" and the displaced vine swinger of 1997's "George of the Jungle." He became an action star who felt like your funniest friend; half the affable beefcakes of the Marvel Cinematic Universe owe Fraser a great debt.
"It made sense that I went into my career with…a demeanor or an attitude, or dare I say an ignorance. I was definitely naive, that's for sure," he says. "Maybe that came across, because it would seem I played a lot of fish-out-of-water characters—the new guy in town just trying to fit in."
He points to his first dramatic film role as ostracized high schooler David Greene in 1992's "School Ties." That character "made some sacrifices—personal ones," Fraser says. "But he learned a lesson as a result: Be yourself. He had his nose pressed up against the glass because he wanted to be a part of what was behind it. But it came at a cost."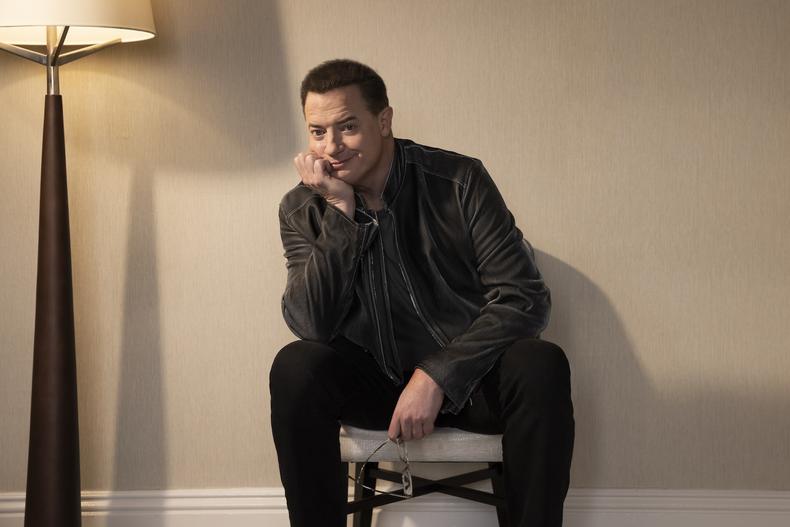 Even under the awards season lights, the actor still feels like an outsider—and he can see the parallels between his public and private personalities. "I just didn't want to get found out," he says. "I won't call it a fear—more an expectation that somebody is going to walk in the room any second and say, 'Fraser, get back in the dish pit,' and throw me a towel. It hits me right in the face.
"I know how wanting this profession can make people become," he continues. "It can really change your brain chemistry, turn you into a different person that you maybe weren't anticipating. I wanted to make sure I had a strong sense of identity. That always came from feeling comfortable in my own skin—the way I felt as a kid, going somewhere new all the time."
"I never imagined putting myself in a position to be in films that are awarded. So, again, I'm kind of the new guy here... But I'm not a babe in the woods anymore."
But if you stay in the industry as long as Fraser has, change is inevitable. For one thing, the new kid in town now has a few kids of his own. "That reoriented all of my priorities," he says of becoming a father. "It gave me a context for why I'm running around chasing my ass off all the time doing this job. Usually, I've noticed, if you start having kids and you're an actor, you start making films that are more friendly toward them. I was doing that, but I wasn't feeling as fulfilled [creatively]."
As Fraser's internal goals shifted, the industry evolved around him, moving away from that tactile quality he first fell in love with.
"Everything went from a fusion of analog and high-tech to just straight-up digital everything," he says. "I know that, because I was at the tip of the spear for the 3D movement with [2008's] ''Journey to the Center of the Earth,' which is known by James Cameron as his beta [for 'Avatar'], where he tested [his new 3D cameras] before he took [them] off to New Zealand and did his epics about Indigenous people portrayed as giant blue cat-monkey people. Everything was digital from that point forward."
When anyone asks the well-worn question, "Where have you been?" Fraser tells them he was never that far away, and that's true. The roles just got smaller and less physically demanding by design; he spent time on TV shows like "The Affair" and DC's "Doom Patrol," and in less commercial movies like Steven Soderbergh's "No Sudden Move." The problem was never that the actor was gone; it was that his presence once loomed so large in people's lives that any retreat felt like a loss.
Which, as luck would have it, is exactly why he got the call from Aronofsky. "I thought I was done [when it came to] everyone's perception of me," Fraser says. "[Aronofsky] gave me the impression that he needed an actor who everyone felt they already kind of knew but wanted to see again, but also would need to pay attention to in a new way."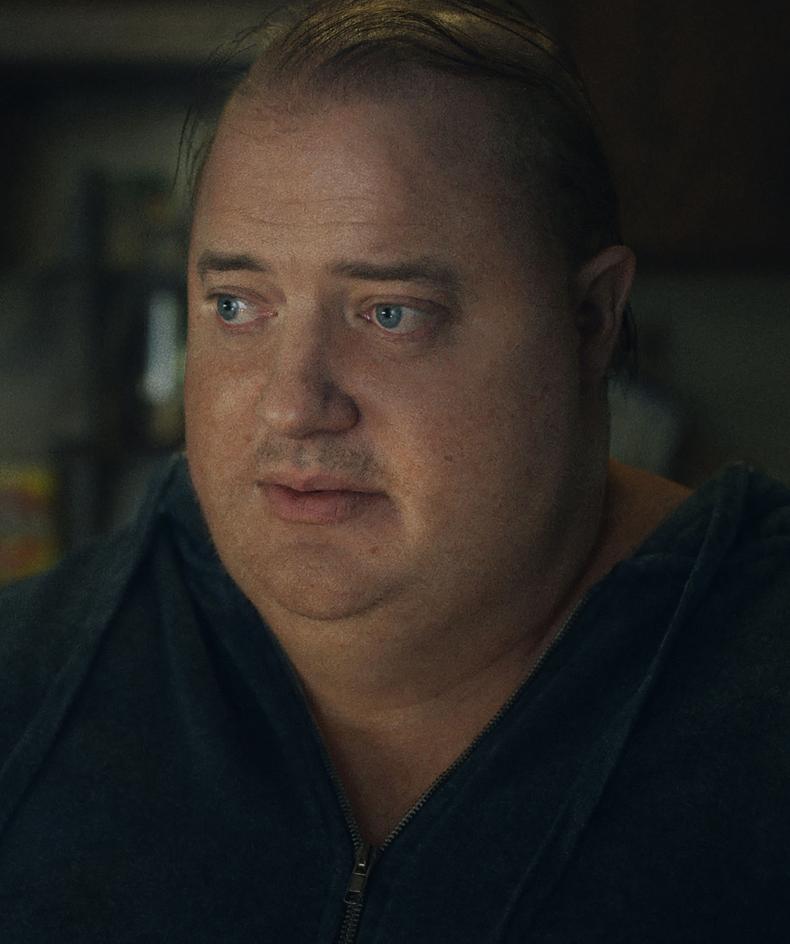 Courtesy A24
The cast and crew of "The Whale" treated the film like a theatrical production. Just like his costars, Sink and fellow Oscar nominee Hong Chau, Fraser had to audition for his role; and once the ensemble was set, the actors rehearsed on a stage with the blocking mapped out on the floor with tape. Fraser embraced the raw authenticity of the project. That includes the hundreds of pounds of prosthetics and harnesses he wore, created by makeup artist Adrien Morot—the same man, Fraser is quick to note, who designed the doll for the sci-fi horror film "M3GAN" just a few months later.
"Charlie could have been a creation such as a murder robot, but he wasn't," the actor says. "He's a human being. So often, the makeup we've seen when creating a person who lives with a larger body has been in service of some dumb, one-note joke. We're beyond that now."
Fraser remains deeply devoted to Charlie: creating him, inhabiting his many contradictions, and making sure he was more to the audience than a costume. "It's safe to say everybody knows a Charlie, if they don't inhabit an aspect of him themselves," he says. "I knew this was a story I wanted to tell because I felt he was an amalgamation of all my favorite people in my life—mentors, friends, teachers."
The actor is also well aware of the polarizing reception the film has received—nothing new for Aronofsky, but largely uncharted waters for his star. Fraser says that his own worldview closely aligns with the thesis Charlie lands on in the film's climax: "Do you ever get the feeling that people are incapable of not caring?" When I mention that the more cynical among us might struggle with that take, Fraser lights up at the opportunity to politely disagree.
"I've heard from many [cynics] in the response that's come from this film," he says. "I guarantee you, the audience who comes to see 'The Whale' already has a preconceived notion about it for a couple of reasons: Because they heard it's about a guy who lives with obesity, maybe they're like, 'Oh, ick. I don't want to know about that.' "
But, he continues, "once they've accepted that invitation without a furrowed brow and taken a seat in that theater, after five minutes, they see he's just a man. 'He's someone I know. I don't see the seams and the dotted lines around what I would come to expect from a fully digital creation.' It's an actor, yours truly, playing objectives and doing the best to get around the obstacles along with four other actors and actresses, engrossed in this journey of salvation that they take together."
The final scene Fraser shot for the film involves a similar appeal for understanding. Nearing the end of his life, Charlie begs his students to write him something honest. The most moving response, which appears in both the movie and play, is pulled directly from Hunter's time as an expository writing teacher.
"Someone wrote to him: 'I just have to accept that my life isn't going to be that interesting,' " Fraser says. "I mean, come on. How do you lay yourself more open than that, coming from what would be a 21- or 20-year-old?"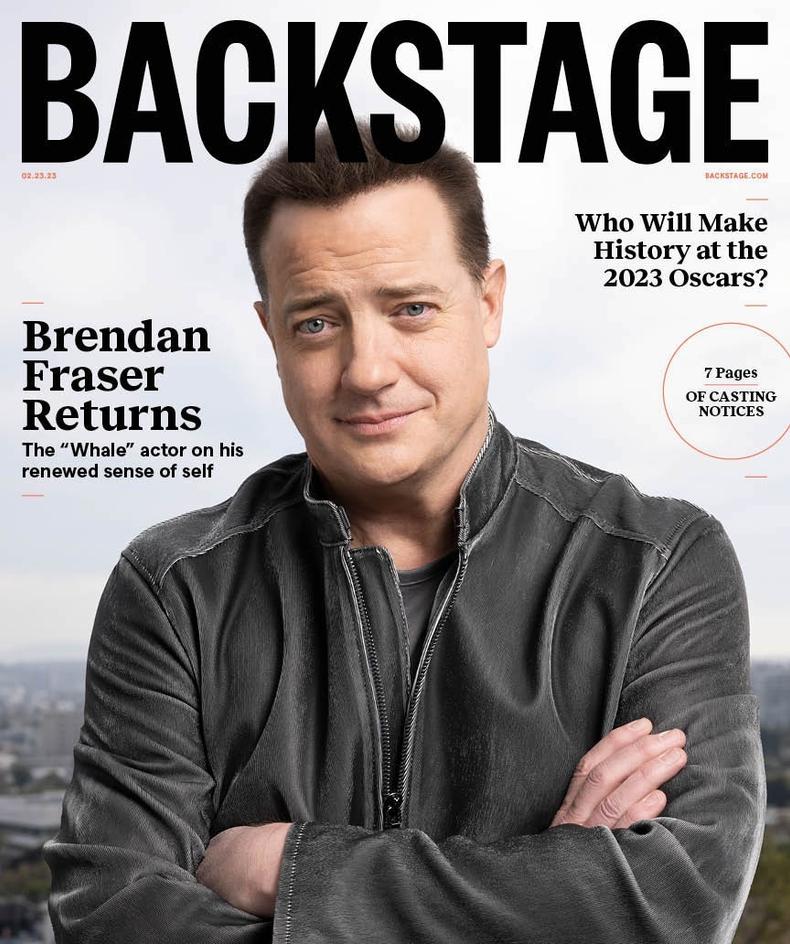 It's a fascinating question, especially coming from a man who once sat on a cold L.A. beach in his early 20s, wondering if his life would be that interesting—then made it interesting by laying himself open onscreen. Back then, Fraser concedes, "I never imagined putting myself in a position to be in films that are awarded or put on pedestals…. So, again, I'm kind of the new guy here.
"That's fine and well, but I'm not a babe in the woods anymore," he adds—and you can see the quality Aronofsky was looking for in the way his voice changes just slightly. Fraser is that guy we missed even though he wasn't ever really gone; he's the same as he's always been, but different because of the days in between.
"It's time to take ownership of the path that I started off [on] all of those years ago in the West End," the actor says. "I have to be at home in my own skin again and stay as vulnerable as I can in the work that I've done. Because there's been a standard set in my mind—which is to be honest, just like Charlie asks."
This story originally appeared in the Feb. 23 issue of Backstage Magazine. To hear our full conversation with Fraser, listen and subscribe to In the Envelope: The Actor's Podcast.
Photographed by Ian Spanier on 1/13 in The London West Hollywood in CA. Sonia Lee for Exclusive Artists using La Mer. Cover designed by Ian Robinson.