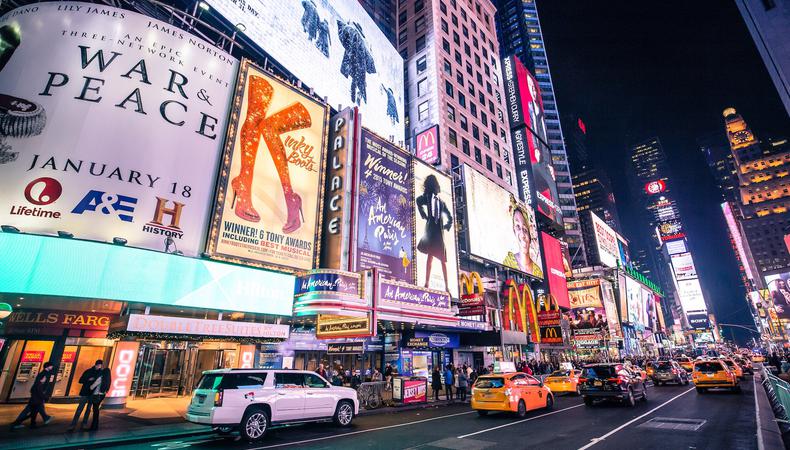 The Broadway League, the U.S. coalition of commercial theater owners and producers, has announced an incoming audit of diversity and racial representation in the theater industry, the New York Times reports.
Wide-ranging in scale, the audit will reportedly cover every aspect of theater business: from crew to cast, auditions to production meetings, unions to audiences. Per the Times' reporting, the League will also renovate its bylaws to include outside consultation on diversity initiatives and anti-racism training for staff.
The audit comes on the heels of radical reckonings on structural and systemic racism, specifically anti-Blackness, in every facet of American society—including theater in the United States. In a June 8 open letter to the "white American theater," several Black theater artists, from Broadway actors to playwrights, wrote: "We have watched you un-challenge your white privilege, inviting us to traffic in the very racism and patriarchy that festers in our bodies, while we protest against it on your stages." At the time of this writing, the letter has over 80,000 endorsements via an accompanying petition.
A few days after the letter went viral online, the Broadway Advocacy Coalition assembled a three-day webinar that held Broadway productions accountable for racism and worked towards an anti-racist future on America's most iconic stages. The coalition's campaign, Broadway for Black Lives Matter Again, offers an accountability pledge and a resource guide, among other supplements.
"I think we have done a good job on stage, and we've done a good job with the Tony Awards, but in a lot of our backstage areas we haven't done as good a job, and if people are frustrated, they have the right to be," Charlotte St. Martin, the League's president, told the Times. "We have to change, and we will change."
The Times notes that out of the League's 50 board members, Stephen Byrd and Colleen Jennings-Roggensack are the only Black members.
The most recent report from the Asian American Performers Action Coalition, AAPAC, revealed that in 2016–2017, white actors made up 66.8% of casts on Broadway and professional regional stages. Black actors made up 18.6% of casts, Asian American actors represented 7.3%, and there were 5.1% Latino and/or Hispanic actors. In all, nonwhite actors represented 33% of casts in 2016–2017, an 18% increase from a decade prior.
When it comes to playwrights, 95% of Broadway productions in 2016–2017 were by white writers; 95% of these productions had white directors.
According to the U.S. Census, the United States is 23.7% nonwhite. As for NYC, the epicenter of the nation's theater community, the city's population is 57.3% nonwhite.
The League's diversity initiatives are aspirational for a time when theaters reopen. Because of the U.S.'s compounding failure to control the highly contagious coronavirus, COVID-19, since mid-March, 100% of actors have been unemployed nationwide. The announcement is the latest update for the League, which has had a busy news week after also announcing that Broadway productions would remain suspended until 2021 due to COVID-19 risks.