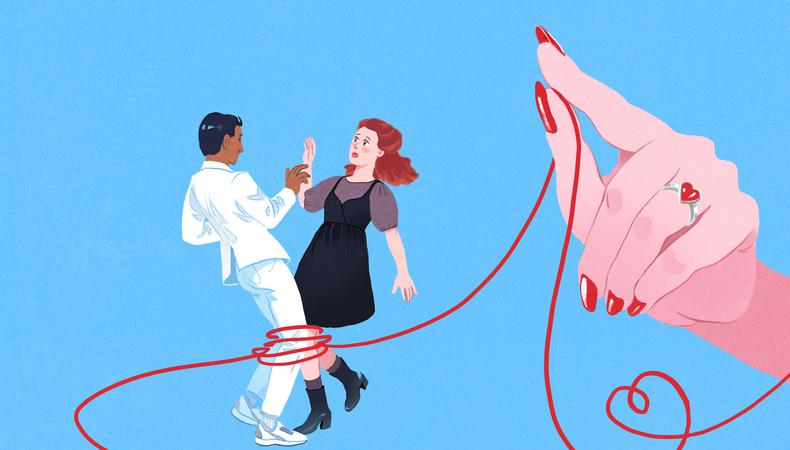 Casting directors are supposed to be good at putting together an ensemble; but, at times, we also become matchmakers.
I've had the pleasure of casting several actors who have fallen in love and gotten married. I was there when John Travolta first laid eyes on Kelly Preston on a film I cast called "The Experts," and actors Alison Elliott and Will Patton met each other on an indie film I cast, "The Spitfire Grill," and ended up tying the knot.
Casting director Adrienne Stern made another love match with actors Amber Paul and David Arrow on the film "Porno." Paul shared her story with Stern, saying, "Your casting was both perfect and prescient. David Arrow, the actor you cast as my husband in the film, has now become my husband for life. David and I met for a friendly lunch two weeks after we wrapped—and the rest is history!"
I dug a little deeper into this story to ask Stern: When casting a project, do you ask yourself if these people would make a good couple in real life? Or are you just casting for looks?
Stern responded, "When casting couples, pairs, people who work together, hang out, etc., I always think, Would they be friends, family, lovers, enemies? It's so important that the audience feels a sense of togetherness. It's a puzzle with people pieces."
Florida-based casting director Lori Wyman has her own version of this story.
"I was working as the Florida principal casting director on 'Miami Vice,' and there was one actor who was living in New York City, and he was determined to work on the show. He flew down to Miami and got a local agent, because he couldn't get in with the casting director in New York. He put an answering machine at his sister's house in South Florida and submitted his materials to our Miami office," she recalls.
"Since he had a strong résumé and a good look, I brought him in to read. Unbeknownst to me, he flew down from New York to Miami each time I called him in to audition. He booked. He booked again," she says. "During the fifth and final season, he confessed that he actually lived in New York City full-time and said he would love to live in Florida, but he didn't know if he could make a living. I spouted off something about how, if he moved to Florida, I'd help him get an agent, and I was sure he would work all the time. One day, he called me and told me he had moved down and asked if I would help him get an agent. He listed with one of the bigger agencies in Florida and built a very successful, three decades–long career."
And the story doesn't end there for Wyman or the hardworking actor. Sometimes, the real-life chemistry builds long after the actor has walked off the set. "On Christmas, back in 1988, a mutual friend of ours put together an afternoon cruise. I was invited. So was this actor. We ended up sitting next to each other on the cruise ship. After the day was over, we all went out for sushi. We sat together again, and we have been sitting together since that day." Wyman's story shows that putting yourself out there as an actor might change more than just your career.
This story originally appeared in the June 3 issue of Backstage Magazine. Subscribe here.
Looking for remote work? Backstage has got you covered! Click here for auditions you can do from home!