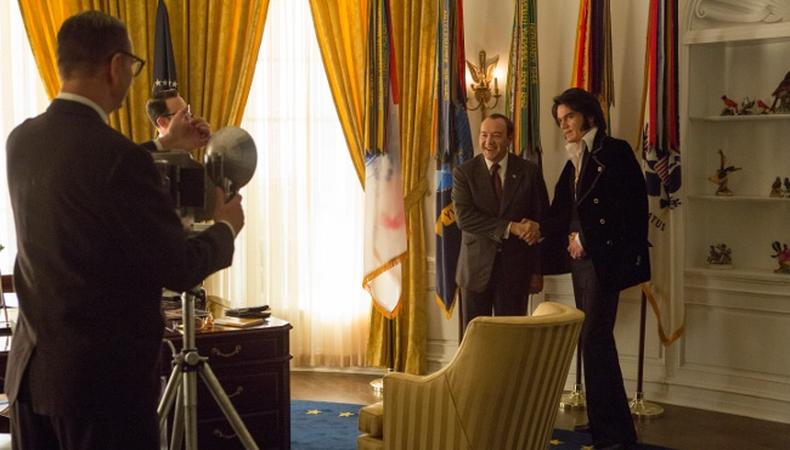 Despite being two of the most well-documented men in American history, and despite their single snapshot together being the most requested photograph in the National Archives, there is still an air of mystery surrounding the fateful Oval Office meeting of the "King," Elvis Presley, and President Richard Nixon. It's a mystery that director Liza Johnson has fun playing with in "Elvis & Nixon," her comedic feature from Amazon Studios and Bleecker Street out April 22.
While many of the streaming film's details—like Elvis' letter to Nixon, his presidential suit, and his producer and friend Jerry Schilling's white Cadillac Eldorado—were "fetishistically accurate," Johnson explains that there are "certain kinds of truths that don't archive well."
"What's good about the genre of fiction is that you can propose a version that you think is emotionally honest, which I think in this case is also warm and funny," she says. "But if you limit yourself from being able to imagine, 'Perhaps Elvis felt like this here,' then there are certain kinds of truth that you can't tell."
It's a based-on-true-events storytelling tactic reminiscent of Aaron Sorkin's Oscar-nominated "Steve Jobs" from last year. Johnson describes using data points of reference to tell the arc of Presley and Nixon's meeting, which was scheduled for Dec. 21, 1970, on Presley's insistence. A witness to the antiwar Flower Power boom and worried for the nation's future, Presley wanted to become a federal agent at large for the Bureau of Narcotics and Dangerous Drugs. (There's no evidence that the badge he eventually received was ever put to use.)
When it comes to the precise details of their encounter, however, that's where the story's surreality comes into play.
"Did Elvis have a pulse of feeling competitive toward Nixon? There's no document of that emotion. Did he have a pulse of wanting to give Nixon something like a performance or a show? That kind of thing cannot be archived," Johnson concedes. "So I really like the playful way the writers [Joey Sagal, Hanala Sagal, and Cary Elwes] fill in the gaps."
An emphasis on emotional truth carried over into casting. "Elvis & Nixon" reteams Johnson with her "Return" star Michael Shannon as Presley, who was attached to the project before she signed on. One look at him, though, and it's clear that the team was more interested in shaping a thoughtful, bone-deep portrait of Presley than an actor who physically fits the bill.
"If you told me that you had to cast the movie for likeness, I think that perhaps Mike's not the man for the role. But if you think that physical acting and depth of character are important, then of course he is," Johnson says. The same goes for Kevin Spacey's Nixon. The Academy Award winner doesn't need to slap on a prosthetic nose to fill the ex-POTUS' shoes. He's first and foremost a father, a leader, a stiff, and a Dr. Pepper drinker; those are the qualities an actor needs to hone the character, not a cosmetic extension.
"We just tried to do the serious actor work and, in a way, not waste what we were given," Johnson continues. "Those men's faces don't look like Elvis' and Nixon's faces, but their face is their tool—why would we put a fake nose on them?"
The rest of the necessary pieces fell together with research and trust. There's more than enough documentation of not just the men and their colleagues' likenesses, but of their mannerisms, their ideologies, their lives. The real Schilling even met with the actor portraying him, Alex Pettyfer, to parse out the endeavor, and he was on set to help Johnson in her truth telling—both literally and emotionally. It all made for an environment where both filmmaker and actor trusted one another to do right by the history while also doing right by the creation.
"I work with people that I trust, and then I actually trust them," Johnson says. "The bulk of the work that we did was to...make everyone feel that we're all trying to do the same thing."
Like this interview? Check out more from creators and Meet the Maker!