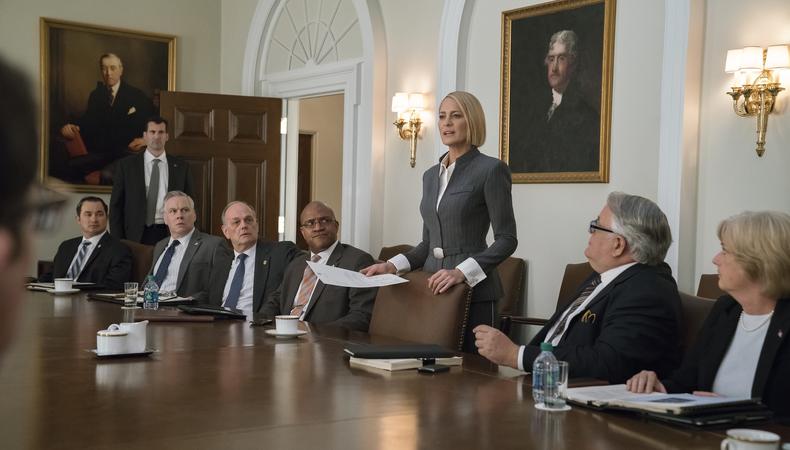 Casting director Devin Shacket has a wide variety of casting and acting experience, and her career trajectory proves that your work ethic—and attitude—can pave the way for your future gigs in all parts of the industry. Shacket started out as an intern for casting director Kevin Kuffa and later worked with Beth Bowling and Kim Miscia who put her in touch with Julie Schubert. While working with Schubert on "House of Cards," Shacket earned a reputation for her ability to find what could be considered niche actors. Now, the projects she casts and the acting school she opened help her continue to foster new talent. Because she's used to finding new and nontraditional actors, she shared some tips with Backstage for those looking to land their first big role.
You don't have to have representation to work.
"When I'm looking for a particular kind of talent and I have the time to reach outside of agencies, I always go to Backstage first." For example, when casting "House of Cards," she needed a fluent Chinese speaker who could also speak Korean. "The agencies don't always have that, or sometimes really exciting projects are not paying a lot so more high-profile actors don't want those jobs, but [for] unrepresented talent who need to build their resumes, they are great jobs."
Authenticity matters on all project sizes.
"You don't have to go in and nail every audition. You have to go in and be you and be as prepared as you can be," Shacket says. Casting directors know actors have survival jobs and they know it can be tricky when they give actors a lot of pages with a short turnaround. "Instead of pretending that you're a thousand percent there, be where you are. Be realistic. Be generous. It's so refreshing to see a real person instead of somebody trying to get an acting job."
Experience is more important on her big projects, but it's not just about experience. "It's about who fits the part." For smaller projects like indie films, Shacket says she's more interested in training than experience.
Where you train is important.
With the importance of training in mind, Shacket started an acting school called The New Drama Center to help actors get access to the best acting teachers outside of a university setting. She reached out to respected teachers at Yale and NYU and created opportunities for them to teach outside of their institutions. "I work a lot with Olympia Dukakis and Jim Calder, the head of physical acting at NYU grad acting." For voice training, Shacket notes Tessa Lang is an instructor she trusts. Seeing those names gives Shacket an idea of what kind of training actors have had, and she looks for training that focuses on emotional connectivity and authenticity rather than a straight scene-study class.
READ: 'House of Cards' CDs Reveal How to Impress Them in the Audition Room
Find a teacher who works for you.
Shacket cautions actors that teachers do not hold the secret for a successful career. "You have the secret for you. The teacher who's going to guide you toward yourself and makes you feel empowered is who you want to be with," she says. "Ultimately, when you step into an audition room, you need to be empowered and confident in your ability to do the work so if you get hired you can deliver with confidence. If you don't get hired, you can walk away with the rejection and know you did great work in that room."
Make it easy for casting to contact you.
While there's no magic trick to getting your submission to the top of the stack, making it easy for the casting director to contact you helps. "I need everything to be easy for me, especially if you're not represented," Shacket admits. At least have a contact form on your website if you don't want to list you information. It's also important to have a reel. "Just put up a 40-second monologue that's nicely lit and shot against a white or blue background." Shacket says if she has 100 actors for 20 spots, she's going to bring in actors whose work she can see. "If I haven't seen your work and I'm bringing you in on a picture then I'm taking a risk."
Point out connections.
"If you have a connection to a play, playwright, director or somebody who's trained me, I want to know that. That's going to help me give you an opportunity," says Shacket. "That makes you stand out. The industry is a business of art, talent, and creation, but also of people."
You're not in it alone.
Shacket credits Schubert with teaching her that the whole picture is more than just looking at talent. Shacket says, "I don't think I've ever heard the word talent mentioned in a casting room. It's more about the story we're telling, and how a person's energy fits into and changes the story. It's a huge collaboration to put something together on film or stage" Shacket says you should approach all roles as opportunities to meet new people and see if you want to be a part of their project. "The interview process goes both ways."