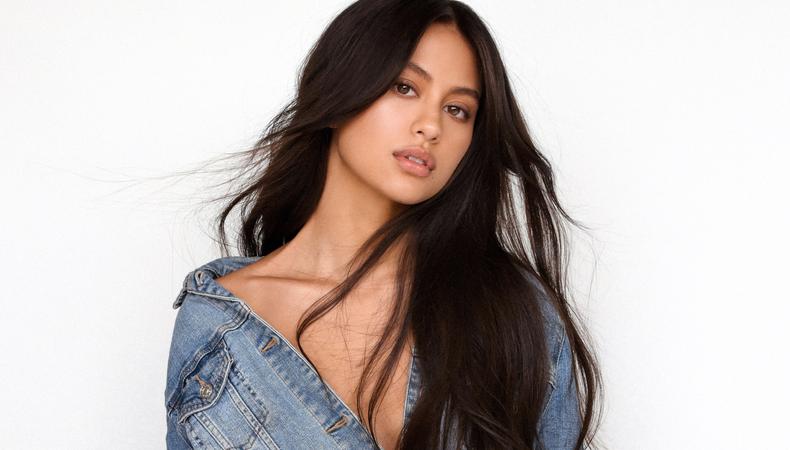 The following Career Dispatch essay was written by Jennifer Ens, who stars alongside Adrien Brody on the new EPIX series "Chapelwaite."
Everything about "Chapelwaite" has been the most surreal and amazing experience. I get really emotional just talking about it. I want to start out by saying: Never doubt yourself. I thought my audition wasn't good enough and I almost didn't send it in.
It was the best first gig I could ever imagine, and it was filled with many first experiences. We filmed it on location in Halifax, Nova Scotia for six months, and it was the longest I've been away from home. Not only did I have to navigate my first job on set, but it was also during the pandemic. It is one thing to film your very first TV series and another to film it during a global health crisis. Everyone kept saying, "Don't worry, we're kind of all learning how to be on set all over again."
When I first learned I booked the role of Honor Boone, I was on an island in Bali and didn't have great Wi-Fi or service. I literally said to my best friend, "Watch this be the time something really important happens and I won't have proper service." The next morning, I woke up to a bunch of missed calls (Bali is 15 hours ahead). My agent told me I had booked the job and I will never forget that call. As an actor, booking any role is the best gift—which is to say nothing of booking a dream role working alongside Academy Award winner Adrien Brody.
I was shocked. I had only graduated acting school just 10 months before, and then booked the role off of one self-tape. No call backs, no chemistry reads, just one self-tape. I had booked a snorkelling excursion that morning and couldn't cancel it, so I had to sign all of the contracts and documents whilst on a boat surrounded by sea turtles and fish/ I felt like I was in a dream.
It's funny because everyone asks me if this experience was difficult, but it was the complete opposite. It was such a breeze. I adapted quickly. During my very first (virutal) table read, there were around 30 people on the Zoom call, and the director of the first two episodes started off by saying, "Don't worry about acting. Just be," and that stuck with me throughout the entire shoot. As actors the most important thing to remind ourselves of is that we actually aren't here to "act." We are here to "be." Instead of striving to be someone, become the character. Don't think, Now it is time for my character to have a reaction. Think the thought the character would have in that moment and about what motivates the character to react in that particular way.
I had my first wardrobe fitting and rehearsal with the cast both on the same day. I remember walking into the studio and being surrounded by amazing custom made 1850s costumes. It was such a hot day, the AC wasn't working well, I had a tight corset on for the first time whilst wearing a mask, and I thought I was going to pass out. I kept seeing Sirena Gulamgaus (who plays Loa Boone) and Ian Ho (who plays Tane Boone), walking past my room. The three of us instantly hit it off and we became just like siblings within a matter of minutes.
We went to our first cast rehearsal and that's where I met Adrien Brody and Emily Hampshire for the first time. I remember being so nervous, I kept drinking out of a cup that didn't have anything in it. I had no idea what to expect. But the five of us and the director ended up laughing our pants off, and just getting to know one another. We shared stories about how we found out we booked the show and when it was my turn, I just burst into tears and said, "I'm so sorry I am crying, this is my first acting job, and I am just so grateful right now." Adrien and Emily both hugged me and told me to always talk to them if I needed anything or any help.
READ: 5 Things to Do When You Book Your First TV Series
Adrien is now one of my favorite people ever. Not only is he an amazing actor (and one of my favorites) but he's extremely humble and down to earth. He became a mentor to me. He really took me under his wing, helped guide me, and he was always there for me. His talent is insurmountable, and his work was always so raw and authentic. Watching him act was so mesmerizing, just one look and he told an entire story through his eyes. I remember being so intrigued because one second he would be joking around on set then the next he was fully in acting mode, in character and super focused. He was very involved on set and helped me become natural and authentic in my work.
When I walked onto set for the first time, it was pouring rain and I arrived with Sirena. I went to the washroom and got lost then I couldn't find the assistant director so I couldn't find my trailer. Thankfully, eventually Sirena found me (yes, a 12-year-old saved me). My first day on set was so exhilarating. Of course I was intimidated but I was just so excited to act. Adrien, Sirena, Ian, and I became like a family unit right away. Between takes, we couldn't stop talking.
I am so grateful that I had the opportunity to work on "Chapelwaite." And I am especially grateful I had the opportunity to work alongside Adrien, who filled me with knowledge that would otherwise have taken years to learn. I was continuously pushed outside of my comfort zone. My biggest takeaway from this experience (it sounds cliché but it's true) is just to always believe in yourself and work hard. If you don't believe in yourself, who will? Sometimes we are our own worst critics, and we have to silence that noise.
A big theme for me on this journey was to "just be." Once you let go and are present, that's when the magic happens. That goes for acting and life. Once I let go of wanting to book a role so badly, I booked that special role. Once I let go of my fears and nerves on set, that's when my best acting took place.
Looking for remote work? Backstage has got you covered! Click here for auditions you can do from home!