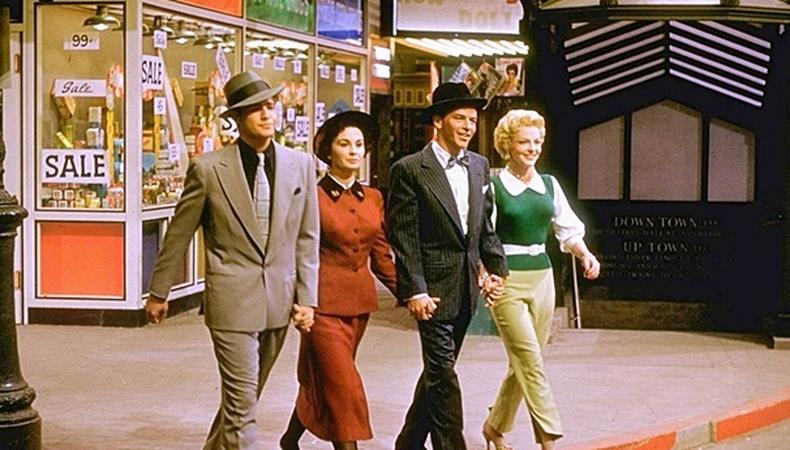 Some of our favorite films are from another era. These 12 movie musicals are more than 50 years old, but their catchy tunes, star performances, and exciting dance sequences make them films for the ages.
"Meet Me in St. Louis" (1944)
This MGM musical stars Judy Garland, Lucille Bremer, Margaret O'Brien, and Joan Carroll as four sisters coming of age around the 1904 World's Fair. The film follows a timeless tale of young love—set against the backdrop of family and a changing world—and features famous songs including "The Trolley Song" and "Have Yourself a Merry Little Christmas."
"A Connecticut Yankee in King Arthur's Court" (1949)
Bing Crosby brings this 19th-century Mark Twain classic to life, depicting an all-American mechanic who inadvertently time travels to 6th-century England. The film was adapted from the hit 1927 Broadway musical, and remains a classic for its far-fetched plot and upbeat romantic numbers.
"Singin' in the Rain" (1952)
This beloved movie musical harkens back to early Hollywood, when silent films gave way to "talkies" and the industry took a major turn. The clever classic stars Gene Kelly, Debbie Reynolds, and Donald O'Connor as 1920s film actors who are navigating the change, and features some of the most famous song and dance numbers of its era.
"Kiss Me Kate" (1953)
Another movie musical about the acting industry, "Kiss Me Kate" (based on the 1948 Broadway hit) features music and lyrics by Cole Porter and follows a pair of hapless actors cast as love interests in Shakespeare's "The Taming of the Shrew." Life imitates art in the ensuing production, and stars Kathryn Grayson and Howard Keel bring a playful mix of physical comedy and (some) romance.
"A Star Is Born" (1954)
Moss Hart penned this showbiz classic, which stars Judy Garland as a bright-eyed performer whose talent for singing inspires a washed-up male actor and leads to her own big break in Hollywood. Love and career flourish for the young woman, but outside struggles soon cast a tragic light on her burgeoning stardom. Co-star James Mason is heartbreaking and excellent in the film, and he and Garland both received Oscar nods for their roles.
"Seven Brides for Seven Brothers" (1954)
This Academy Award-winning classic follows a troupe of seven brothers in mid-1800s Oregon who seek out wives of their own after meeting their eldest's beautiful new bride. They pursue love in some (very) unconventional ways, culminating in a group kidnapping of six young women from the local town. But did we mention it's a romcom?
"Guys and Dolls" (1955)
He may be more famous for another gangster role, but we adore Marlon Brando in this 1955 film adaptation of the hit 1950 Frank Loesser musical. Brando plays a smooth-operating gambler in 1940s New York who falls for a beautiful-but-strict Salvation Army sergeant (played by Jean Simmons). Frank Sinatra and Vivian Blaine also star, and the excellent score includes songs heard only in the movie, such as "Adelaide," which was written for Sinatra.
"Oklahoma!" (1955)
Considered one of the best films of its time by critics and audiences alike, this 1955 adaptation of the classic Rodgers & Hammerstein musical is definitely not to be missed. The cinematic gem stars Gordon MacRae as a charming cowboy and Shirley Jones as his love interest, and takes place in the Sooner State at the turn of the 20th century.
"The King and I" (1956)
Another cinematic version of a popular Rodgers & Hammerstein musical, this 20th Century Fox hit stars Yul Brynner as the King of Siam—a role that greatly shaped the actor's career and even earned him an Oscar. Deborah Kerr co-stars as a young English widow hired to tutor the King's numerous children, and East meets West meets music in the ensuing classic film.
"Carousel" (1956)
Fans of Gordon MacRae and Shirley Jones in "Oklahoma!" enjoyed this 1956 release of yet another Rodgers & Hammerstein film-turned-musical, which stars the pair once again as a young-and-in-love couple. The bittersweet love story veers into the supernatural, and includes such famous ballads as "You'll Never Walk Alone" and "If I Loved You."
"The Pajama Game" (1957)
Despite its whimsical name, this 59-year old movie musical confronts the (still) serious topic of fair pay and labor relations, along with a requisite romance between its lead characters. Doris Day stars (though she was not in the original Broadway cast), and choreography from the great Bob Fosse makes for incredible musical numbers.
"South Pacific" (1958)
Following on the heels of "Oklahoma!" and "Carousel," this hit film was based on the Rodgers & Hammerstein musical of the same name. The plot follows Nellie Forbush, a vibrant Navy nurse stationed in the South Pacific theater during World War II who falls for a French plantation owner with an unconventional past. Many of the actors in the 1958 film had their singing voices dubbed, with the exception of stars Mitzi Gaynor, Ray Walston, and France Nuyen.
Inspired by this post? Check out our film audition listings!