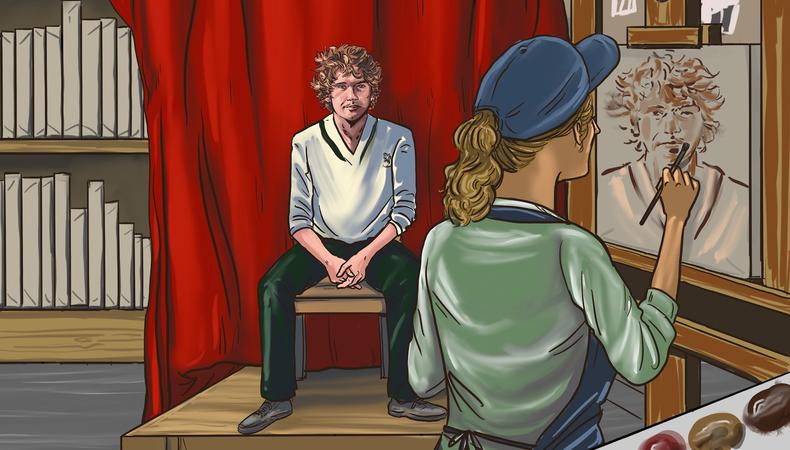 The following Career Dispatch essay was written by Colton Ryan, who can currently be seen as real-life teenager Conrad "Coco" Roy III on Hulu's limited series "The Girl From Plainville," based on the texting suicide case of Michelle Carter.
I sat for a painter before filming "Plainville." Kelly Brewer, an extraordinary artist from my hometown, was getting into portraiture and graciously asked me to be a part of her trial series. Filming was beginning in four months. I was wearing my hair long and preemptively mourning its loss, as my research to play Conrad Roy III, at that point, had given me the following facts: He went by Coco, and he kept his hair close to the skull. Kelly kept apologizing for the time that painting me was taking. "Are you comfortable?" she asked. I answered affirmatively, assuring her that this kind of sitting around is an occupational hazard.
I was lying. The stillness was sending my brain into an existential tailspin. In my profession, I'm usually the "painter," or artist—my comfort position. But now I was the subject, waiting to see how I would be seen. And I was grappling with the idea that, by playing a real person, I would soon be both painter and subject.
Have I done enough research? Are you comfortable?
RELATED: "The Girl from Plainville" Star Chloë Sevigny on Finding Her Audition Room Confidence
Conrad "Coco" Roy III is the subject of my painting. And unfortunately, Coco is no longer with us, which is the fact that he's best known for. Audiences will be meeting him for the first time through this interpretation, with my first attempt at playing someone who once existed as the means. It was dawning on me that there will be no sitting with, no checking in with. I carry the responsibility as a weight. As I sat for the painting, my brain continued to spin.
Can I squeeze in that you worshipped J. Cole, or that you loved your mom's cinnamon toast?
Around hour three, Kelly politely released me from my sitting duties. She wanted me to take a peek and maybe give an encouraging nod, but a stronger anxiety urged me not to. I thought I knew what I looked like, and I was terrified of what someone else with a better angle might see in me.
If I'm feeling this way, won't you? Can I capture the furrow in your brow or your goofy grin? Can I capture how much you loved your family?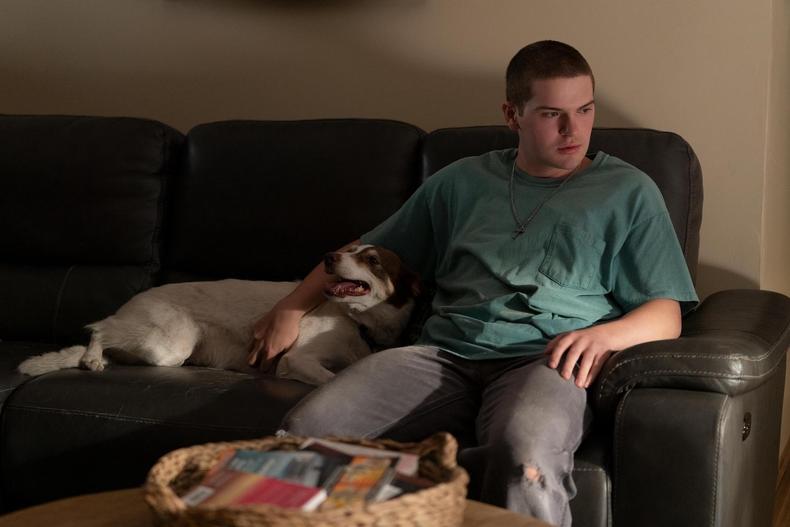 Colton Ryan on "The Girl From Plainville" Credit: Steve Dietl/Hulu
A few weeks later, Kelly asked if I was in the neighborhood and wanted to see the finished product. I was and I did, and my mother was with me. We both stood in that studio and saw me, as portrayed by Kelly. We cried and giggled, marveling at her interpretation. I looked young and wise; I was both my father and myself. What "right" looked like didn't matter anymore because of the look on my mother's face.
With trepidation, Kelly asked, "Are you happy with it?" Words seemed too small to convey my answer: I loved myself more because of it.
Will they see the darkness and, more importantly, the light?
It's been the greatest artistic honor of my life to introduce my portrayal of Coco to the world. He deserves to be known. As the painter, I'm hopeful that he'd share the same reaction I had when I was the subject.
Still, I wish I could ask: Are you happy with it?
This story originally appeared in the June 23 issue of Backstage Magazine.