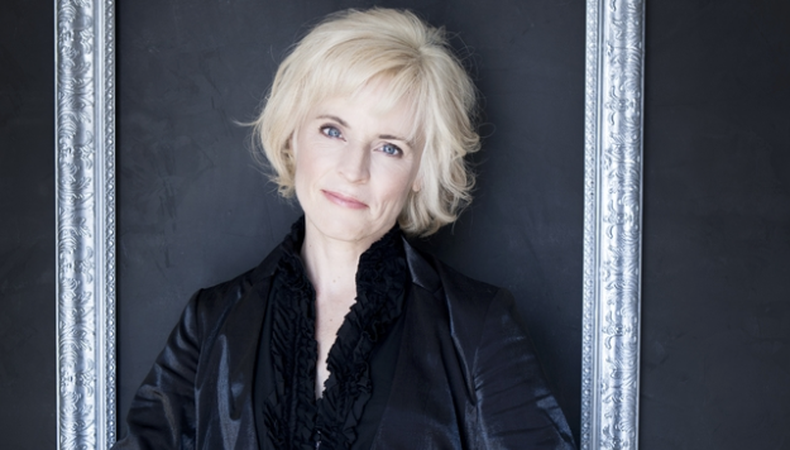 There is a misconception that comedy is easy—the act of fools, a stumbling form full of obscenities delivered by the class clown for which no real skill is involved. Anyone who has seen fledgling comics shaking as they get onstage at their first open mic knows that comedy is the most rewarding brutality performers can inflict upon themselves. Many actors got their start on a small stage busking jokes, and many of them give credit to the immediate rejection or elation they received as vital character-building material. For all those considering a career in some realm of performance, it's important to note that improv, comedy, and even musical open mics often help performers not only write their own material but also learn to listen and observe, which are valuable tools for actors developing their craft. Check out the quotes below from some notable names as they share their experiences with comedy, improv, and open mics.
Open Mics Open Doors:
MARIA BAMFORD
"I love open mics! It has been and still is (for me) a wonderful place to try material and rehearse and connect with other comedians—especially those who have just gotten to town or started, which is very inspiring. The most wonderful thing is that [it] is very easy to start an open mic yourself (if you're not getting enough spots around town). It's [like] a free class, and you'll meet comics quickly. I look in thecomedybureau.com for shows. If you don't like the shows, you can make your own! People I met at open mics 25 years ago, I still know today. An open mic is a wonderful democratic community. My favorites [in Los Angeles]: Echoes Under Sunset and Swork in Eagle Rock. Characters, scenes, improv would be welcome at any open mic—just don't go over your time. It's unkindly."
ERICA RHODES
"I learned how to be OK with failure. I think a lot of people don't try comedy or open mics because they are so petrified of failure. Once you realize that failure is the secret ingredient to all learning, it loses its power over you. Open mics are difficult, because it's usually a room full of other comics just waiting for their turn. But it's still an audience. I've learned that an audience can be three people and it can be thousands—it's still an audience. If you get even a tiny chuckle [at] an open mic, that joke will usually kill in a show. I think despite the Internet and TV and all forms of virtual performance, nothing has managed to substitute for "live" performance. People still crave that moment-to-moment art that seems more daring and real. It's happening right in front of you! No one can cheat. You can't edit out a joke that bombed. You can't run away or say, "Can we take that again? I had something in my eye." Acting is all about listening, responding. And with an open mic, the audience isn't talking back to you (hopefully), but it's still a dialogue. You are working off the audience as though they are your scene partner. And you learn how to listen and respond, just as you would in a scene. Plus, anything that gets you out of your comfort zone is good for your development as an actor and frees and loosens you up.
"I mostly got offered shows at open mics. A lot of people who book and run shows are also comedians, so they will see you and if they like you and your material, they will ask you to be on their shows. But I want to emphasize that one great thing about the process of comedy is the "process." The doing of it is its own reward. When you find yourself doing things only for receiving praise or recognition, it's time to re-evaluate why you are doing it. Not that you don't want opportunities. But it's the day-to-day work you should focus on. The opportunity is you get to perform for some people and find out if your jokes work."
"I did whatever I had to do to get stage time. I did a million open mics. I was even one of those people that stand on the street and say, 'Do you want to see a comedy show?' If you brought in five people, they'd let you perform. I'm really not a hard worker across the board, but when it comes to acting and comedy, I work my ass off."
On her friend performing standup:
"I saw her just making fun of people in L.A. and I thought, Oh, I could just stand onstage and make fun of these people I hate. So I started doing that."
On Finding the Right Material:
"I was only onstage for three minutes. So for that three minutes, it was, 'Hey! Oh my God! This is crazy! Have you ever? Man! How many times? You know what kills me?' It was a bunch of that. So after three minutes of that, you think you killed. But then they put you up for seven minutes and you realize, 'Holy shit, I've got nothing else to talk about.' Everybody [else] was actually talking about something. These guys left the stage, and when they left, I felt like I knew that guy. They talked about their family, their kids, themselves, their dislikes, their hobbies, their fears. That's what comedy's about. Comedy's about opening up and being unique, but to a point where the audience can relate to what you're saying."
"I did standup for two years in college. And I was in Boston one summer, really feeling like I needed to try something new and daring with my comedy. So I wrote this five-minute, rhyming, iambic pentameter, intricate story, which I read in an old British voice. I performed it at Dick Doherty's in Boston in front of a good, sizable, eager audience, and it completely bombed. Not one laugh. It sucked all the energy out of the room. It ruined the night for everyone—which is kind of funny, in retrospect, that I ruined the night for everyone at a comedy show."
"There is now a vibrant comedy scene in New Orleans, but when I was there it was very tiny and DIY. Back then we were producing our own shows at coffee shops and music venues and bars with stages (plenty of those in New Orleans). We'd all do longer sets because we could. I learned how to perform in New Orleans; I learned how to write in L.A. and NYC. I do remember my first time onstage. It was brutal. I also remember my first time onstage when I made someone laugh. That was the moment I knew wanted to do this as a career."
"I started pursuing comedy after college because it was the most accessible to me. I was intent on starting my own theater company, but renting a theater and putting up Off-Off-Broadway productions can be extremely costly. I realized that if we wrote our own material we could perform it at different comedy venues, for free! So, along with HST [Harvard Sailing Team, Delgado's improv group], we started putting together shows and inviting all of our friends and family. I felt like I had won the lottery when I realized this NYC performance loophole."
On Standup and Improv:
"[Standup] teaches you to be in the moment, and that's the key to all acting."
"As a standup performer, I'm onstage and it's important how the audience is looking at me. I'm looking at whether they're leaning forward or not, those types of things. You read an energy. And it's the same thing in a scene with other actors."
"When the crowd is with you... you feel like you are exactly where you should be, and there is nothing better. Comedy is a rare gift from the gods, an awesome invention. It propels you right into the heart of the universe. I've always had standup comedy to look back to, which is what saved my life, I think."
"I had been doing improv for a couple years, since I had started when I moved to Los Angeles; I had actually gone through the UCB program and am still on an indie team in town. I didn't have as much improv experience as others who are considered great improvisers, but I feel like the experience I did have was directly applicable to the style of ["Veep"]. It wasn't about the improv stuff…about creating an entire situation from nothing. It's about adding flavor, flavor and details to an existing situation, and that was something that I felt like the experience that I did have was very applicable to the show."
"I moved to Chicago and started studying at Second City and Improv Olympics, and that's where I learned that I can compete or I was as good as anybody else with the experience that I had at that moment. I never expected to be an Oscar-winning actor when I was in my first year in Chicago, but I wanted to make sure that I was on par with everybody who had committed their lives to being an actor, and test the waters and see if I was as good."
"I can't give any better advice than to get into improv. I've been improvising for 20-plus years, and every moment of every day it's a tool that helps me both in and out of the audition room and in and off a set. The ability to think quickly on your feet and not judge your ideas or your sense of humor is so invaluable, and that's just the best thing that any actor can do for themselves."
Looking for information on open mics, casting directors, and more? Head over to Call Sheet for thousands of listings!