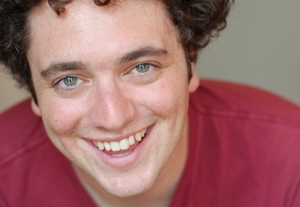 Arthur Meyer's comedic talents were evident as early as age 4, when he made his family laugh with an impression of Dick Van Dyke. That groundbreaking event was followed by the sketch comedy show "Meyers Kids' Night," which he and his two sisters performed for their parents every Saturday night beginning at 8:31, he says, "because that's funnier than 8:30." Meyer realized that comedy was his calling while in high school in the suburbs of Chicago, and he has continued to study, write, and perform sketch and improv ever since.

"It felt really, really good to make a roomful of people laugh hard," Meyer recalls of his first improv performance during his sophomore year. "I always sort of wanted to do comedy, but that particular show really solidified it for me. I still know of no better feeling than saying or doing something that causes explosive laughter. Any comedian will tell you it's the single greatest sensation."

Meyer joined the sketch comedy group Slow Children at Play as a student at Boston University, then moved to New York City after graduating in 2006 to co-found the sketch troupe Pangea 3000 with other former "Slow Kids." He has since contributed to The Onion, performed at UCB, The PIT, and the Magnet in New York, and toured to sketch comedy festivals across the country. Meyer also co-starred in a popular series of "Seinfeld"-inspired web videos with fellow Pangea 3000 member Dan Klein, imagining what Jerry Seinfeld and George Costanza would be up to if the show was still on the air.

Meyer can now be seen regularly on "Late Night with Jimmy Fallon," where he is a writer and occasionally appears in bits with Two Fun Men, his sketch duo with John Haskell. He's also currently working on his first solo sketch show, which he hopes to have completed by the fall. And later this year, Meyer will star as Dank in his first feature film, "We Made This Movie," written and directed by Rob Burnett ("Late Show with David Letterman").

Read our Back Stage Q&A with Arthur Meyer:

What have sketch and improv taught you about other aspects of writing and performing comedy?
Arthur Meyer: The big thing that sketch and improv does is that it reminds you why you like yourself. Three things can happen when you perform sketch or improv in front of an audience:

1. No one laughs.
2. You make people laugh, but it's not really genuine. It's more that you sort of know which strings to pull to elicit laughter – which a lot of people can do with the right inflection and cadence, since those things work in waves of popularity.
3. You make people laugh by doing something you genuinely find funny. When that happens, you as a performer are aware of it, and you try to do more of it.

Also, improv and sketch are very important because they teach you to work with people who you either want to or don't want to work with. Both of those things are good to know how to do. Improv is especially helpful in that capacity. It teaches you to tolerate just about anyone, especially when you are taking those early-level classes.

You've been part of several sketch groups and improv teams in New York, but which stand out as the most significant to you, in terms of developing your voice and style?
Meyer: Pangea 3000 has been one of the most important comedy things I've ever done, but it doesn't carry quite as much personal weight, simply because there are four of us [in the group].

The two biggest steps forward for me were the "Seinfeld" web series that I did with Dan Klein and the Two Fun Men show I did with John Haskell at the UCB called "Two Men Having Fun." Those both were big steps for me for pretty much the same reason, which is that I felt like I was doing comedy that I thought was very funny. I think before those things, I would often get caught up in the notion of perfection. But "Seinfeld" and Two Fun Men were much more about just having fun, and being positive, nice, and thoughtful in a weird way. I felt like I was being myself and being funny at the same time, and I think it's when a comedian begins trusting his own instincts that he really does good work.



My freshman year in [college sketch group Slow Children at Play], we drew an audience of 150. By my senior year, we drew an audience of 550 and had to turn away over 100 people. We put so much effort and time into our comedy in Slow Kids, and we wanted to make each show better than the last. Slow Kids taught me to have high standards for your comedy, to try to make everything as funny as it could be. It taught me to take a really fun idea and craft it and communicate it in a way that is interesting to an audience. We always wanted to try something new.

My comedy tends to be positive in tone, and hopefully with an awareness of how stupid and wonderful life is.

What was your worst onstage experience?
Meyer: The worst comedy performance experience I had was back when I did standup. I did standup for two years in college. And I was in Boston one summer, really feeling like I needed to try something new and daring with my comedy. So I wrote this five-minute, rhyming, iambic pentameter, intricate story which I read in an old British voice. I performed it at Dick Doherty's in Boston in front of a good, sizable, eager audience, and it completely bombed. Not one laugh. It sucked all the energy out of the room. It ruined the night for everyone – which is kind of funny in retrospect, that I ruined the night for everyone at a comedy show.

What's the deal with that Zappos web ad from last year? You know, the one where you're running naked across my computer screen.
Meyer: My friend gave my name to the casting director. I went in, got naked, and told a story about how I used to be a nude figure model for the School of Visual Arts (which is true), and I guess they liked me enough to cast me! So we had several shoots in which I would be naked except for a flesh-colored pair of undies. Those were all pretty fun, since I enjoy being naked.

The response was all very positive. Many friends and some family said they saw and enjoyed the ad. No one seemed at all puzzled as to why I was naked. I guess I just like my big dumb body and let people know it.



What have been your best and worst survival jobs?
Meyer: My best day job was little league umpire. I did that for eight summers. I have a slight obsession with umpires... I'd love to do it again one day.

And my worst day job was catering for big corporate events. I did that for two years. Those gigs were equally miserable and fascinating. You learn a lot about people and about America when your job is to serve rich people. I was such a bad caterer, too. I used to spend my shifts thinking of ways that I could get fired. Man, jobs are the worst. I am so happy I get to do comedy for a job right now. Comedy's the best.

Follow @arthurmeyer13 on Twitter.

Read more about Meyer and the rest of Back Stage's "10 Comics to Watch" in 2012.