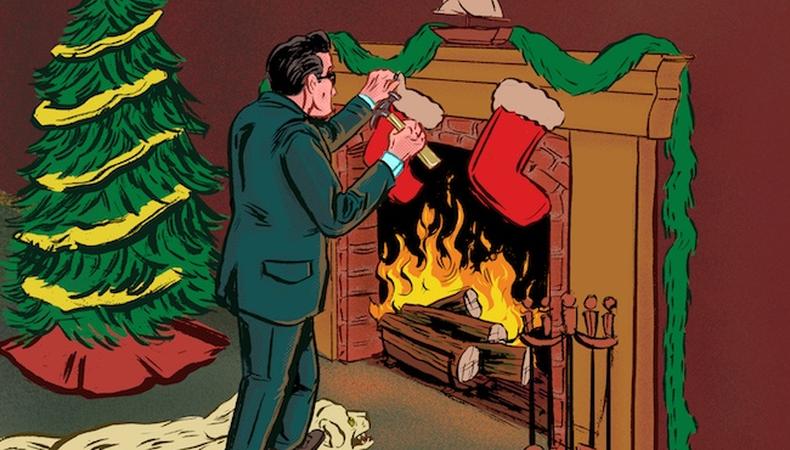 The holiday season has finally arrived, and everyone at my office is in a great mood. There's less to do right now. Our break is right around the corner. And best of all, clients are dropping by with presents!
One of the most popular gifts we receive is a bottle of wine. I would say each of us scores at least 10 bottles each, which is a pretty decent haul. The only problem is one of the reps at my office is an alcoholic who has been in the program for over three years. So the guy has no choice other than to grin and bear it when a client hands him a bottle of red. And then, after the actor leaves, he hands the bottle to yours truly. Sucks for him, but great for me.
Another agent at my office is in an especially festive mood because she dropped 40 pounds this year and she feels like a brand-new person. We're all very proud of her accomplishment. The only problem is that a large percentage of our clients have been giving her sugary treats that she cannot enjoy. I actually have orders from her to snatch those edibles right out of her hands the moment our client leaves. Sucks for her, but great for me.
Now, here's the million-dollar holiday question: Shouldn't those actors know their reps better? I mean, most of them have been with us for over a year. It almost seems inconsiderate that they don't. And I'm sure they would all feel lousy if they found out their presents weren't appreciated.
READ: 3 Types of Holiday Gifts for Your Agent
Don't get me wrong. I don't share personal details with my clients. But during the course of getting to know each other over an extended period of time, there's no way we can't learn a few things about each other. This is especially true if you keep your eyes open and actually listen when we're speaking.
In the case of the boozehound, being dry is something he talks about all the time because he's proud of the accomplishment. And there are several clues all over his office. I picked up on it the day we met. And as for the female agent who lost all that weight, you'd have to be blind not to see the change.
I've always felt that if you want to be more than a name on a client list, you have to create a close relationship with the people who are responsible for your career. And that effort is on you, not me. Why? Because I have 150 clients and you only have a few agents.
So the holiday season could end up being a real eye opener in the sense that this magical time might make you realize you haven't really made an effort to get to know your reps. And unless you bring a lot of money to the table as an established actor, you've just made a major career mistake. So do yourself a favor and make it a point to create a more personal relationship with your agents in 2018. Doing so will only help you succeed, and the better I know you, the better I can represent you.
(For the record, I like California pinots and snickerdoodle cookies….)
Have any questions for Secret Agent Man? Ask away on the Backstage Community forums!