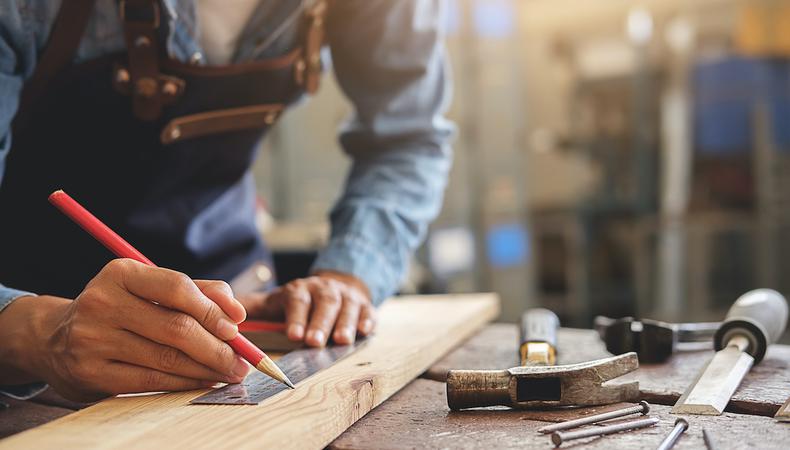 Construction Coordinator Job Description: What Does a Construction Coordinator Do?
As the head of the construction crew, the construction coordinator oversees the process of building any necessary sets or stages for a production. Managing a team of carpenters, painters, plasterers, and construction workers, the construction coordinator ensures the production designer's sets are built on time, within budget, and safely.
"I'm the general contractor for the scenery", says construction coordinator Tom Morris ("Shutter Island," "The Hunger Games"). "I put together the team of craftsmen to get all of the sets built…. We work for the art department, which tells us which scenes will be completely constructed on the sound stage, which shot on location and what alterations must be done to those locations. In short, construction is responsible for the entire physical environment of the film, even the vegetable garden in which the heroine may pick tomatoes!"
Hired early on in the pre-production process, the construction coordinator puts together his or her team of craftsmen and laborers after receiving the production designer's plans. From there, they order materials, schedule work, and oversee everything from initial planning to the last paint of coat.
Since film sets have to be believable yet temporary, a great construction coordinator needs to be both a skilled builder and a creative one. "We build quickly, and we don't build to last," says Joe Kearney ("Little Women," "Ghostbusters"). "We want lightweight construction that will go in easily…. if we cause a lot of damage, we will have more to restore on removal. Everything is built very lightweight [with plywood]. The face side is generally plastered [so it] ends up looking good in the finished film."
Department
Art
Alternate Titles for Construction Coordinator
Construction manager
Crew Hierarchy
The construction coordinator is a senior-level position within the art department and is the head of the construction crew. They report to the production designer and are reported to by the heads of various teams within construction: carpentry, paint, plaster, etc.
Salary
The average pay for a construction coordinator in the film industry in 2018 was $72,440.
Construction coordinators are represented by IATSE, which guarantees members mandatory minimum rates on union productions.
How to Become a Construction Coordinator
Most construction coordinators have extensive experience in general construction, carpentry, production design, and/or scenic design in theater, and have worked their way up from carpenter or other craftsmen positions.
Construction Coordinator Required Experience + Skills
First and foremost, a construction coordinator needs to be a good carpenter. "A miter is still a miter, and it has to meet perfectly. The lingo in the movie business is different, but a good carpenter is a good carpenter," says Kearney. "A lot of what we do is overkill, and sometimes the camera doesn't even see it. Nevertheless, you still have to do the best job possible, which is what the art director and the designer want."
Leadership, management, and budgeting skills are also crucial, as is knowledge of health and safety laws, and, of course, communication skills. When you're heading up a large department with many (literal) moving parts, you must be able to plan and rethink quickly. "There are lots of busy days and lots of long days," says Jonas Kirk ("Transformers: Age of Extinction," "Inception,"). "[So] it all goes back to the lines of communication we build—with the producers, with the director, with the designers, with everyone."
For more on how to get work on a film crew, visit Backstage's crew hub!