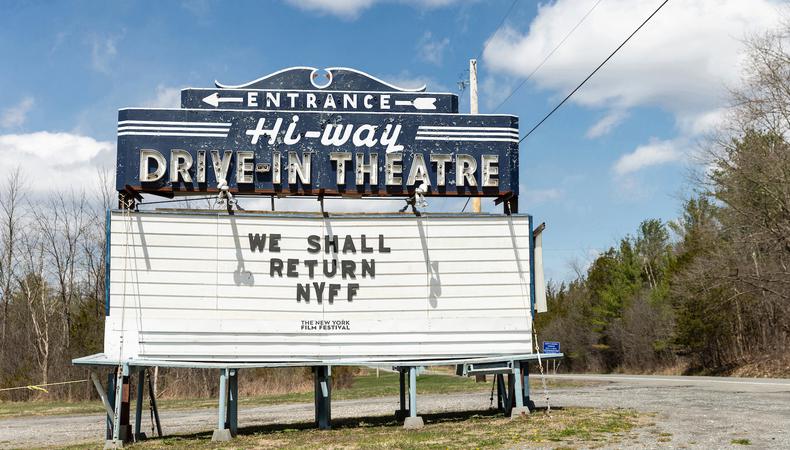 Want the inside scoop on all things awards? Welcome to Letter From the Awards Editor, our series in which Backstage's Jack Smart takes a look at the latest film and television news, industry trends, and awards projections that matter to today's working actor.
Dear Backstage reader,
I'm going to level with you. A return to film festivals, premieres, and industry events, at least as we have known and loved them, is not going to be possible until enough people can access a vaccine for COVID-19. Even the most optimistic timelines indicate that it will take many months to successfully create, let alone distribute, the only guarantee that industry professionals can't spread the coronavirus at events on which the biz thrives.
But here at Backstage, we always look for the silver lining. As a fellow festivalgoing colleague put it to me recently: Do we really miss standing in lines that wrap around the block?
To be clear, the world's most prominent film festivals are preparing events in accordance with public safety rules. In addition to virtual viewing options for press and industry attendees, programming for the 2020 Venice and Toronto International Film Festivals will include a scaled-back number of public premieres for locals, and the New York Film Festival is among those featuring outdoor and drive-in showings. Faced with consequences they never could have imagined, many fest organizers are rising to the challenge of keeping the film industry alive, and they should be commended for their efforts.
It's worth wondering, though, how such alterations—or outright cancellations—may affect the 2020–21 film awards season. Film festivals are where studios go to seek out projects to acquire and campaign Oscar contenders. However they make their bids this year, they'll have to navigate unprecedented distribution challenges. Festivals are also where filmmaking talent and professionals meet and network (and party), but with both production and moviegoing mostly stalled until the pandemic is under control, Hollywood must instead play an unending game of wait-and-see. Between the fact that most fall and winter films will be viewed from the comfort of movie buffs' homes and that the Academy Awards ceremony is delayed until April 25, 2021, forcing many preceding awards shows to follow suit, we're looking at probably the strangest festival and awards season in film history.
Perhaps the most important element that's now missing is what people refer to as a project's "buzz" factor. A film is simply more viscerally and palpably thrilling to see when you're surrounded by cinephiles and celebrities at a world premiere. Crying into my popcorn at the TIFF screening of "A Beautiful Day in the Neighborhood" or hearing the meticulous sound design in the vast theater at the premiere of Alfonso Cuarón's "Roma"—with the stars of those films waiting in the wings to greet the audience's standing ovation—are the kinds of magical experiences filmmakers, studios, and fest programmers aim to generate. It's not that we can't enjoy on-camera storytelling from our sofas, but those are the lightning-in-a-bottle moments that do more than just propel a project into the Oscar race; they remind us why we love cinema.
Side note: Isn't it fascinating that Netflix's recent disruption of Hollywood, which had everyone from movie theaters to Steven Spielberg up in arms about what constitutes "a real movie," is almost a moot point in the age of quarantine? Particularly when in-person screenings are unavailable or perceived as dangerous, the sentiment is emerging that content is content, regardless of medium, genre, or platform. I wonder if, this year, the line between big and small screens—or even between Oscars and TV movie Emmy Awards—will be blurred enough to consider throwing such classifications out the window, or at least combining them in one way or another. Who cares about "real movies" when my only choice is which couch I watch something from? (Side note: Netflix announced that it's skipping the 2020 film fest circuit. A streaming giant designed for at-home viewing, it seems, is going full steam ahead with its own plans.)
For the foreseeable future, we can still have moviegoing experiences, just without the "going." That's both a devastating and a trivial prospect, depending on how you look at it. But this too shall pass. One day, this festival and awards season will be remembered as a reawakening, forever changing the course of cinema—I'm choosing to believe—for the better.
Sincerely,
Jack
This story originally appeared in the Sept. 3 issue of Backstage Magazine. Subscribe here.
Looking for remote work? Backstage has got you covered! Click here for auditions you can do from home!